Israel-Gaza conflict: Tear gas fired at pro-Palestinians demonstrators in Paris
Banned protest march turned violent as London protests get underway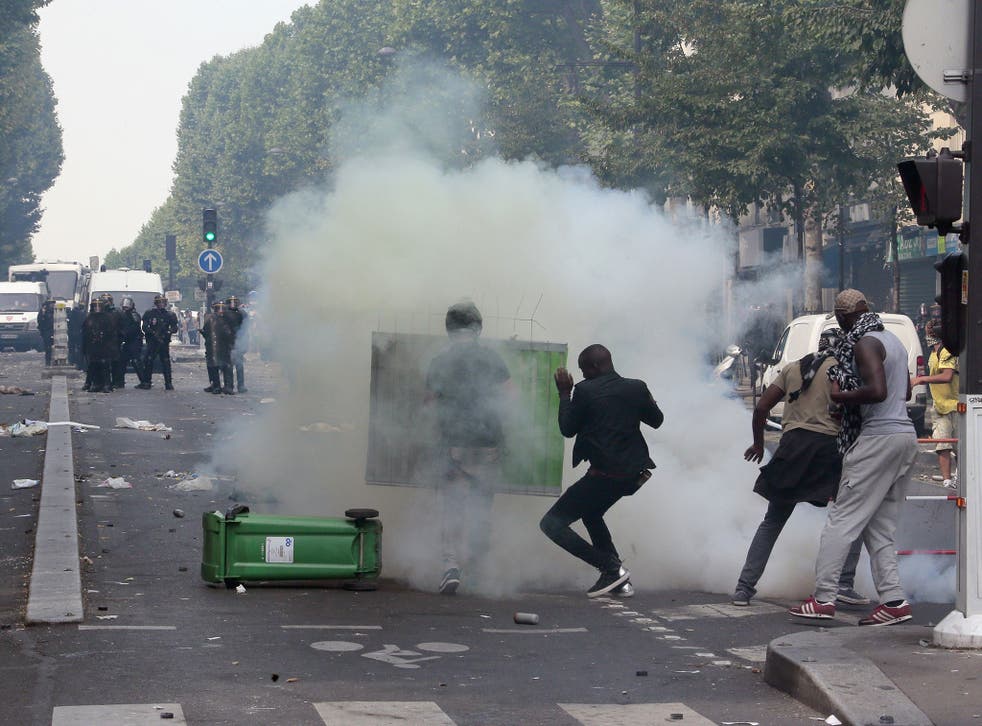 Riot police fired tear gas and fought running battles with pro-Palestinian demonstrators in Paris this afternoon after a banned protest march turned violent.
About 6,000 mostly peaceful protesters assembled in the Barbès area of northern Paris in defiance of a government ban. When the march was blocked by police lines after only 500 metres, a minority of young protesters started to hurl stones, bottles and sticks at the riot police.
The police responded with tear gas shells, which sent clouds of acrid fumes swirling among the protesters, shoppers and passers-by. The demonstration - banned by the government after a similar pro-Palestinian protest last week turned violent - scattered into the maze of streets just north of the Gare du Nord.
Groups of demonstrators squatted on road junctions, defying the police to remove them. Young protesters with scarves over their faces raided skips for stones and tore up lumps of tarmac to hurl at the police lines.
In pictures: Pro-Palestinian protests across Europe

Show all 12
The great majority of the protesters were of North African origin. There was also a contingent of about 100 far left demonstrators from the New Anti-Capitalist party.
Israeli flags were burned. The crowd chanted "Israeli assassins. Hollande is complicit." Demonstrators carried mock bodies, swathed in bandages soaked in red ink.
A large banner was unfurled reading in mixed French and English g "Isra-hell trinquera" – "Isra-hell will get its comeuppance".
Earlier, speaking during a visit to Chad, President François Hollande said: "Those who are determined to demonstrate (despite the ban) must take responsibility for their own actions."
Meanwhile in London today, thousands took to the streets in protest calling for an end to Israeli military action and "justice and freedom for Palestine".
Up to 15,000 people are thought to have marched through the capital from Downing Street to the Israeli embassy in Kensington, where demonstrators were met by a police blockade preventing them from approaching the building.
A number of high-profile Palestinian supporters addressed the crowd close to the embassy, while organisers repeatedly urged the crowds to spread out for fears that people were becoming crushed.
Join our new commenting forum
Join thought-provoking conversations, follow other Independent readers and see their replies