Teenagers rescue elderly couple from sinking after car crashes into lake
The heroic incident was captured on camera by onlookers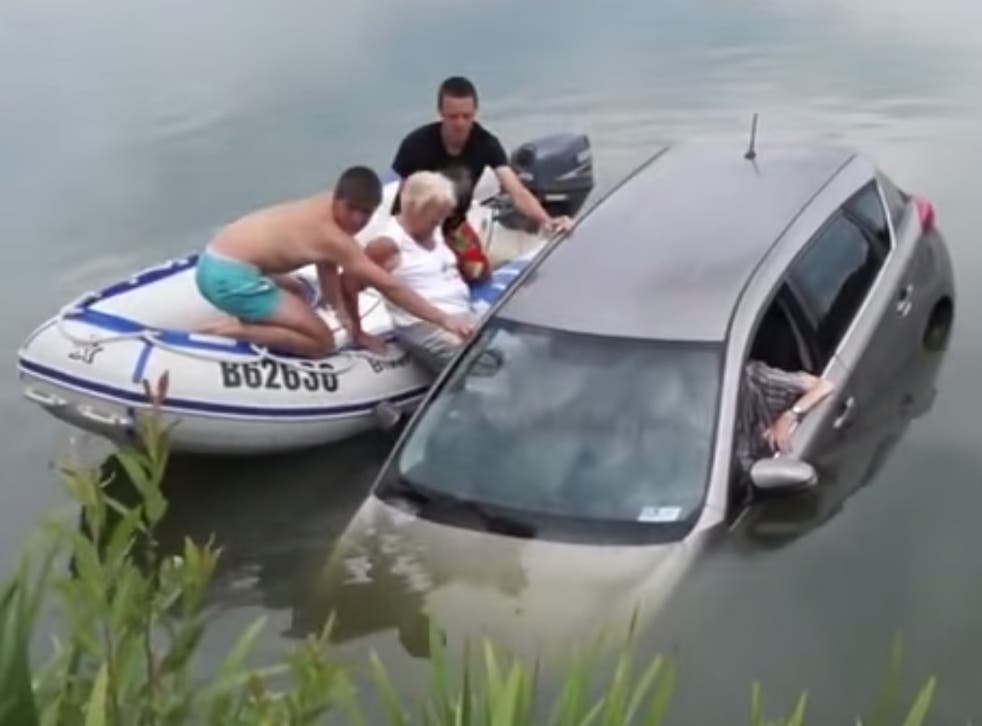 Two teenagers have rescued an elderly couple from sinking after they crashed into a lake.
The couple had accidentally driven into the lake in Beervelde, East Flanders, around an hour outside of Brussels.
The car was sinking quickly as water rushed through the open windows, with the couple still sitting inside.
Teenage wind-surfing instructors, Robbe Haems and Bjorn Cuvelier, aged 17 and 18-years-old respectively, came to the aid of the couple after they saw what had happened.
Footage of the rescue has been posted online, where it has been watched by thousands of viewers.
WVG windsurfing resort is one of the most popular leisure activity spots in the small town where the incident took place.
The teenagers arrive to help the sinking couple in a rubber boat. The elderly pair remain quite calm and still as they wait to be rescued.
The man told the teenagers that he was disabled by a bad leg and couldn't get out of the car.
"I was afraid the man would drown in front of my eyes," Robbe told Belgian news site HLN.BE.
In the footage, the teenagers can be seen to pull the boat up to the passenger side of the car and indicate to the woman to lower her window. They then help her to climb to safety.
The man, unable to escape, waits in the driving seat to be assisted. The event was filmed by an onlooker on the nearby jetty.
The boys then push the boat around the back of the sinking car and go to the driver's side.
The video footage stops when the teenagers attempt to rescue the man as more water filled his side of the car and the onlookers move to help.
Join our new commenting forum
Join thought-provoking conversations, follow other Independent readers and see their replies