They 'feared the worst': Spurs fan fights for his life after attack by knife-wielding thugs in Rome
Nine British people known to have been hurt ahead of Europa League tie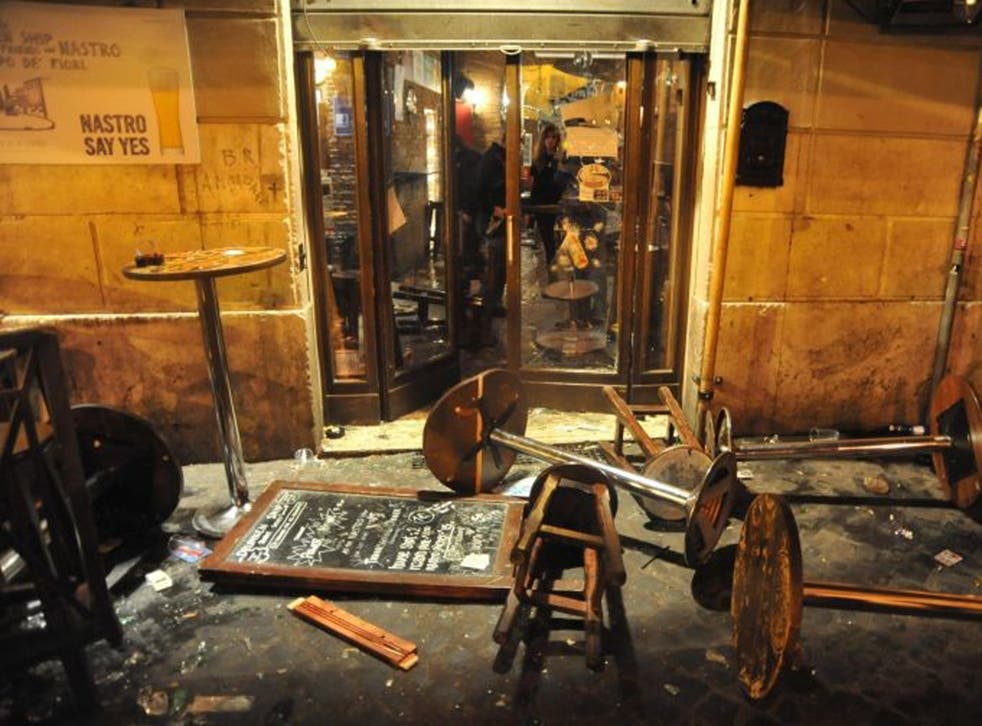 A Tottenham Hotspur supporter had an emergency operation today after he was left fighting for his life when he was stabbed during an attack by a gang of Lazio fans on Wednesday night.
Ashley Mills, 24, who was in Rome to see his team play, was caught up in the violence in which nine others were injured when a group of around 50 hardcore fans – known as "Ultras" – wielding knives and other weapons smashed their way into the Drunken Ship, which was being used by Spurs fans.
Hospital staff said he was now out of danger but his friends said they were afraid to go to last night's match
"We feared the worst," one Tottenham fan, Robert, said. "There were more than 100 of them, some with their heads covered. A group of them stayed outside and surrounded the place so no one could enter or leave."
Two other Tottenham supporters, Stephen Tierney 46, and Dave Lesley, 47, were among the nine British people known to have been hurt. They have already been discharged with light facial injuries. An American, who was not a Spurs fan but was caught up in the violence, was also stabbed.
Landlord Marco Manzi said the gang descended on his American-owned bar in Campo de Fiori at around 1am. "The bar was full of about 30 English supporters. Most of them were aged between 40 and 50 and were well behaved. Then arrived what I presume were Italian supporters wearing scooter helmets with their faces covered with scarves, carrying stones and rocks.
"They attacked the English supporters. Some of them tried to escape down Via dei Cappellari and it was there one of them was hit by a knife.
"I think he was quite badly hurt but I don't know any more about him," he told reporters.
Police were examining the blood-soaked cobbled streets around the bar yesterday after the gang ran off, reportedly throwing away weapons.
Last night, San Camillo hospital spokesman Valeria Fatoni, said Mr Mills had stab injuries to the head and groin and had lost a lot of blood.
"He's now awake and out of danger, she said. "His brother was with him last night, and is now waiting to see him." She said another scan would be performed this morning to ensure the internal injuries had been dealt with, before he could be released.
A spokesman for the Foreign Office said: "We are in contact with the Italian authorities and the Italian police, who are investigating the incident and have confirmed there will be increased security measures for the game."
Join our new commenting forum
Join thought-provoking conversations, follow other Independent readers and see their replies