Thousands gather in Istanbul to protest against Turkish President following 'justice march'
'If only there was no need for this march and there was democracy, media freedoms, if civic society groups could freely express their opinions'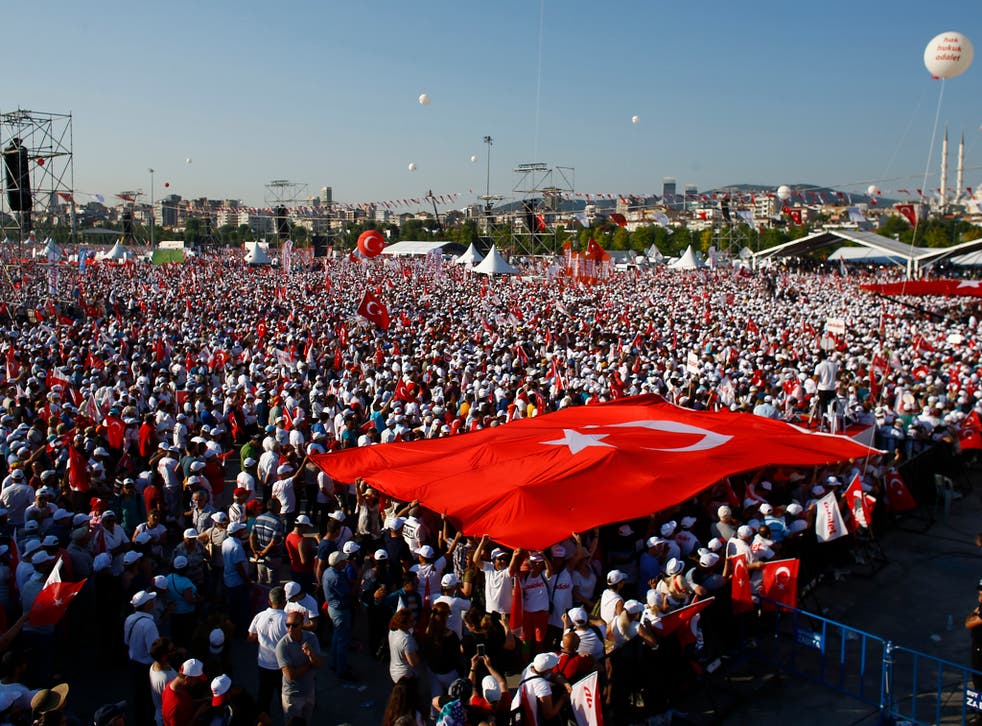 Hundreds of thousands of people joined a rally in Istanbul at the end of a 25-day "march for justice" against the government of the Turkish President, Recep Tayyip Erdogan.
The opposition Republican People's Party leader, Kemal Kilicdaroglu, led the 280-mile walk from Ankara to Istanbul after his deputy leader was imprisoned in June.
Mr Erdogan has spearheaded a large-scale government crackdown against opponents in the wake of a failed coup against him last summer, and was granted sweeping new powers following a controversial referendum in April.
"If only there was no need for this march and there was democracy, media freedoms, if civic society groups could freely express their opinions," Mr Kilicdaroglu said.
The opposition leader was once seen as weak but has emerged as the voice of many Turks, even prompting comparisons to Mahatma Gandhi, who led peaceful protests against British rule in India.
Mr Kilicdaroglu told Reuters his three-week march had helped Turks "cast off a shirt of fear" since emergency rule was imposed after the coup attempt.
The 68-year-old attracted relatively modest support in the early stages of his march, but numbers swelled in the final days, with hundreds of thousands carrying banners and the Turkish flag as they demanded "rights, law, justice".
The government has accused Mr Kilicdaroglu of supporting terrorist groups with his protest and violating the law by attempting to influence the judiciary.
Mr Erdogan claims to be cracking down against those who support militant organisations, but the government definition of what constitutes backing terrorism is so broad it has led to the arrest of thousands of civil servants, journalists, campaigners and other workers.
Parliamentarian Enis Berberoglu was sentenced last month to 25 years in prison for revealing state secrets after he allegedly leaked documents to an opposition newspaper suggesting the Turkish government had armed jihadists in Syria. A journalist by profession, the opposition party's deputy leader has long been a thorn in Mr Erdogan's side.
In a New York Times article on Friday, Mr Kilicdaroglu called the case against Mr Berberoglu "the last straw in a series of anti-democratic moves" by the government "targeting tens of thousands of Turkish citizens - politicians, journalists, academics, activists or ordinary citizens".
After last year's aborted coup, the government imposed a state of emergency leading to the arrest of more than 50,000 people and the dismissal of 100,000 civil servants. A dozen legislators from a pro-Kurdish opposition party have also been jailed.
In pictures: Turkey coup attempt

Show all 17
Among the marchers were ordinary citizens, sacked public employees and several high-profile figures, including novelist Asli Erdogan and leading Kurdish politician Ahmet Turk, both released from prison pending trial on various terror-related charges, and Yonca Sik, the wife of a prominent journalist currently in jail.
The detention of human rights activists and leading journalists has drawn international condemnation and damaged the country's bid to join the European Union.
Organisers said the protest expressed "a collective, non-partisan desire for an independent and fair judicial system". No party flags or slogans were allowed on the march.
Istanbul governor Vasip Sahin said 15,000 police officers were providing security at the post-march rally, according to state news agency Anadolu.
Join our new commenting forum
Join thought-provoking conversations, follow other Independent readers and see their replies