Thousands of redheads celebrate their recessive gene at festival in Ireland
'It's amazing to be surrounded by so many redheads again'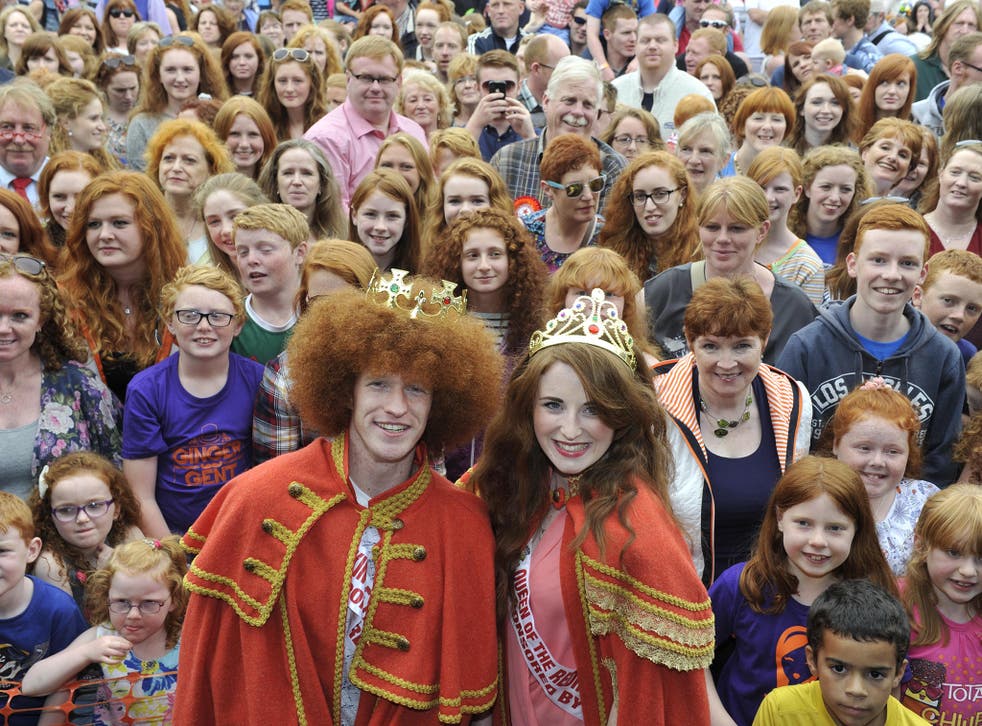 Redheads from around the world have gathered to celebrate their love of the much-maligned hair colour.
Two thousand proud gingers went to the Irish Redhead Convention has been home over the weekend to at least 2,000 auburn, strawberry-blonde and downright orange visitors in a bid to raise awareness off the oft-lambasted hair colour.
Only one to two per cent of the world's population are redheads. However, the British Isles can lay claim to having the highest concentration of redheads, with 13 per cent of Scots and 10 per cent of Irish people having a reddish hue to their barnet.
Taking place for the sixth year running in the village of Crosshaven in County Cork, the convention demonstrates that gingers can give as good as they get with some tongue-in-cheek activities.
After "red-gistering" for a ticket, redheads and supporters can watch the "foxygen" music stage, explore the history of ginger in art or compete in categories including "most freckles per square inch" and "best ex-ginger" (an old photo needed for the latter).
Those with the recessive gene can also do ginger speed-dating, which as the website wryly points out doubles up as a conservation project.
Set up by redhead brother and sister Joleen and Denis Cronin, the festival passes on a serious message to youngsters to ignore the taunts - with hashtag #foxyfest trending on Twitter.
"It's amazing to be surrounded by so many redheads again," Ms Cronin told the Irish Independent. "It is about celebrating our culture and Ireland and red hair, which is so iconic of Ireland too."
Redheads are thought to be given a tough time in Britain in schools not simply because they are a minority, but because historically the shade was linked with Judas Iscariot, betrayer of Jesus.
William Shakespeare referred to it in As You Like It: "His very hair is of the dissembling colour, something browner than Judas". There have been calls for anti-ginger speech to be classed as a hate crime after serious bullying incidents, but there is no specific law as yet.
Yet some of the most famous names in history belong to redheads, including Winston Churchill, Queen Cleopatra of Egypt, warrior leader of the Celts Bouddicea and Queen Elizabeth I.
In more modern times, Ed Sheeran, Prince Harry, Florence and the Machine and Michael Fassbender have swelled the ranks.
Proceeds from the convention are going towards the Irish Cancer Society.
Join our new commenting forum
Join thought-provoking conversations, follow other Independent readers and see their replies