Top Italian university La Sapienza slammed for staging glamour contest - with plastic surgery offered as prizes
Female academics call on head of leading Italian college to resign for 'shaming it'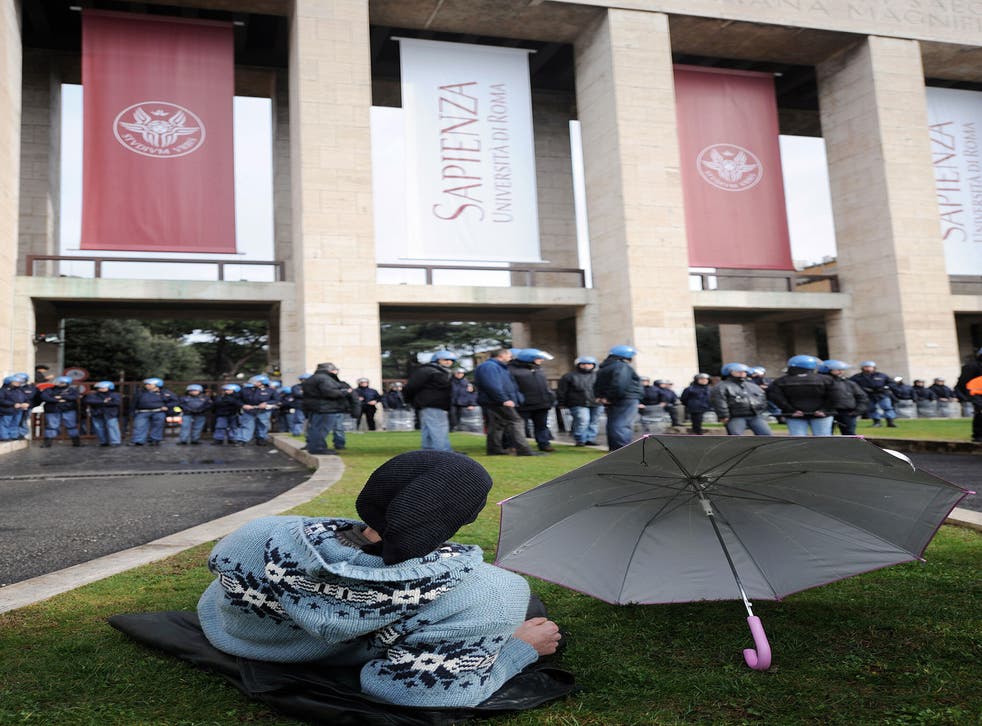 Italy's leading university, La Sapienza in Rome, was already under siege from claims of mediocre academic standards.
But to add to its woes, the university is now facing accusations of old-style Italian sexism and has even been called a laughing stock after organising a student beauty pageant in which women as young as 19 were offered plastic surgery as prizes.
Female academics in Italy and elsewhere have criticised the institution's rector Eugenio Gaudio, for hosting the opening stage of the Miss University 2015 competition. The choice of location, Rome's "Billions" gambling hall and nightclub, probably didn't add to the sense of salubriousness.
Mariana Mazzucato, an Italian academic at Sussex University, has organised a petition on Change.org, along with lecturers from Pisa, University College London and the London School of Economics demanding that Mr Gaudio quit for, it says, putting back women's academic status 900 years – in reference to the world's oldest university, that in Bologna, which was founded in 1088.
"Women struggled for centuries to get access to the best higher education, and by participating in this event Gaudio has managed to take things back 900 years, putting the emphasis not on study but on the body.
QS world university rankings - in pictures

Show all 10
"Since when in an academic environment is beauty considered important? The rector Gaudio has shamed the university and made it look ridiculous," they said.
"We believe you can no longer represent La Sapienza or Italian universities and for this we call on you to resign immediately."
Organisers of the beauty pageant attempted to add a veneer of respectability by declaring it would take note of exams passed and grades obtained by participants before judging "the pleasantness of their physical features". But there was derision from many, including Italy's newspaper of record, Corriere Della Sera.
"There's a plastic surgeon, a rector, a count, a marquis and a singer from the 1970s in the jury of a beauty contest organised by Italy's No 1 university with partly-undressed student contestants. You'd think it was the start of a joke or a scene from a tacky film, but it's real," the paper sneered this week.
No one at La Sapienza was available to speak to The Independent. But Mr Gaudio said he "did not have to apologise to anyone" in an interview with La Repubblica.
"The evening was not at all vulgar and the guests were treated extremely well. I fear that the controversy is being whipped up. We've never had this sort of fuss before." He added: "Even if it were "Mr University" I would have attended."
He said: "My colleagues can rest assured that we are interested in cultural debates, scientific research, the growth of students, the orchestra, the theatre, the centuries of literature with which I occupy myself daily… and there's the equality that we practise on a daily basis."
But Patrizia Tomio, the president of the National Conference of Equality Bodies in Italian universities, said: "While the equality groups go through the daily work of fighting sexism and overcoming under-representation in training and careers, we're faced with events that call into question what we've been achieved over the years."
The winner of the opening heat on 6 May, 19-year-old biological sciences student Valeria Belvedere, who was congratulated by a beaming Mr Gaudio, said she saw no harm in the competition, which was "just a bit of fun".
La Sapienza, despite its status as one of Italy's premier universities, has often failed to gain a place among the top 200 ranked institutions in recent world university league tables, with some Taiwanese, Korean, and Egyptian universities being ranked higher.
Many observers say nepotism is largely to blame. In 2010 a report claimed that a third of the teaching staff at La Sapienza had close family members as fellow lecturers.
The same report in L'Espresso magazine said that overall, the country's higher institutions were 10 times more likely to have members from the same family than other places of work.
Join our new commenting forum
Join thought-provoking conversations, follow other Independent readers and see their replies