Turkey dismisses 7,400 more police, soldiers and public sector workers a year after failed coup
Recep Tayyip Erdogan to commemorate coup 'martyrs' with grand monument in Ankara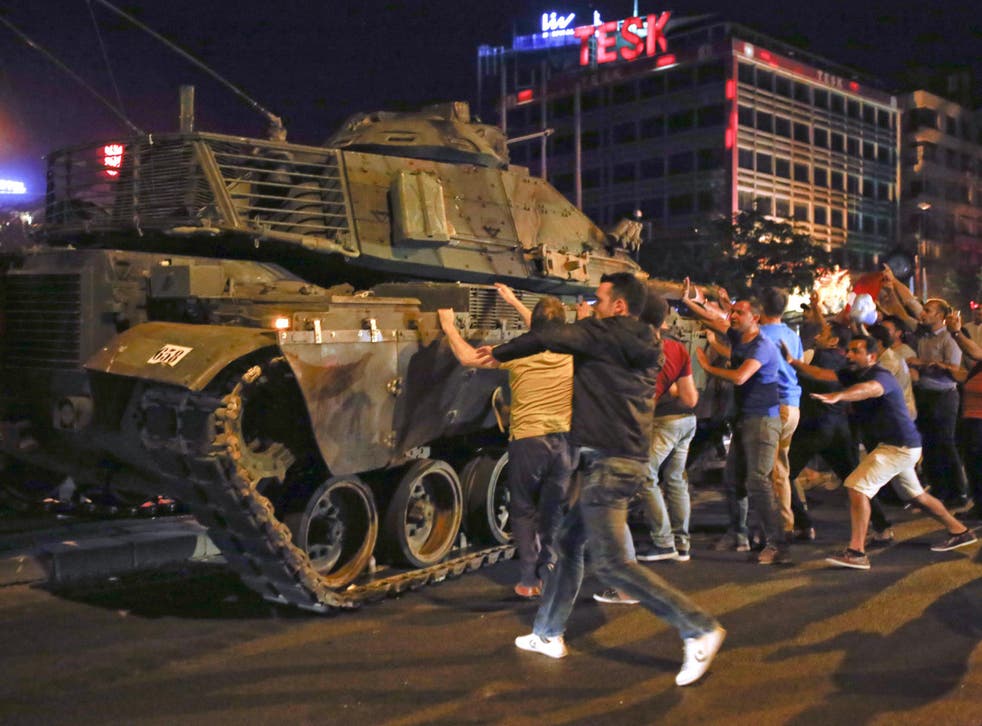 Almost 7,400 police, soldiers, civil servants and academics have been dismissed from their posts in Turkey as the country marks one year since an attempted coup against Recep Tayyip Erdogan.
The ensuing crackdown has seen 150,000 public sector workers suspended and 50,000 people from the military, police, judiciary, education and press arrested on terror charges.
Most are accused of links with an organisation run by US-based Turkish cleric Fethullah Gulen, who denies government accusations of backing the coup attempt.
Purges have been implemented through decrees issued under the country's ongoing state of emergency, with the latest announcing the dismissal of 2,303 police officers, 1,486 interior ministry staff, 546 navy and air force personnel, 418 justice ministry officials, 789 from the health ministry, 551 from religious affairs, 302 academics and 102 education ministry employees.
The former governor of Istanbul, Hüseyin Avni Mutlu was among those dismissed by the order, which also stripped 342 retired officers and soldiers of their ranks and grades.
It came on the eve of a series of events marking the one-year anniversary of the attempted coup and commemorating the lives of 250 people killed in the violence.
Mr Erdogan is set to unveil a large monument dedicated to "martyrs" opposite his palace in Ankara and another near Istanbul's former Bosporus Bridge, which has been renamed as the "July 15 Martyrs Bridge" to honour those who died resisting the coup.
In pictures: Turkey coup attempt

Show all 17
The President is to deliver a speech in parliament at 2.32am local time on Sunday - the exact moment the assembly was attacked a year ago.
The rebellion unfolded on a Friday evening, when a group of military officers commandeered warplanes, helicopters and tanks to attack key government buildings in Ankara, including parliament and the presidential palace complex.
They held Istanbul's main bridge and square and tried to overtake television stations, while attempting capture or kill Mr Erdogan, who was on holiday at a Mediterranean resort at the time.
After CNN-Turk broadcast his call for citizens to take to the streets to stop the coup, rebelling soldiers were crushed by loyalist police and troops, as well as thousands of members of the public within hours.
More than 2,000 people were injured, in addition to the 250 killed, among them 53 special operations police killed in an attack on their headquarters.
Around 30 coup plotters are also believed to have died during their failed attempt to oust Mr Erdogan, who has been in power since 2003 as Prime Minister then President.
He went on to win a disputed referendum in April to turn Turkey from a parliamentary democracy to executive presidency, dramatically expanding his powers amid warnings over increasing authoritarianism.
His government has blamed the coup on the Gulenist network, which runs a network of schools, media outlets and universities around the world, with the crackdown extending to countries including Malaysia.
Mr Gulen's followers are accused of infiltrating state institutions over decades to carry out the insurgency but opponents of Mr Erdogan say the crackdown has widened to stifle any dissent.
Safak Pavey, a Turkish MP from the opposition Republican People's Party, said so many political prisoners have been jailed since the coup that 38,000 inmates convicted of offences including rape, theft and fraud were released before finishing their sentences "to make room".
Describing the conditions inside Turkey's jails in a column for the New York Times, she said LGBT prisoners were kept in isolation under claims that they could "infect" others with Aids and syphilis, while at least 66 inmates killed themselves last year.
"Even the prison guards are afraid," Ms Pavey wrote. "If you ask for a glass of water, they will not give it to you, to avoid accusations of being nice to the opposition.
"Inmates have no privacy, not even access to a private toilet…inmates are watched [by cameras] even as they sleep."
Writing letters is forbidden, as is meeting in the prison yard and consultations with lawyers are limited to one hour a week, Ms Pavey said, adding: "Inmates have the right to 10 books a week, but they get a book a month. I heard an inmate being told: 'The book is not available, but the author is here if you are interested'."
Human Rights Watch and Amnesty International have reported torture and ill treatment of prisoners, who are allegedly beaten, made to kneel and deprived of sleep until they sign confessions.
UN experts have called on the Turkish government to immediately release lawyers and activists including Taner Kiliç, the chair of Amnesty International Turkey.
"The arrest of these human rights defenders, including prominent figures, is a further illustration of the witch-hunt taking place in Turkey," they said in a joint statement published by the Office of the High Commissioner for Human Rights.
"The Turkish authorities are constantly citing security considerations, in particular the fight against terrorism and the need to avoid another attempted coup, to justify targeting dissent and criticism.
"This is having the effect of curtailing people's rights to freedom of expression, assembly and association, and is particularly alarming.
"We have raised the alarm over the critical situation of fundamental freedoms in Turkey on various occasions and all the signs show that it is only going to escalate."
CCTV shows Turkish school principal being 'abducted'
Mr Erdogan once described the coup as a "gift from God" that had allowed the government to purge the military and public institutions of the Gulenists who once were allied with his Islamic-rooted Justice and Development Party.
"No state can work with those who don't show it loyalty," Prime Minister Binali Yildirim said this week.
"Our struggle [against Gulen's movement] will continue with determination."
Mr Gulen, 79, has denied any involvement with the coup but admitted some of his followers may have been involved, while the British and German governments are among those finding no evidence to support Ankara's claims or its designation of the Gulenist movement as a terror group.
Barack Obama refused requests to extradite Mr Gulen – once an ally of Mr Erdogan – from his home in Pennsylvania but there are fears Donald Trump's administration could approve the move.
The prospect appeared to dim with the resignation of former national security adviser Michael Flynn, who discussed the move with high ranking Turkish officials including the country's ambassador to Washington.
A spokesperson for the US State Department made no direct mention of the cleric in a statement marking one year since the coup attempt, but supported tolerance and dissent.
Heather Nauert praised "Turkey's brave and dedicated citizens of all backgrounds and political views [who] defended their democracy against an attempted coup".
"We reaffirm the United States' steadfast support for Turkey's democracy and democratic institutions," she continued.
"The preservation of democracy requires perseverance, tolerance, dissent, and safeguards for fundamental freedoms.
"Persistent curbs on those fundamental freedoms erode the foundations of democratic society. More voices, not fewer, are necessary in challenging times."
Sir Alan Duncan, a foreign minister, said the UK "reaffirms solidarity with Turkey, support for its democracy and pays tribute to those who died" in the failed coup.
Join our new commenting forum
Join thought-provoking conversations, follow other Independent readers and see their replies