Turkey election: Axe-wielding police officers round up dozens of Kurds ahead of parliamentary poll
Authorities accused of 'provocation' by pro-Kurdish Peoples' Democratic Party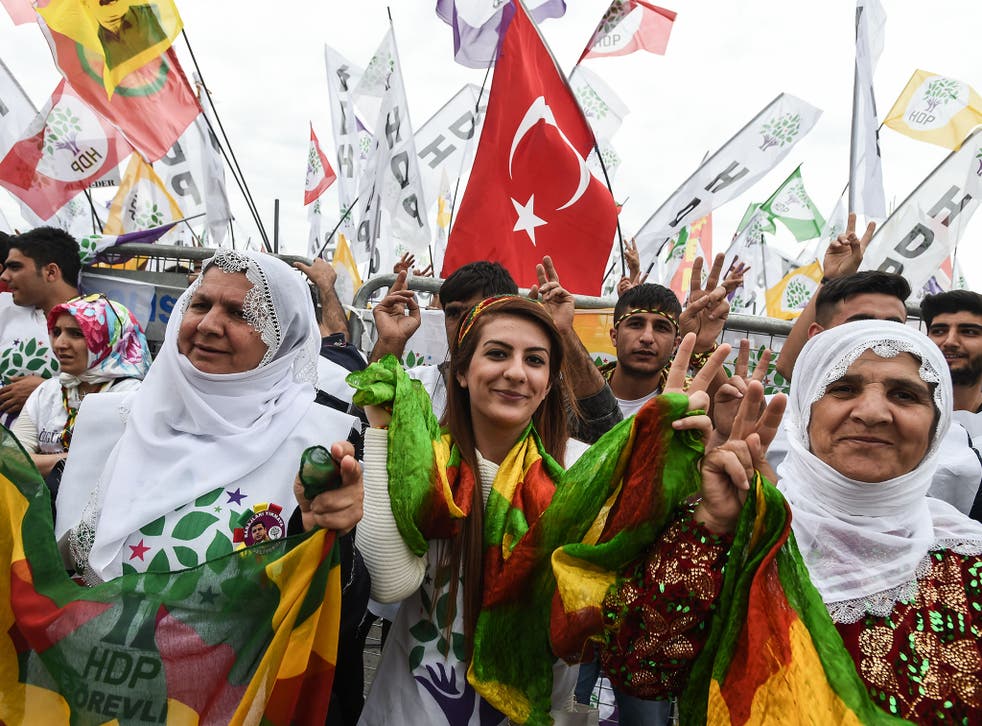 Turkish police have detained dozens of people in the mainly Kurdish south-east in an operation a pro-Kurdish politician described as a "provocation" ahead of Sunday's parliamentary election.
President Tayyip Erdogan is seeking a large majority for his ruling Justice and Development Party (AKP) to allow it to change the constitution and grant him sweeping executive powers. However, a big vote for the pro-Kurdish Peoples' Democratic Party (HDP), which nationalists accuse of supporting Kurdish armed rebels, could hinder him in that ambition.
Security sources said the 43 people held in Sirnak province, bordering Syria and Iraq, were planning protests on election day, and 37 more people were still being sought.
Hasip Kaplan, an HDP MP for Sirnak, blamed the AKP, co-founded by Mr Erdogan, for the raids in what is an HDP stronghold.
"This operation, brought about by the AKP government three days before the election, is in a word a 'provocation'," he said. "But the people will not be stirred up. We will thwart this provocation with our rally tomorrow."
Occasional gunfire could be heard as police wearing masks and wielding axes and shields launched simultaneous raids at houses in the province in the early hours.
The HDP, smallest of four parties in parliament, is trying to widen its support base beyond its core Kurdish backers, appealing to centre-left sympathisers in an effort to clear a 10 per cent threshold for entry to the assembly. If it succeeds it will be the first time it has won MPs of its own and will deal a serious blow to the AKP, taking some 50 seats which would otherwise go to the ruling party.
Polls put the HDP close to that target. Feleknas Uca, an HDP candidate in Diyarbakir, said: "We aim for 15 per cent of the votes. The HDP's representation in parliament is crucial to save the peace process in Turkey, however stalled it is at the moment."
That peace process began in 2012 when Mr Erdogan admitted that the AKP government was talking to Abdullah Öcalan, the jailed leader of the Kurdistan Workers Party (PKK), which had been waging a decades-long terror campaign against the Turkish government. Three months later, the PKK announced a ceasefire and the withdrawal of its troops from Turkish soil. However, the talks have since stalled, leaving many Kurds frustrated.
Mr Erdogan called the election in the hope that his supporters will win more than 60 per cent of seats in Turkey's parliament, enabling them to change the constitution and grant sweeping new powers to the presidency. Critics say he is seeking to make himself the Turkish equivalent to Russia's authoritarian president, Vladimir Putin, leaving parliament as a political sideshow.
Ms Uca and her colleagues pose a direct threat to that plan, having attempted to refashion the HDP to win support from beyond the minority Kurdish community. She herself was born and raised in Germany and is a Yazidi, the religious minority which has been singled out for particular brutality by Isis in neighbouring Iraq.
If elected she would be the first Yazidi MP in Turkey, probably alongside a fellow Yezidi candidate from a neighbouring province. There is only one reason she hopes to be an MP, she says: "I want to work for peace and for democracy in this country. I want to change something."
Join our new commenting forum
Join thought-provoking conversations, follow other Independent readers and see their replies