Turkey unrest: Tear gas is not enough. If I was in power I would have used guns against protesters in Taksim Square, say supporters of PM Recep Tayyip Erdogan
Richard Hall meets supporters of Turkish PM Recep Tayyip Erdogan in his Istanbul stronghold, Fatih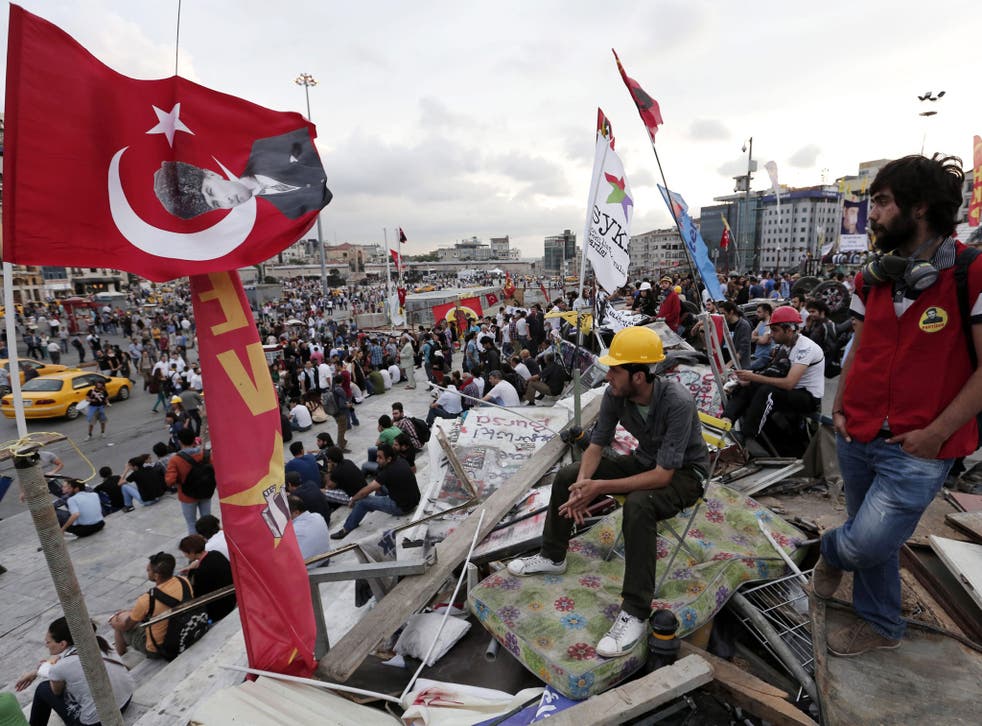 There have been many times over the past few weeks when, in an attempt to drown out protests against his government, Turkish Prime Minister Recep Tayyip Erdogan has threatened to call his supporters on to the streets.
With Istanbul's Taksim Square in the spotlight, the people who elected Mr Erdogan – or "the 50 per cent" as they are sometimes known – have had few opportunities to respond to the anger directed towards their leader.
But just two miles from Taksim in the district of Fatih, a largely conservative Muslim area and stronghold of Mr Erdogan's Justice and Development Party (AKP), there is a different kind of anger. "It is all complete nonsense," says Murat Arslan, a trader and resident of Fatih. "[The protest] is a political movement and it has nothing to do with trees."
The trees to which Mr Arslan refers lie in Gezi Park, in Taksim Square. Demonstrations against Mr Erdogan's government began two weeks ago in opposition to the proposed redevelopment of the park, but have grown into a wider collection of activists dissatisfied with his leadership.
Mr Arslan has voted for Mr Erdogan in the last three elections. "The initial motivation of the protesters was meaningful, but now it has gone too far," he says. "The opposition is trying to provoke people in order to create trouble and win votes. They are trying to topple the government, but they will fail."
The residents of Fatih are predominantly conservative Muslims, a group from which Mr Erdogan draws the majority of his support. The area's fortunes have improved dramatically since the AKP came to power, and the people here are grateful for it. Mederi Aykul, a taxi driver, points to Mr Erdogan's tangible achievements – the rapid growth of the Turkish economy, improvements to healthcare and security. "I was afraid to drive at night. I was scared that I would be killed by the gangs. Erdogan got rid of the gangs," he says.
While the authorities in Turkey have been criticised by rights groups, including Amnesty International, for the crackdown on protests over the past two weeks, Mr Aykul doesn't believe they went far enough.
"Erdogan called the protesters vandals, but they are worse. I call them traitors of the country," he says. "Tear gas is not enough. If I was in charge I would have used guns."
Gentin Tankoc, a café owner who calls himself a conservative Muslim, says that while he understands why many protesters have come out, he disagrees with their methods. "We are talking about a government that has been in power for 10 years. These protests may be a reaction to this exhaustion with the AKP." One of the key complaints emanating from Taksim Square is that Mr Erdogan is concerned only with his supporters at the expense of everyone else. Many also believe the AKP is imposing an Islamist agenda on a country that is traditionally secular.
In Taksim Square, it is not hard to find those who are similarly distrustful of Mr Erdogan's 50 per cent. "The country has become more polarised since the protests," says student Selin Gelur, 21. "Turkey was already very divided – we had the Kemalists, the ultra-nationalists, the Islamists, the Kurds and the leftists. Now the dividing line is starker: it is either with the government or against. Erdogan is to blame for that."
Join our new commenting forum
Join thought-provoking conversations, follow other Independent readers and see their replies