Ukraine crisis: Country 'fights for survival' as US warns over unchecked Russian aggression
As leaders of Germany and France seek to avert all-out war in talks with President Putin, America is convinced that allowing Russian aggression to go unchecked is the biggest danger for the West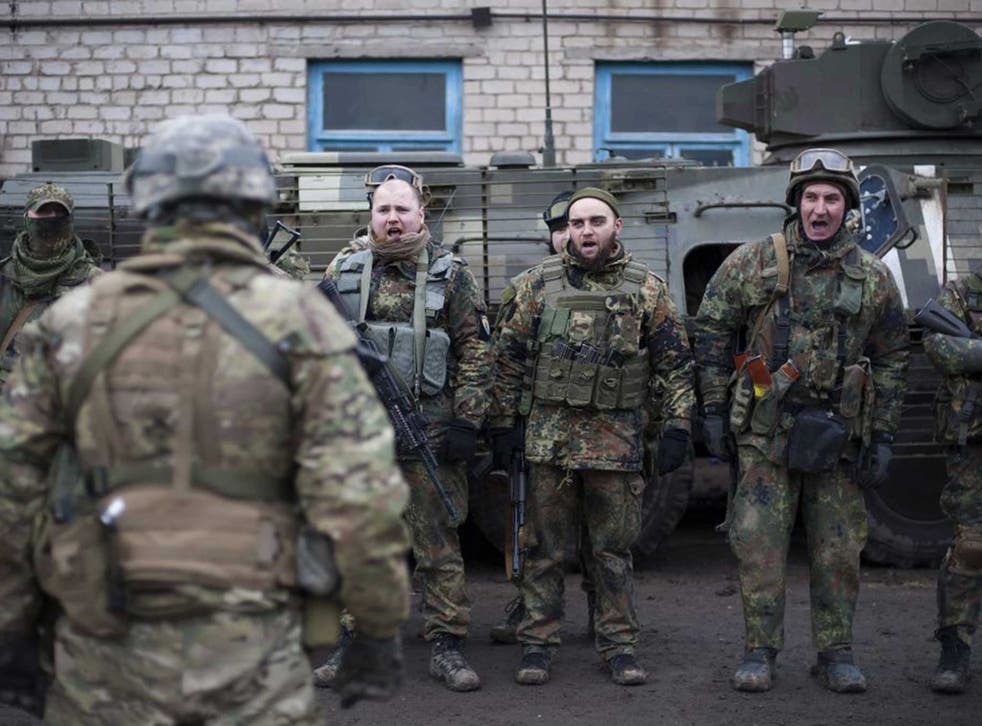 In the eastern Ukrainian town of Debaltseve, a grim railway junction fought over by Russian-backed separatists and government troops for the past two weeks, there was a brief respite yesterday.
The power, heat and running water remained off, a consequence of the constant barrage of shelling. But for a few hours, in a move not seen before in this war, there was near silence as both sides briefly ceased hostilities to evacuate the few residents still remaining. Dozens of buses travelled in convoys to ferry residents away from danger.
The respite is not expected to endure for long, however – unless events in Moscow take an unexpected turn. There, last night, Germany's Chancellor Angela Merkel and the French President François Hollande were beginning meetings with President Vladimir Putin in an effort to bring Ukraine back from the brink of a total war.
Hopes of peace have been dashed before during this increasingly savage conflict which has cost more than 5,300 lives so far.
A more widespread temporary ceasefire would at least provide a breathing space for negotiations, but even that is by no means assured. And a failure in the talks would lead to a fresh eruption of fighting, with both sides already mobilising more forces and threatening spring offensives.
The talks broke up without agreement last night with the three leaders' next contact expected to be by phone tomorrow. Developments away from the summit will have a significant bearing on what unfolds in the next crucial weeks. The urgency shown by Ms Merkel and Mr Hollande to try to grasp the nettle is an attempt to pre-empt the Obama administration's plans to supply the Kiev government with heavy weaponry – a move which Western European states hold would add fuel to a combustible situation.
Developments away from the summit will have significant bearings on what unfolds in the next crucial weeks. The urgency shown by Ms Merkel and Mr Hollande to try and grasp the nettle is an attempt to pre-empt the Obama administration's plans to supply the Kiev government with heavy weaponry – a move which France, Germany and other Western European states hold would add fuel to a combustible situation.
The Americans, however, show no signs of backing down. Joe Biden declared yesterday that Mr Putin cannot be trusted and issued a warning against appeasement. "Ukraine is fighting for its very survival," said the US Vice-President at a security conference in Munich. "Russia is escalating the conflict by sending mercenaries and tanks, special operations soldiers. President Putin continues to call for new peace plans as his soldiers roll through the countryside. This is a moment where the US and Europe must stand firm. Russia cannot be allowed to redraw the map of Europe."
In Washington, Senator John McCain, who had to watch in frustration as his urging to arm the "moderate" rebels in Syria fell on deaf ears at the White House, believes bipartisan support in Congress for weapon supplies means more leverage to ensure that this time the administration does not let down allies. "The US must act with urgency and supply defensive lethal assistance to Ukraine," he reiterated. "Russian aggression is the gravest threat to European security in decades." administration do not let down allies.
Ukraine crisis: A timeline of the conflict

Show all 23
Nato's eastern members, former Soviet satellite states, have been traditionally hostile to Russia and fear that a hasty deal in Moscow would be a precursor to danger for themselves. Donald Tusk, President of the European Council and former Prime Minister of Poland, was not just thinking of Ukraine when he said yesterday: "As close friends and partners, the EU and US need to continue standing shoulder to shoulder… We cannot compromise on independence, sovereignty and territorial integrity."
German and French diplomats, however, insist Ukraine's President Petro Poroshenko, who spent five hours in talks with Ms Merkel and Mr Hollande, has been convinced that his country's interests will not be sacrificed. According to them, a compromise may be possible on two key issues. Russian-backed separatists will not get their demand for a federation, providing effective autonomy – the first stage, Kiev fears, to breaking away. At the same time, Moscow will be promised that there will be no fast-tracking of Ukraine into Nato.
The remaining proposals are said to be extensions of the Minsk Protocol signed by both sides in the Belarus capital last autumn which brought a temporary cessation of hostilities. The separatists may be given more power to hold, for instance, their own elections. Limited immunity from prosecution for "war crimes", the withdrawal of heavy artillery by both sides and a security buffer zone at the Russian border are also to be agreed.
There is also a proposal for the ceasefire being monitored by a UN force. The Ukrainian government, however, fears this will create another permanently "frozen conflict" like those in former Georgian territories.
Meanwhile events in the last 24 hours show how dysfunctional the country remains. A senior military officer was arrested amid claims the defence establishment had been heavily infiltrated by Russia. Lt-Col Mykhailo Chornobai was allegedly passing on secrets to the "Donetsk People's Republic" giving locations of Ukrainian forces subsequently hit by artillery manned by Russian "volunteers".
Lt-Col Chornobai is among some 300 defence personnel arrested on charges of spying for the separatists or the Russians, just one factor that has led to widespread distrust of Kiev's military hierarchy among soldiers fighting in the east. Some commanders hold that the senior command in Kiev cannot be trusted with any arms supplied to Ukraine. Semyon Semenchenko, a pro-government paramilitary leader and MP, had urged US officials to send weapons directly to the front.
This is the fractured state of affairs into which, Western European diplomats point out, the Americans are considering sending large quantities of heavy weaponry – and which may also render Mr Putin impervious to the efforts of Ms Merkel and Mr Hollande.
Downing Street hits back at 'irrelevant' claims
Nigel Morris
Downing Street hit back at accusations yesterday that David Cameron had become an "irrelevance" in the diplomatic drive to end the bloodshed in Ukraine.
The charge of being a "bit player" was levelled at the Prime Minister by General Sir Richard Shirreff, Britain's former top Nato commander.
A Downing Street spokeswoman retorted that no one who witnessed EU leaders' talks on the issue would have concluded that Britain was irrelevant. She said: "We were pushing hard for a unanimous, strong and united message on the situation in Russia and Ukraine and leading the way on further work on sanctions."
Germany and France had been in the lead on the issue for the past six months and Britain was "comfortable" with the process, she said.
General Shirreff told BBC Radio 4: "The UK is a member of the UN Security Council, and it is unfortunate that the weight that the British Prime Minister could bring to efforts to resolve this crisis appears to be absent."
Join our new commenting forum
Join thought-provoking conversations, follow other Independent readers and see their replies