Ukraine crisis: Fear of Soviet-style corruption clouds country's elections
In local elections across the country, optimism in democracy is overshadowed by a weary acceptance that nothing will change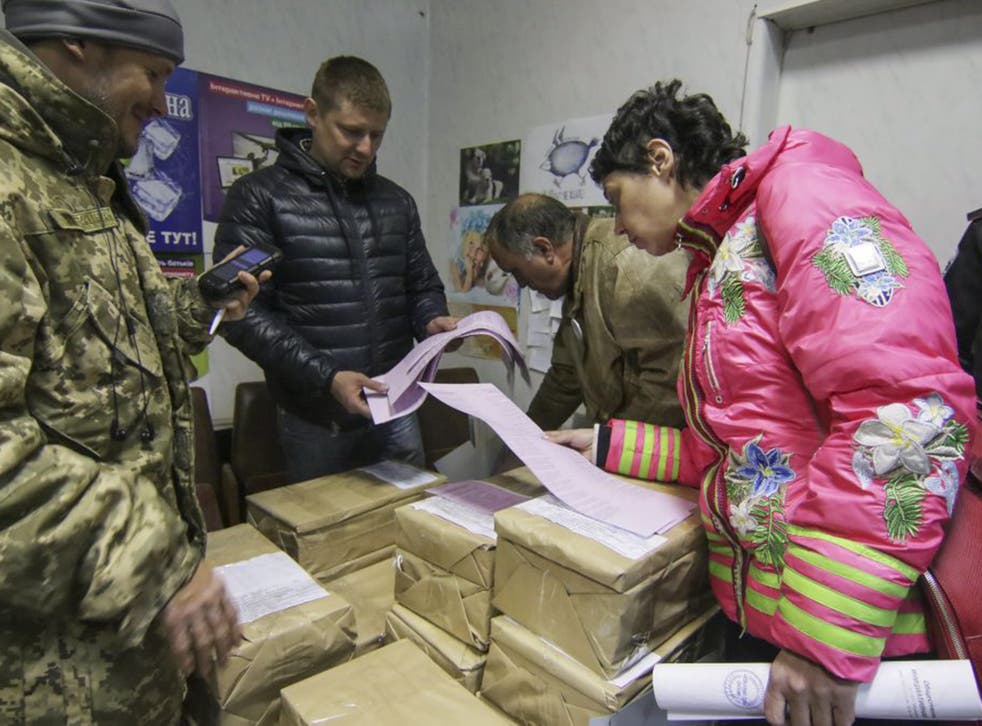 Just off Lenin Avenue, in the port city of Mariupol, eastern Ukraine, is the printing plant owned by Rinat Akhmetov – the country's richest man. Russia's border is less than 40 miles away.
This ugly, Soviet-era warehouse is a symbol of the wider, intractable challenges facing all of Ukraine as the nation votes on 25 October in local elections for hundreds of thousands of candidates across 132 political parties.
Mr Akhmetov, whose assets range from metals to media – typically uses the plant to publish his influential paper, Priazovsky Rabochy. In recent days, his machines have rushed out hundreds of thousands of ballot papers for Mariupol's local polls.
But rivals are wary. One man running for mayor – Opposition Bloc's Vadim Boychenko – is a former director at Metinvest, owned by the same billionaire tasked with printing the ballots. "We don't trust what's going on here," said rival council candidate Oleg Kharchenko, 46. "It's a clear conflict of interest. How can anyone believe this is a free and fair election?"
Mariupol has the same obstacles that continue to hobble the rest of Ukraine: powerful oligarchs, a sluggish economy and allegations of systemic corruption, while the population is torn between pro-Russians and diehard nationalists.
"Our city has concentrated all the negative aspects of the USSR. It's like a swamp," said Maxim Borodin, Mariupol's mayoral candidate for Power of the People. This anti-corruption and environmental activist hopes to replace the outbound mayor, Yuri Khotlubey, 71, who came to power under Mikhail Gorbachev. "The city is still run by the old Soviet guard. If we change the system here, we become a beacon for the rest of Ukraine."
It is almost two years since the Maidan street protests erupted in Kiev, sparking revolution and a catastrophic conflict in the eastern regions. Now Ukraine is gripped by election fever. The nation's gaze has shifted from the war-torn battleground of the east to the complex and fractured political battleground of the entire country.
Ukraine crisis: A timeline of the conflict

Show all 23
High stakes are matched by dirty tricks. Election observers from the Organisation for Security and Co-operation in Europe (OSCE) report vote-buying and intimidation in some areas. National issues dominate over mere municipal matters; President Petro Poroshenko's governing coalition faces losses in some areas.
Crucially, local elections in the east will highlight the loyalties of the region's predominantly Russian- speaking population. Many pro-Russians reside outside rebel territory and will make their true allegiances known via the ballot box. The pro-Russian Party of Regions, formerly led by ousted president Viktor Yanukovych, was dissolved after the Maidan protests. But its representatives have revived their careers in other parties, namely Opposition Bloc and Our Land; many anticipate a return to power.
For many at Mr Akhmetov's Azovstal foundry in the city, just one candidate counts. "Most will vote for Mr Boychenko," one steel worker told The Independent on Sunday on condition of anonymity. "He is the only politician allowed to speak there. Loudspeakers play promotional adverts for him every day."
Some allege that Mr Boychenko was forced into the job. "I know him personally – he was ordered to run for mayor by the corporation. He has no chance of losing," said Konstantin Batozsky, an adviser to Donetsk's former governor, billionaire Serhiy Taruta. For Mr Batozsky, the mayoral candidate is just another oligarchal "puppet" and an unhappy reminder of the former regime.
Mr Boychenko is evasive when questioned about his party's suspected links with Mr Akhmetov. "Do we know if Poroshenko sponsors Solydarnist [the President's political faction]? I don't know Akhmetov personally but I deeply respect him."
For him, claims that Mr Akhmetov's printing press is helping rig the election are anathema. "The inspectors said everything was OK," he said referring to a recent ruling that cleared the plant facility of any wrongdoing. "We are on course to win regardless. We don't need fraud to help us," he said.
Mr Akhmetov's representatives did not respond to The IoS's requests for comment.
But the people of Mariupol are weary. Outside Mr Akhmetov's printing press, a group of women arrived to collect ballot papers for the town of Urzuf. "We don't care if the winner is pro-Russian or pro-Ukrainian," said Oksana Grygorash, 41. "All we want is peace. We are so tired."
They have survived the ravages of conflict, but corruption persists. What comfort can a local election offer? "We must keep faith in the democratic process," Ms Grygorash said. "Hope dies last."
Join our new commenting forum
Join thought-provoking conversations, follow other Independent readers and see their replies