Ukraine crisis: Fighting in Donetsk between army and Russian-backed rebels at highest level for months
There was brief respite to the fighting in eastern Ukraine, but now hostilities in Donetsk have resumed at a level not seen since last September. Oliver Carroll reports from Debaltsevo, where a weary population awaits further turbulent times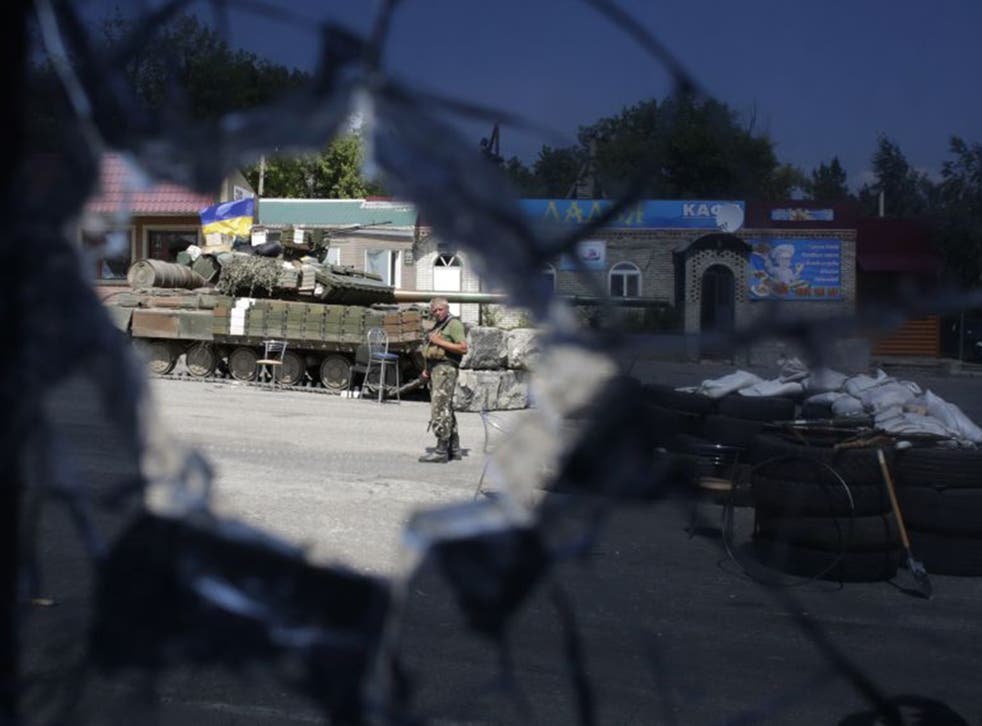 The mercury stops at -30 and fierce winds whirl snow through the improvised campsite. Stuck out in frontline positions near Debaltsevo in the Donetsk region, the soldiers of Ukraine's 128th mechanised brigade have observed the nature of Ukraine's "ceasefire" at first hand. Their sunken, haunted stares, speak of its success.
"The politicians might call it whatever they want, but what is said in Kiev and what is happening on the ground are two very different things," says Private Yury Trush, who has been stationed in Debaltsevo since September.
According to Private Trush, military activity has been relatively consistent throughout the ceasefire, with the exception of three weeks in late December, when things became "relatively calmer". That ended abruptly on New Year's Day, he said, when the region once again became subjected to regular shelling by mortars, rockets, and heavier artillery.
Debaltsevo, back under Kiev's control since late July, is one of four or five key strategic points on the military map of eastern Ukraine. As an important transport hub for road and rail, Kiev has been keen to hold on to the town despite obvious geographical vulnerability – surrounded as it is by Russian-backed rebel forces to the west, east and south.
Ukraine crisis: A timeline of the conflict

Show all 23
From day one, pro-Russian agitators have made threats to fully encircle and ambush the Ukrainian troops based there while the city and its environs have been among the most shelled of the conflict.
Approximately a thousand homes have been damaged or destroyed since July, and military and civilian deaths run into the mid-hundreds.
Developments over the past week have done much to dash immediate hopes for a political solution to the conflict that has dragged on since April. As Ukrainian authorities introduced wider restrictions on travel in and out of rebel-held territories, fighting in Donetsk resumed at levels not seen since September.
From Sunday night to Monday morning, Ukrainian military authorities recorded 63 separate attacks on their positions. Heavy shelling was also clearly audible in the regions adjacent to rebel-held Gorlovka and Yenakievo to the south-west.
Several new videos of military convoys moving in rebel-held territories have also appeared on social media in the past few days. One, filmed on Saturday, showed a column of at least 30 modern military vehicles travelling in the border town of Krasnodon in the Lugansk region.
Andrei, a resident of Gorlovka in the Donetsk region, told The Independent that several dozen new military vehicles had entered the city in the past week. Given the difficulty in accessing the city, it is impossible to verify the claims. Yesterday, Andrei Purgin, Deputy Prime Minister of the Donetsk People's Republic declared that rebel forces had "returned to a phase of active military operations", and it now seems probable that turbulent times await the region.
What is less clear is whether any new push from either side will make any material difference to the demarcation lines, which have been reasonably stable since September.
Three lines of defences have been prepared by Ukrainian forces all around the region, and given the abundance of troops and military equipment on both sides, any military push is now likely to prove costly.
Military press officer Pavel Parfenyuk said that Ukrainian forces in Debaltsevo were ready for every eventuality. "Everybody understands that it's better to be prepared than to look for reasons later – we are ready for an all-out war, we are ready to attack and we are ready to defend", he said.
The bitter winter conditions had made operations on the ground difficult, he admitted, but "soldiers understand this is not a Black Sea resort". Confused and fearful, locals are also resigned to hostilities continuing for the foreseeable future.
At the beginning, many of them signed up to the promises of improved pensions and social provisions, and so supported the pro-Russian rebels. Many say they voted for the 11 May "independence referendum" without really understanding what it meant.
Today, the general opinion on the street has changed to ambivalence. "We're for anybody, so long as the fighting stops," many residents repeat to The Independent.
Nina Nikolaeyvna, a local shopkeeper, says she has a generally positive view of the soldiers based in Debaltsevo. "There are good soldiers and there are mad soldiers – but this is just like the local population," she says, before nodding to damage on her tiled floor caused by Kalashnikovs.
She says she is often frightened of the shelling, so sleeps in the bomb shelter next to her shop so as not to be outside for long at night. "People have taken to drink – it's the one way to stop the fear," she says. The selection on show in Nina Nikolaeyvna's shop seems to prove the point – there are more than 30 varieties of strong spirits, a few snacks and not much else. Soldiers admit that a significant proportion of the locals remain hostile towards them. Some refuse to believe rebel fighters might be firing at their "own".
Others blame the Ukrainian army for making the town a military target. Graffiti around the town declares "Death to the Banderovists [Nazi sympathisers]!" and implores locals to bear arms against an "army of advancing fascists".
Military authorities have decided to leave the graffiti up for the time being. "It's so bizarre, we just find it amusing," says Zoreslav Kainski, deputy commander of the Lviv police battalion, which is tasked with patrolling the town and keeping public order.
He says that he is not offended by local opinions, which he puts down to the absence of Ukrainian television in the town.
As across much of Donetsk region, the only terrestrial channels available to watch are the Russian and rebel channels, which tend to offer a particular kind of news angle. "It's the television speaking," Mr Kainski says with a shrug. "And you can't win them all."
Join our new commenting forum
Join thought-provoking conversations, follow other Independent readers and see their replies