Ukraine crisis: At least 30 civilians killed in latest violence as government battles to control eastern regions
Deaths follow President Poroshenko's announcement that Kiev's 'anti-terror operation' was entering a new phase aimed at 'liberating' Donetsk and Luhansk from pro-Russian rebels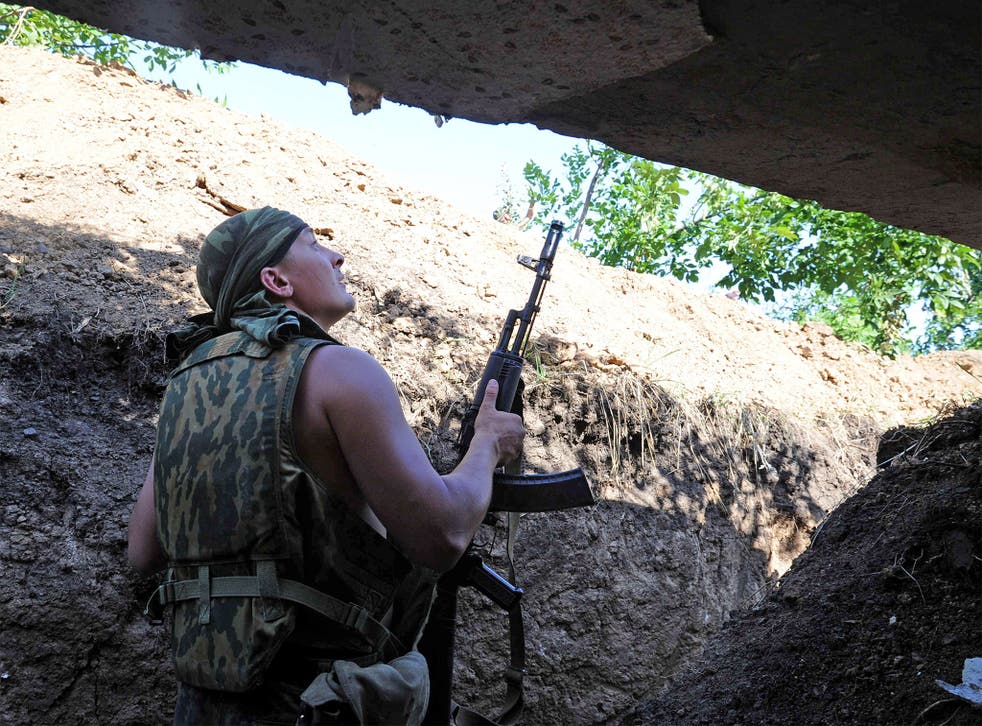 Yuri rips broken glass away from windows and then pounds his fists against the brick wall. He crouches to cradle the lifeless body of Ira, his ex-wife, to his cheek. Her blood is smeared across his face. Next to her, Ira's teenage sister lies face down with her foot poking from beneath a blanket. In the courtyard their parents lie next to a children's swing set. "I will slit these Ukrainian bastards' throats," he said.
The family from Petrovskiy, 10 miles from Donetsk city centre, are among the latest civilian victims of the indiscriminate use of artillery in eastern Ukraine as government forces battle Russian-backed rebels.
The increase in violence follows last week's announcement by President Petro Poroshenko that Kiev's "anti-terror operation" was entering a new phase aimed at "liberating" the eastern region's two largest cities – Donetsk and Luhansk – from the pro-Russian rebels.
Since then fierce fighting has claimed the lives of at least a further 30 civilians.
Use of inaccurate artillery by both sides, including mortars, tanks and rockets, has forced tens of thousands to flee the region as misfired explosives wreak havoc in civilian areas caught in the crossfire.
The three-month siege of Slovyansk, the rebels' headquarters, was broken by Ukrainian forces this month. Hundreds of civilians were killed and the city's infrastructure was devastated by shelling before it was retaken.
Luhansk, a city of 425,000 people, resembles a ghost town after 2pm. Most shops in the city have closed. Those that remain open pull down their shutters as people disappear from the streets before afternoon shelling starts. A two-mile stretch of offices and apartment blocks from the centre toward the airport has been turned into a no-go zone of mortar fire as Ukrainian forces hurl shells towards a nearby rebel base and the sound of outgoing fire echoes back in return.
Some suburbs of the city have been near abandoned as the two sides use once-tranquil villages as a battlefield. In Stanitsa Luhanskaya, the locals who remain said they are confused about who is attacking them and just want peace.
On Tuesday, another air strike on the small town of Snizhne, 12 miles from the Russian border, killed 11 people after six bombs were dropped on apartment blocks and offices in the central area of the town during the early hours of the morning.
Standing outside her destroyed home, a retired nurse stared bewildered as rescue workers tried to stabilise the building and search for trapped people. "I have lost everything I worked my whole life for in a second," she sobbed.
The family of Yuri's ex-wife was killed on Saturday afternoon as a barrage of heavy artillery blasted through their house. In the hours after the assault traumatised villagers emerged from their houses to survey the mess of rubble. "We only just managed to dive into the basement in time," Marina, the neighbour of the dead family told The Independent, pointing to a large crater in her front garden.
At least eight civilians were killed in the assault and several buildings, including apartment blocks, restaurants and an orphanage, were destroyed.
Both sides blame each other for the attacks but international organisations called for an immediate end to the use of explosives in populated areas.
Join our new commenting forum
Join thought-provoking conversations, follow other Independent readers and see their replies