Ukraine crisis: Life in a bitterly contested village that has changed sides repeatedly throughout the conflict
Most residents in Shyrokyne have been forced to flee from the constant shelling, while the few who remain live in constant fear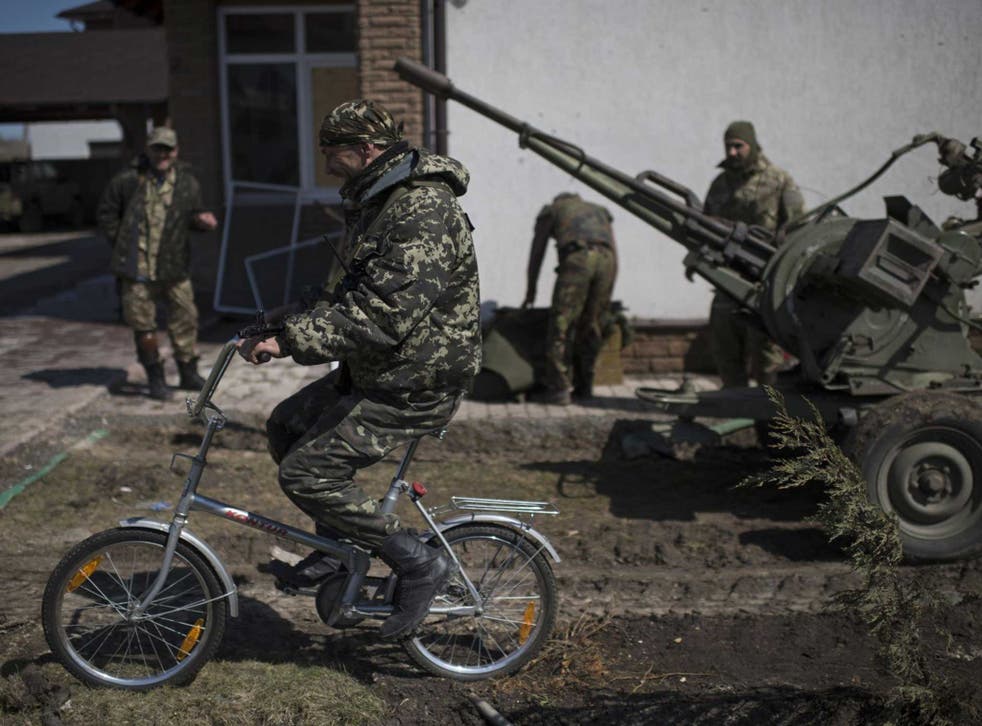 Irina Strezhak begs the international monitors who have arrived near her bombed-out home in the besieged Ukrainian village of Shyrokyne for sleeping pills.
"We need something to let us sleep through the night, some medication, sleeping pills – anything," she says. "It's impossible to get any sleep with all the shelling. It goes on all night long."
The village, on the Azov Sea, has changed hands repeatedly during the Ukrainian conflict. Despite the ceasefire taking hold across much of the country, it remains bitterly contested – the epicentre of the silent war that has continued in recent weeks. Ms Strezhak vows to stay put despite heavy shelling by pro-Russian separatists and Ukrainian forces.
She is one of only 34 residents remaining in the village – now mostly under the control of insurgents – after it became the scene of heavy fighting between pro-Russian rebels and Ukrainian troops in recent weeks, swiftly turning into a no-man's land for civilians.
After weeks of shelling, most of the 1,100 residents fled for their lives, leaving behind their belongings and even their pets. Starving cats and dogs roam the streets howling for food, their cries unheard in a village that has now become a ghost town. Burnt-out houses line the streets, which are themselves a minefield littered with shattered glass, debris and bullets.
Ukraine crisis: A timeline of the conflict

Show all 23
A year after the conflict in eastern Ukraine erupted into a full-fledged war between the Russian-backed separatists and Ukrainian forces, Shyrokyne – seen as the key to Mariupol for the insurgents – has put the Minsk agreements to the test.
The Ukrainian military accuses rebels of using heavy artillery around a number of locations in recent days. Kiev claimed that rebels used automatic grenade launchers and mortars around the government-held town of Avdiivka.
It is Shyrokyne that offers perhaps the clearest evidence yet that neither side is abiding by the ceasefire. Members of the Donbass battalion, part of Ukraine's military, paint a grim picture. Speaking to The Independent, they say they are shot at on a daily basis by separatist forces, but helpless to do much to stop it. "Ceasefire, ceasefire, ceasefire… There are always ceasefires and then within an hour or two the shooting starts again," says a Donbass commander who goes by the nickname Tikhy, or "Quiet".
Sergei Shkoropatko, a volunteer fighter with the Donbass battalion, laments the fact that "Kiev will not let us act" in protecting Shyrokyne. "They get away with firing at us all they want but we have to wait for orders from above to be able to return fire," he says.
Many of those on the ground in the war-torn village complain that fighting stops only while international monitors from the Organisation for Security and Co-operation in Europe (OSCE) are visiting, only to resume again as soon as they pull away. The monitors were there this week when they facilitated a meeting between a Ukrainian Major-General and a Russian Colonel-General to discuss a disengagement plan. Yet shortly after the monitors left, fighting resumed.
Alexander Hug, deputy head of the OSCE's Special Mission to Ukraine, concedes that this happens quite often, noting that shelling had started a mere 43 minutes after observers left. "We have evidence that tanks were used and that both sides have been violating the ceasefire," he says.
The pro-Russian side claims that Ukrainian forces have broken the ceasefire. On Wednesday, they say, cluster bombs had been used and several homes in rebel-controlled territory shelled. Sniper fire could be heard sporadically while exiting the village, and yet another home was burnt down from shelling while monitors were in the vicinity.
The handful of residents who remain in Shyrokyne seem determined to stay, however, issuing the same response to the question: "Why don't you leave?" "Where would I go?" they say. Sasha, 13, rides his bike along the roads, not the least bit deterred by monitors' warnings of landmines. "It's okay when the OSCE is here," he says. "But there is still shelling almost every day. You get used to it."
An elderly resident, Ivan Kudryavsky, says he has become used to the shelling as well. As the bombs rain down, he picks up his guitar and belts out love songs, he says. "The strings are all torn off and it doesn't work, but I can still pretend," he says. "What's left of Shyrokyno? Nothing but the name."
* A Ukrainian journalist known for his pro-Russian views has been shot dead in broad daylight in Kiev. Oles Buzyna, 45, who was editor of a leading daily until March, was killed by two masked men shooting from a passing car.
Join our new commenting forum
Join thought-provoking conversations, follow other Independent readers and see their replies