Ukraine crisis: Mariupol a city on the edge as residents anticipate invasion by Russian-backed forces once the fragile ceasefire ends
It is the obvious next piece to slot into the pro-Russia jigsaw, adding three major metal processing plants, 50% of regional GDP, and a critical part of what may become a land corridor to Crimea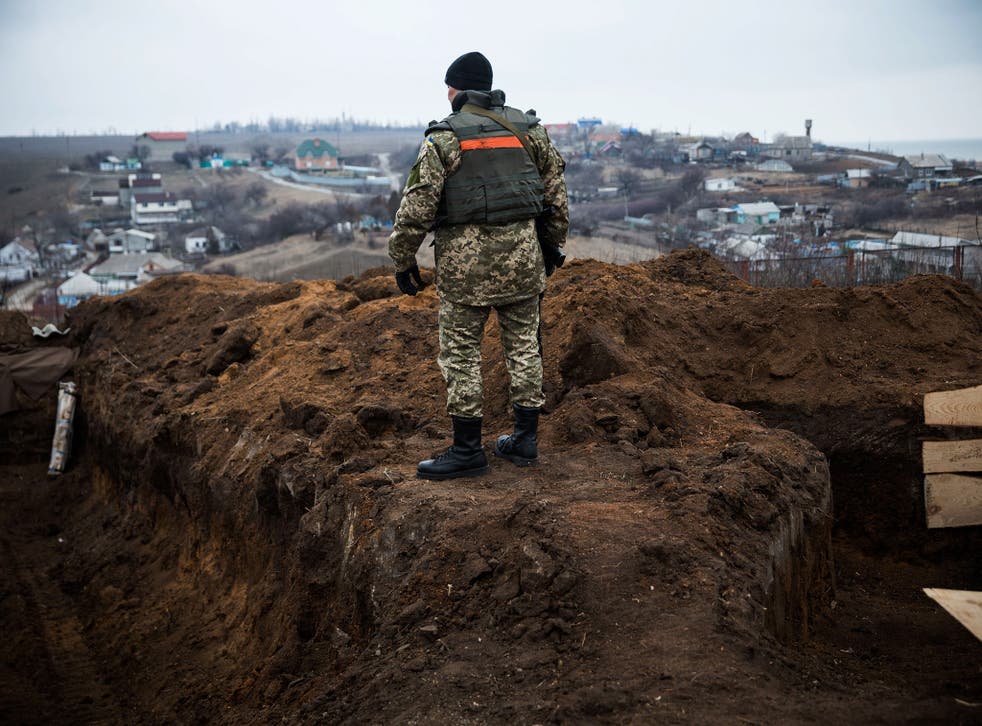 The Azovstal steelworks cast imposing shadows over the two dozen fishermen attempting to catch mullet from the sulphurous Kalmus river below. It would be another unexceptional post-Soviet apocalyptic scene, perhaps, were it not for the fact that the city is Mariupol, and that a few metres down from the fishermen stand four soldiers. They are on high alert, keeping watch over the bridge, as are soldiers over every bridge in the city, ready to stop an anticipated attack by Russian-backed forces.
Mariupol is a city on edge: bomb shelter signs dot the city and at bus stops, the talk is about the probability of a Russian invasion. After the fall of Donetsk airport to the rebels, and the Ukrainian withdrawal from Debaltseve when that town was besieged on three sides, Mariupol seems the obvious next piece to slot into the pro-Russia jigsaw.
If Debaltseve, a simple transport junction, was considered a useful addition to rebel infrastructure, Mariupol would raise things to a new level – adding three major metal processing plants, perhaps 50 per cent of regional GDP, and a critical addition to what may become a land corridor from Russia to Crimea.
In January, Russian-backed separatists appeared to signal their intent to take Mariupol, when they launched a devastating rocket attack on the city's eastern district. Thirty were killed that day, and more than 100 injured.
Since then, a local counterattack by Ukrainian forces has pushed back front lines to the north-east and east, and a new ceasefire agreement has been agreed. But although the Minsk ceasefire is largely holding across the region, skirmishes continue in Mariupol each day.
Earlier this week, two Ukrainian soldiers were killed and two injured in fighting around the outlying village of Pischevik; the following evening, Ukrainian forces in Mariupol came under mortar attack – and so it goes on.
Residents of the city's eastern district are taking no chances. Five weeks after the January attack, the streets are still largely deserted: those who could leave have long since done so, and only the poor, immobile and bloody-minded remain. Paramilitary units patrol the streets at night to stop looting. Kievsky market, the centre of the rocket attack, is a particularly miserable sight: it still functions – just – but only a quarter of the stalls are in use and there is shrapnel damage everywhere.
Nina Grigorievna, 54, a greengrocer, was working at the market when the rockets fell. She was saved by the fact her stall was in the central section of the market, which was spared a direct hit. Her friend sold sausages a few stalls up, and was less fortunate. The steel container from which she sold the sausages has gone, and only a patch of scorched earth remains behind. "She was simply fried alive," says Grigorievna.
The stallholder says she expects little from the current ceasefire. It would be only a matter of time before fighting returned to its previous intensity, and a full-scale operation to take Mariupol was launched, she said.
Earlier this week, The Independent witnessed Ukrainian forces digging new machine gun positions and trenches along the Azov coastline towards Shirokyne. Ukrainian military spokesman Dmitry Chaly admitted the process of withdrawing heavy artillery, required by the Minsk agreement, had not advanced far, and blamed the other side for delays. "We have withdrawn T12 anti-tank missiles to 25 kilometres (15 miles), but can only remove major artillery once we see the enemy is serious about co-operating."
Mr Chaly claimed the other side was engaged in a complex show of deception. "We have registered a common pattern: OSCE monitors appear by day, and the artillery is removed; but by night, everything is back in position," he said.
US Army Commander Ben Hodges said this week that the US believed that 12,000 Russian soldiers were now based in eastern Ukraine, in various support and combat roles. A former aviation entrepreneur and millionaire who called himself "Major Vikhr", and is now a Ukrainian reconnaissance commander, supported that claim. "From interviews with prisoners, we are certain we have been fighting elite Russian divisions: marines, FSB, assault paratroopers," he said. These elite forces had been fighting alongside mercenaries, who had "mostly" been recruited from the Urals area of Russia, with very minimal local influence.
Ukraine crisis: A timeline of the conflict

Show all 23
According to Major Vikhr, however, it is too early to talk about an all-out attack on Mariupol. The logistics would challenge the Russian-backed rebels: for reasons of geography, Major Vikhr judged any attacking force would need to be 10 times more numerous than the Ukrainian defenders. "What we are seeing at the moment is mainly limited to diversionary groups trying to break through our frontlines. There are some snipers working, some mortars, but not enough for a substantial assault force," he said.
Suggestions of a massive military equipment build up in the area seem to be a mixture of deception and mistaken reporting, he said. "You will hear many reports of 20-tank columns appearing all over the conflict zone. More often than not it is the same column that has exited to Russia and re-entered in a different military zone, and so is counted again," said Major Vikhr.
Any attack on Mariupol would come from three sides, he said: from the sea, from Novoazovsk in the east, and through Volnovakha from the north. Ukrainian forces could repel an attack for a while, he added, but he feared being undermined by the weakness of army command. "I know President Poroshenko and Prime Minister Yatsenyuk personally, and I was initially prepared to give them benefit of the doubt, but its true to say they aren't justifying the hopes and sacrifices of Maidan."
Join our new commenting forum
Join thought-provoking conversations, follow other Independent readers and see their replies