Ukraine crisis: Helicopter gunships take country closer to all-out war
Ukrainian troops use helicopters to seize back airport held by pro-Russian militiamen while ground forces gather around separatist stronghold of Slovyansk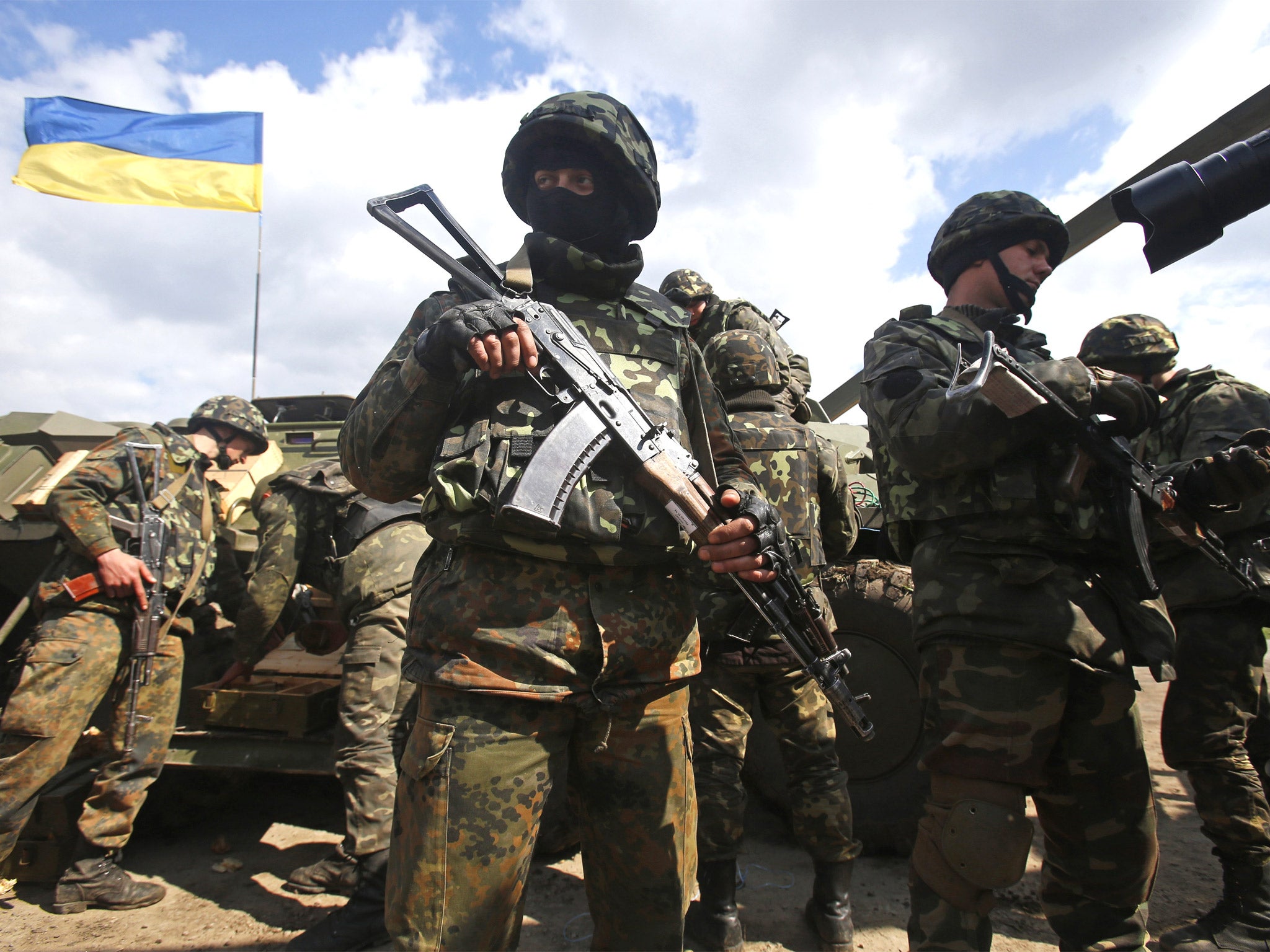 A prolonged and increasingly vicious confrontation in eastern Ukraine has turned into armed conflict as Ukrainian troops used helicopter gunships to seize back an airport that had been held by pro-Russian militiamen.
The attack at Kramatorsk came as ground forces with armour gathered around Slovyansk, which had become a symbolic stronghold for well-armed separatists.
At Kramatorsk, two of the aircraft carried out strafing runs, before two others landed troops. Four people were believed to have been injured, but claims of people killed, some of them civilians, could not be verified.
A stand-off developed afterwards, when protesters unfurled a banner saying "Shame on you! Go back home" and shouting while the soldiers fired in the air. Eight miles away the residents of Slovyansk marched towards their own small airstrip. They were, they stated, doing so to protect it from "fascists and Nazis" being flown in from the west of the country.
The outbreak of fighting raised deep trepidation that Ukraine, which has already lost Crimea to the Kremlin, could be entering into a civil war which may lead to the intervention of Vladimir Putin, who has repeatedly declared that he was prepared to act to protect ethnic Russians across the border.
Clashes in eastern Ukraine
Show all 126
The Russian Prime Minister, Dmitry Medvedev, warned "Ukraine is on the brink of civil war", adding that he hoped the Kiev administration had "enough brains" to avoid a catastrophic escalation. He blamed the government in Kiev for creating a situation where people felt they had no choice but to rise up for their rights.
Key installations in 10 cities have now slipped out of the control of Kiev and into the hands of protesters who are demanding a referendum on the future of the country. Repeated ultimatums for the gunmen to surrender have been ignored, severely damaging the credibility of the government.
As evening fell the office of Ukraine's acting President, Olexander Turchynov, announced that the airfield had been captured in an "anti-terrorist operation". There were also claims that a number of public buildings in the region had been retaken; but there was no immediate verification of that on the ground.
The operation at Kramatorsk appeared to be aimed at providing a landing site for positioning forces on one approach to Slovyansk.
Airborne forces, along with Ministry of Interior police units, were at Kamianka, near Izyum, south east of Kiev, with armoured personnel carriers, light artillery and transport helicopters. Further back, an armoured bulldozer for clearing barricades had been parked near a hotel. General Vasily Krutov, commander of Ukraine's security service, SBU, was in no doubt about the need for action or the identity of the enemy.

"We need to destroy this foreign invader. We have intelligence agents, Russian military with long experience in all kinds of conflicts. This is about the independence of a sovereign state: we have a foreign power which is trying to detach a part of our country; we have a neighbour who does not want Ukraine to be stable," he said.
The General also demanded severe punitive action against the protesters. Asked whether they should be given another ultimatum to disarm and leave, he maintained that would be "too humanitarian". He added: "Unfortunately we face a difficult situation because those who planned it are hiding behind human shields. We will do everything possible to avoid civilian casualties, but unfortunately casualties do happen in wars."
Asked about criticism of the Kiev administration for the slowness of its response, General Krutov said "undercover intelligence agents of the Russian Federation" had been active. "They are real professionals and this is what is making it so difficult."
Commander Aleksandr Radievsky, the head of the Ministry of Interior police unit, hoped that bloodshed could be avoided. "We want to see a negotiated end to this, but we cannot tolerate those who carry out abuse – we have to do our duty."
Another senior officer, who had just returned from a peacekeeping mission in the Democratic Republic of Congo, shook his head: "I come back to this. But one shouldn't be surprised, I think this was planned by some people a long time ago, maybe 15, 20 years ago."
At Slovyansk, a relatively relaxed day in the sunshine turned into one of frantic defensive preparations with more barricades of concrete blocks, tyres, dead trees and bonfires thrown up. Cars arrived with groups of men carrying Kalashnikovs and boxes of ammunition. One of the men, Leonid, said as he went into a police station occupied by the protesters: "We are not just here to fight for ourselves, but the people of this city. If they capture this place, the soldiers will be followed by the Right Sector [a hard-line nationalist group] and we are going to see revenge being taken. These people fly the swastika, so you can only fear what they can do."
Aleksandr, a former soldier who recently joined the protests against Kiev, said: "All along we have been asking for one thing: a referendum. The junta which took over Kiev has answered by sending helicopters, armoured cars; they want violence to start. We urge soldiers not to fire on their brothers and sisters."
As he spoke, trays of Molotov cocktails were being laid out on the pavements. Valentina, a 63-year-old grandmother, was putting loaves of bread on a table. "Do you think I would be doing this at my age if I did not believe that we were so right? The people in Kiev want to kill their own citizens. This time we need Russia to protect us, we need Putin to protect us – they are the only ones who can save us now."
An officer in the airborne regiment was also sombre at the prospect of what may follow. A soldier of 12 years, he had served in Iraq at one of the violent times following the invasion by American and British forces. "Yes, Iraq was a lot tougher, but this is much more difficult – it is something emotional.
"We have been told that we will not be carrying out the assaults on these buildings, that will be done by the Interior Ministry police: we are just there to support them. We will only fire if we are fired on: these are the rules of engagement. I hope it does not come to that.
"We should have joined Nato as soon as possible: they could have helped us to modernise our army, and this may not have happened."
Join our commenting forum
Join thought-provoking conversations, follow other Independent readers and see their replies