Ukraine crisis: Parliament appoints Oleksander Turchinov as interim president in place of missing Viktor Yanukovych as it begins building new government
Speaker is given presidential duties and sets MPs Tuesday deadline by which to appoint new cabinet and prime minister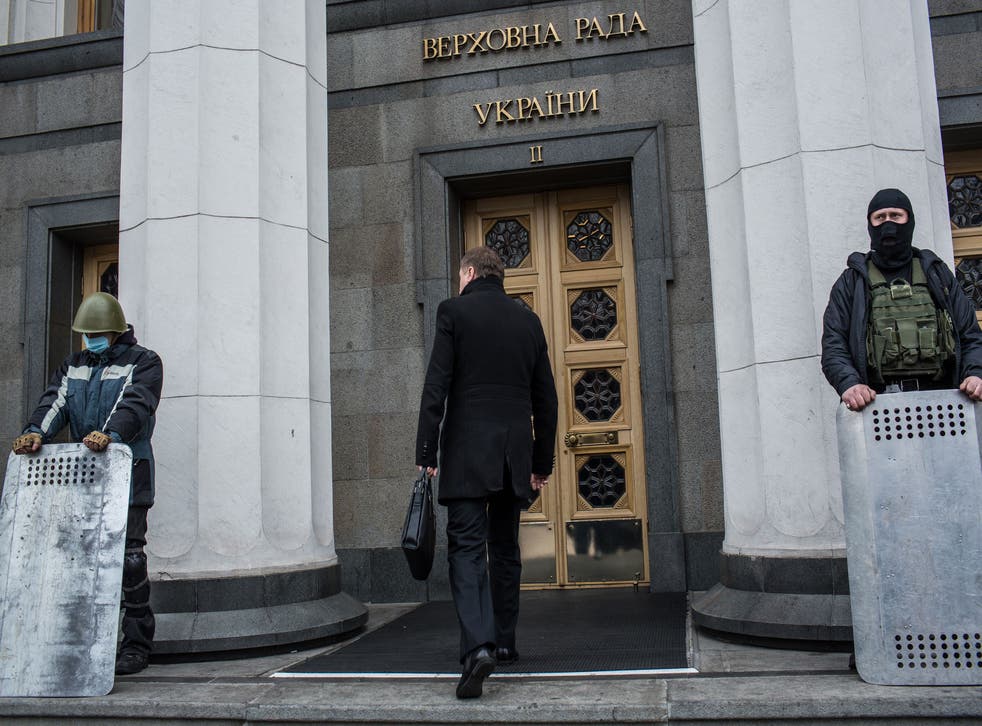 As Ukraine's protesters stayed at their posts in Kiev's central square today, the country's parliament embarked on life after President Viktor Yanukovych – despite his claims, made from an unknown location, that he has been the subject of a "coup".
MPs voted to bestow the duties of the presidency onto the parliament's speaker, Oleksander Turchinov, who in return has told politicians they have until Tuesday to form a new, united government.
One day after the chamber voted to remove Mr Yanukovych from power, and two days after he himself agreed that it would be necessary to form a national unity government, Mr Turchinov said it was the MPs' "priority task" to appoint a new cabinet and prime minister.
Key figures in Mr Yanukovych's former government continue to fall, as this morning parliament also voted to remove from power the foreign minister, Leonid Kozhara.
Ukraine's health ministry has reported 88 people killed in the country's protests since 18 February, which come after a trade deal with the EU was spurned in favour of closer ties with Russia.
Mr Kozhara, a close ally of the president, has been closely involved in discussions with foreign powers over the decision.
In pictures: Protesters gain control of Kiev government district

Show all 10
Yesterday, Ukraine's former prime minister Yulia Tymoshenko was helped on to the stage in Independence Square in a wheelchair, and urged the crowd to stay on the streets until their "mission" was complete.
"You are the best thing in Ukraine," she said. "The people who are here, the people who have died here are the heroes. No politician could have done what you have done. You are dressing the wounds of the country, only you can dress them. It is a precious flame burning with morality, strength and power."
Today, parliament also announced that Mr Yanukovych's opulent country estate would become the property of the state.
In technical terms, the president has now been deposed – voted out by a legally-binding constitutional majority.
But Mr Yanukovych still claims he is in power, and is not believed to have left the country.
He maintains the support of much of the country's Russia-leaning east, and has declared himself the victim of a "coup d'etat" from the safety of an eastern stronghold.
Mr Yanukovych can also count Russian president Vladimir Putin among his allies. The newly elected speaker, Mr Turchynov, was reported yesterday as saying Mr Yanukovych had been stopped by border police in an attempt to flee to Russia, although this report could not be confirmed.
Another report said he had been ejected from a charter flight at the airport in Donetsk, an industrial city in his native east.
Ominously, an ally and member of Mr Yanukovych's Party of Regions told Russian TV: "We have a legitimate, living president, we just don't know where he is."
The country's rapid political shift has been welcomed throughout the majority of the rest of Europe. Britain's Foreign Secretary, William Hague, issued a statement saying the UK would work closely with the new government in Ukraine: "Events in the past 24 hours show the will of Ukrainians to move towards a different future, and ensure that the voices of those who have protested courageously over several months are heard."
Speaking to the BBC, opposition politician and former heavyweight boxing champion Vitali Klitschko suggested he could well be in the running to replace Mr Yanukovych if presidential elections can be arranged.
"We don't have much time," he said, referring to a vote that has been scheduled for 25 May.
"I want to make Ukraine a modern European country. If I can do that through the president's position, I will do my best," Mr Klitschko said.
Join our new commenting forum
Join thought-provoking conversations, follow other Independent readers and see their replies