Ukraine crisis: Poroshenko's ceasefire lasts only hours as peace plan crumbles
Despite fresh sanctions against separatists in the eastern regions, fighting continues in Donetsk and Luhansk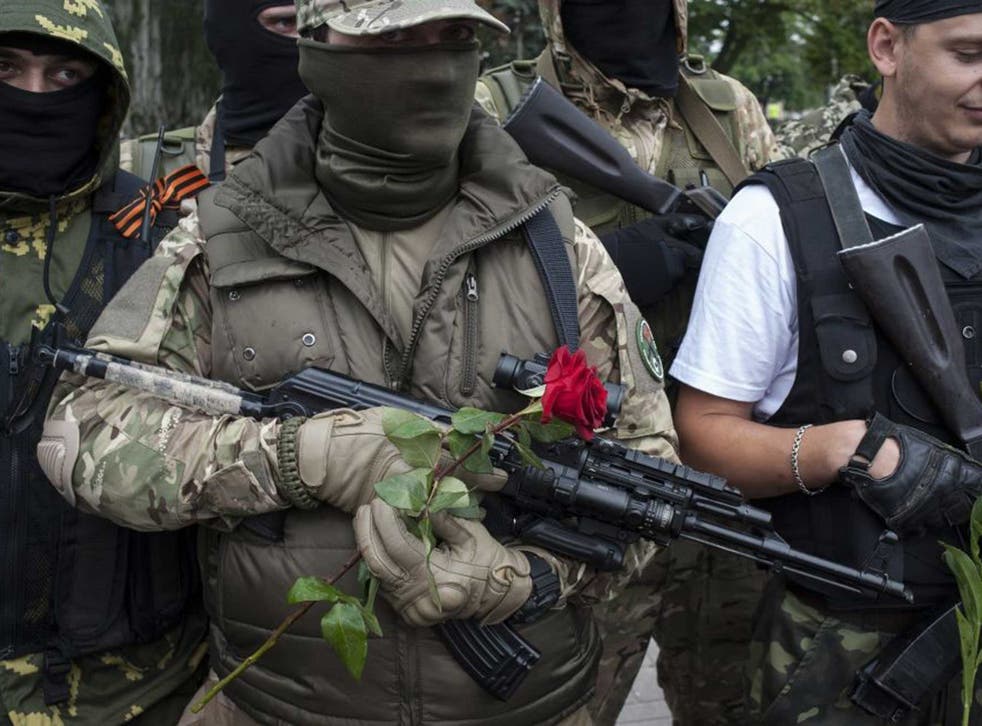 Petro Poroshenko's peace plan appeared doomed from the start: rejected by Russia and ignored by separatists in Ukraine's east. And yesterday, after another night of fierce fighting, it lay in tatters.
Within hours of the White House imposing fresh sanctions against separatists in Ukraine's eastern regions – including asset freezes against pro-Russia leaders – the ceasefire, rejected by the Kremlin and separatists, had been broken.
So far it is estimated that 300 people had been killed and 34,000 displaced by fighting in Ukraine. Overnight on Friday, pro-Russian separatists were reported to have attacked three Ukrainian bases on the border with Russia and attempted to storm a military airbase in Donetsk and Luhansk regions, injuring at least nine soldiers.
One of the posts, Vyselky, was attacked with mortar and sniper fire for half an hour, border guards said.
Kiev confirmed that Ukrainian forces had returned fire, and all the attacks were repelled. It was reported that border guards at Izvaryne post, in the Luhansk region, were temporarily forced to retreat into Russian territory. An attack on a missile unit in the village of Avdiivka involved men armed with grenade launchers, Kiev said. It began at 11pm on Friday night, an hour after the ceasefire began.
By Saturday morning, Russian President Vladimir Putin had ordered forces in Russia's central military district on "full combat alert". The alert in the central military district, which encompasses the Volga region and the Ural mountains but not western Russia, will last until next Saturday and will involve 65,000 troops – a similar timeframe to Mr Poroshenko's ceasefire.
Ukraine crisis aftermath: Slavyansk residents show the scale of damage caused by weeks of unrest

Show all 10
Last week, Nato warned that Russia had resumed a military build-up on the border with Ukraine.
US and European leaders claim that fighters and weapons are flooding over the border from Russia as Moscow seeks to stoke the instability to regain influence in its former Soviet territory. They have given the Kremlin until the end of the month to clamp down or face tougher economic sanctions.
Mr Poroshenko ordered the ceasefire to start at 10pm on Friday as a first step in a peace plan he hopes will end the conflict. The plan includes an amnesty for fighters who lay down their arms, and a chance for them to leave the country. That is to be followed by local and parliamentary elections and a promise of more jobs. The Kremlin dismissed the plan, claiming it sounded like an ultimatum and lacked any firm offer to open talks with insurgents.
Separatist leaders have also rejected the ceasefire and said they will not disarm. In Donetsk yesterday, a group of armed men gathered in the central square to take a military oath to the "Donetsk People's Republic". Pavel Gubarev, the self-appointed governor of the republic, claimed there was no ceasefire near Slovyansk, scene of serious clashes in recent months, the Associated Press reported.
"There is no ceasefire over there," Mr Gubarev said. "There is shooting all the time, and this ceasefire that Poroshenko is talking about is just fake. The Ukrainian forces are either not under his control, or he is just a liar."
Alexander Borodai, the republic's "prime minister", told a news conference the ceasefire was not working and appealed to Russia to send in peacekeeping forces. "Since last evening, combat activities are continuing. Poroshenko's artillery is bombing Slovyansk and the air force has made several raids," he said.
Speaking to Russian reporters in Saudi Arabia, Russian Foreign Minister Sergey Lavrov lambasted Mr Poroshenko's peace plan as "lacking the most important thing: an offer to start a dialogue". Mr Poroshenko, for his part, has always ruled out negotiations with those "who have blood on their hands".
However, the EU Commission President, Jose Manuel Barroso, praised Mr Poroshenko's peace plan and urged "all parties" to "actively promote its implementation".
EU foreign ministers will meet tomorrow to discuss new sanctions. Mr Poroshenko is also due to update the bloc on his peace plan which is set to end at 10pm on Friday. The first step will be for the fighting to stop.
Join our new commenting forum
Join thought-provoking conversations, follow other Independent readers and see their replies