Ukraine crisis: President Petro Poroshenko warns he is ready to impose martial law as he arrives in Belarus for talks
Mr Poroshenko said the situation was set to 'spiral out of control' unless the fighting is stopped immediately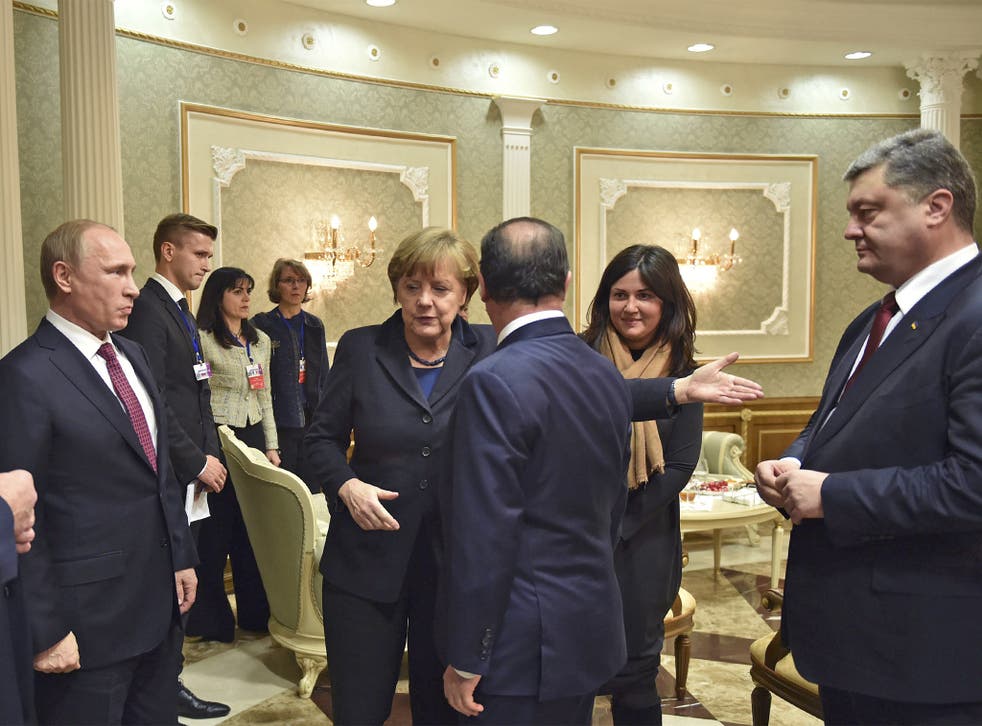 The crisis in Ukraine will spiral "out of control" without an end to the immediate fighting, the country's President, Petro Poroshenko, warned as he arrived in Belarus for a summit meeting aimed at securing a lasting settlement to the separatist conflict.
"Either the situation goes down the road of de-escalation, ceasefire... or the situation goes out of control," he said.
Earlier in the day, he dismissed a proposal for far greater autonomy of the eastern regions of Ukraine, part of a plan put forward for discussion by President Vladimir Putin, Chancellor Angela Merkel and President François Hollande. "Ukraine has always been and always will be a unified state... federalisation is a seed that will not take root in Ukrainian soil," he said.
The four leaders met alone this evening and were due to begin a full summit with their delegations later. A Ukrainian delegation source claimed the leaders were preparing to sign a joint declaration supporting Ukraine's territorial integrity and sovereignty.

A separate document would also be prepared by the three-way "contact group" comprising Russia, Ukraine and the Organisation for Security and Co-operation in Europe, affirming commitment to a ceasefire plan drawn up in Minsk last September and also signed by separatist leaders, the source said.
Hopes for a breakthrough and enduring settlement appeared slim, and would depend on Ukraine making most of the concessions, with advancing rebels unlikely to agree to halt and go back to previous positions.
But Moscow none the less expressed optimism, with a Russian diplomatic source declaring it 70 per cent likely that an agreement would be reached. "The presidents aren't travelling [to Minsk] for no reason," the source said.
Russia's Foreign Minister, Sergei Lavrov, said Kiev's insistence on control of the Russian-Ukrainian border – part of which is held by the separatists – could be holding back an agreement.
As the leaders began talks, four people died and five were injured when shells hit a busy bus station in rebel-held Donetsk during the rush hour. Ukraine's army also said that 19 of its soldiers were killed in a day of pro-Russian separatist assaults at a single location near the railway hub of Debaltseve, some of the worst losses it has reported in nine months of war.
The Independent has learnt that – unlike many such international meetings – no agreements had been brokered before the leaders sat down. "Everything is in waiting mode", said a Ukrainian official with intimate knowledge of the negotiations. He said that a key aim of Ukraine was to force Mr Putin to take personal responsibility for any agreement – although the Russian President has so far claimed his government is not party to the fighting.
Discussion was also likely to be focused on the extent to which a previous agreement struck in Minsk last September was ignored by Russia.
Ukraine crisis: A timeline of the conflict

Show all 23
Dmytro Kuleba, ambassador at large for the Ukrainian foreign ministry, says he had reason to believe the Russian side saw the Minsk agreements only as a temporary measure.
"They expected Ukraine to break – to implode financially or embark on ill-advised military offensives," Mr Kuleba told The Independent.
Meanwhile, the US military said it planned in March to start training Ukrainian soldiers who are battling Russian-backed separatists in eastern Ukraine, US Army Europe Commander Lt-Gen Ben Hodges said a battalion of American soldiers would train three battalions of Ukrainians in the western Ukrainian city of Lviv.
He said Americans will teach the Ukrainians how to better defend themselves against "Russian and rebel artillery and rockets". Training would also include securing roads, bridges and other infrastructure, treating and evacuating casualties, and operating in an environment where Russians are jamming communications.
Lt-Gen Hodges accused Mr Putin of arming and fomenting the pro-Russia separatists. "I think it's very important to recognise these are not separatists, these are proxies for President Putin," he said. "It is very obvious from the amount of ammunition, the type of equipment, that there is direct Russian military intervention in the area around Debaltseve."
He added: "I do worry that if they are successful in Debaltseve that they will shift their attention to Mariupol," referring to the strategic port city.
"I don't know that, but I am concerned that that is something that they might do. They certainly have a large number of Russian forces, 10 battalions, on the border of eastern Ukraine."
Join our new commenting forum
Join thought-provoking conversations, follow other Independent readers and see their replies