Ukraine crisis: Russia bans food imports from West in response to sanctions
The policy is most likely to hurt Russian consumers, as 70 per cent of food is imported
Vladimir Isachenkov
Friday 08 August 2014 01:07 Comments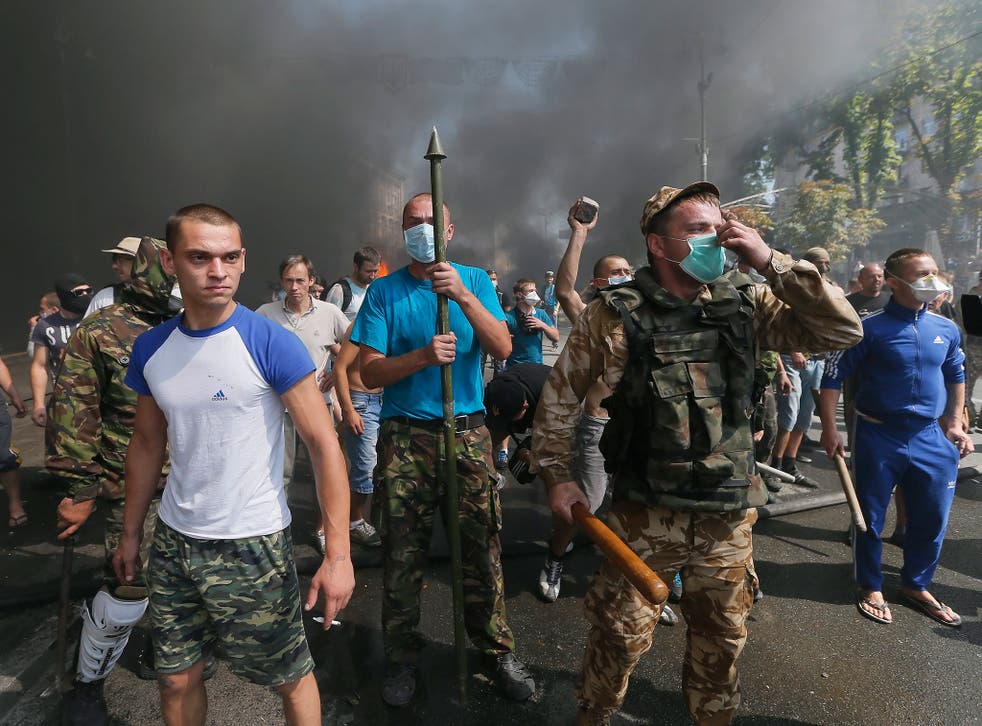 Russia has banned most food imports from the West in retaliation for sanctions over Russia's involvement with Ukrainian separatists who are also suspected of shooting down a passenger jet.
The sanctions will cost Western farmers billions but could also lead to empty shelves and high food prices in Russia. The US and EU have accused Russia, which annexed Ukraine's Crimean Peninsula in March, of fomenting tensions in eastern Ukraine by supplying arms and expertise to a pro-Moscow insurgency. They have imposed asset freezes and loan bans on a score of individuals and companies.
The Prime Minister Dmitry Medvedev said at a televised cabinet meeting yesterday that Russia's retaliatory ban covers all imports of meat, fish, milk and milk products, fruit and vegetables from the United States, the European Union, Australia, Canada and Norway. It will last for one year.
The Russian sanctions come as the Ukrainian army appears to be defeating pro-Russian rebels in the east of Ukraine.
Meanwhile, clashes erupted in central Kiev, the capital of Ukraine, as city authorities sought to clear away the remnants of a tent colony erected by demonstrators involved in the street uprising against the deposed pro-Russia President Viktor Yanukovych. At the time, protesters were angry about endemic corruption and wanted closer ties with the European Union. In scenes reminiscent of that revolt, which climaxed with Mr Yanukovych's departure in February, demonstrators set alight tyres in their face-off against a volunteer battalion overseeing the clean-up operation.
As the rebels struggle to push back Kiev's forces, fears of Russian intervention have grown. Western leaders have accused Russia of massing troops on the border with Ukraine and supplying rebels with weapons.
"We've noted with concern a new quality and quantity of arms and equipment flowing across the border from Russia into Ukraine, reports of shelling across the border as well as further attacks by illegal armed groups on targets in eastern Ukraine," said Sebastien Brabant, a spokesman for the EU's foreign policy chief.
The West has also accused Russia of providing the insurgents with surface-to-air missiles that may have been used to shoot down a Malaysia Airlines passenger jet over rebel-held territory on 17 July, killing all 298 people on board.
Mr Medvedev said Russia could go further and ban Western carriers from flying over Russia on flights to and from Asia – a move that would significantly increase costs and flight times.
He said there has been no decision on that yet and would not specify when and under what conditions the move could be taken.
Mr Medvedev made it clear that Russia hopes that the sanctions will make the West revise its policy and stop trying to pressure Russia with sanctions.
"Until the last moment, we hoped that our partners would understand that sanctions only lead to a deadlock, and no one needs them, but they didn't," he said.
"We hope our partners will put a pragmatic economic approach above bad policy considerations and they will start thinking, instead of trying to scare us."
Russia depends heavily on imported foodstuffs – most of it from the West.
In 2013 the EU's agricultural exports to Russia totalled £9.4bn, while the US Department of Agriculture says food and agricultural imports from the US amounted to £771m.
Experts said that local producers will find it hard to fill the gap left by the ban, as the nation's agricultural sector suffers from poor efficiency and shortage of funds.
The damage to consumers inflicted by the ban will be felt particularly hard in big cities like Moscow, where imported food fills an estimated 60-70 per cent of the market.
A spokesman for the Foreign and Commonwealth Office said there were no grounds for Russia to impose sanctions, which he estimated would only account for 0.2 per cent of UK agriculture. "Instead of retaliating, Russia should be using its influence with the violent Russian-backed separatists to stop destabilising Ukraine," he said.
The US said Russia is imposing sanctions on its own people by banning most food imports from the West.
It dismissed the move as "politically motivated" and one that will have a negligible effect on the US economy.
David Cohen, under secretary for terrorism and financial intelligence, said the US and its allies would never impede access to food or medicine.
AP
Register for free to continue reading
Registration is a free and easy way to support our truly independent journalism
By registering, you will also enjoy limited access to Premium articles, exclusive newsletters, commenting, and virtual events with our leading journalists
Already have an account? sign in
Join our new commenting forum
Join thought-provoking conversations, follow other Independent readers and see their replies