Ukraine crisis: Russian convoy on border as situation approaches potentially explosive endgame
West fears that the 300 vehicles are not carrying aid, but military reinforcements for the beleaguered rebels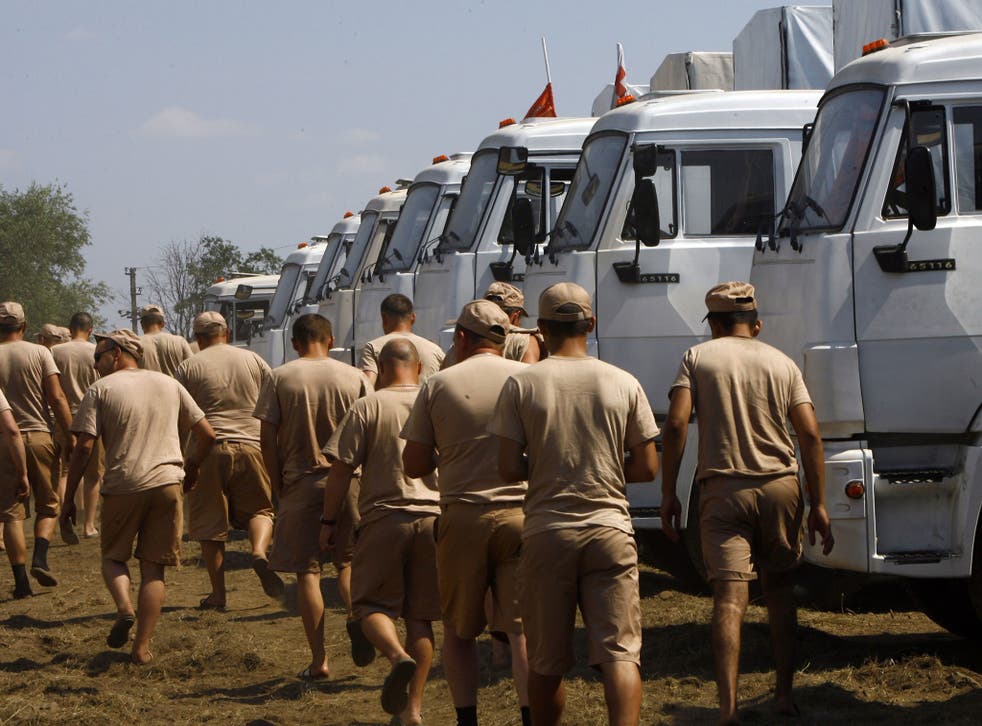 There is a sense that the multiple strands of the six-month-old Ukraine conflict were fast converging in what threatened to become an explosive and highly destructive endgame.
Some or all of the almost 300-vehicle convoy from Moscow had swerved away from the initially agreed crossing point to a part of the east Ukrainian border still held by anti-Kiev forces. There was still uncertainty about whether it was carrying aid, as the Russians say, or military reinforcements for the beleaguered rebels, as many elsewhere in Ukraine and in the West suspect.
A BBC reporter said he had been shown the contents of one lorry, which consisted of nothing more lethal than sleeping bags, but as he noted, this was just one of more than 200 loads.
A second, smaller, aid convoy, organised by the Kiev authorities, was moving eastwards towards the rebel-held city of Lugansk, where almost 250,000 people have been without water or power for nearly two weeks. There was no guarantee that it would be able to get in, at least not without the use of force and attendant bloodshed.
Ukrainian government forces were reported to have intensified the shelling of Donetsk, the last major centre in rebel hands.
Meanwhile, Russia's President, Vladimir Putin, was on a two-day visit to Crimea, where he announced the stationing of a permanent – although "not excessive" – military task force to boost the territory's security.
EU officials were engaged in intensive, though probably vain, diplomatic efforts to dissuade Latin American and other countries from filling the gaps on Russia's supermarket shelves likely to be left by Russia's retaliatory ban on food imports from the EU.
Ukraine crisis: Russian 'aid' convoy

Show all 11
The chief threat, though, is of all-out war in eastern Ukraine, either by design or accident. In the worst case, Western fears about the purpose of Russia's massive aid convoy turn out to be justified, and an all-out fight for control of eastern – perhaps even all of – Ukraine ensues.
The plight of civilians in Lugansk is already desperate, and the same deprivations threaten to engulf Donetsk, which has a population of more than a million. The casualty rate in eastern Ukraine has accelerated, according to the UN, with half of the more than 2,000 deaths being reported over the past two weeks. Even if all-out military conflict were, by some miracle, to be averted, there is already a major humanitarian emergency on a scale almost unseen in any part of Europe since the civil wars that followed the collapse of Yugoslavia.
Beside the magnitude of what is already happening, and could yet happen, the international attempts to stave off further catastrophe – at least those that have so far become public – seem paltry indeed. A senior International Red Cross official, Laurent Corbaz, was on his way to Kiev, and then to Moscow, in what appeared a last-minute move to agree arrangements for the Russian convoy.
Brussels appeared to be preoccupied with the effects of the food export ban imposed by Russia.
Wider international diplomatic efforts remained fixed on even larger and even more destructive conflicts further east: what to do about the advance of Isis and the plight of hundreds of thousands of refugees in northern Iraq, and delicate talks in Egypt designed to prevent any new outbreak of fighting in Gaza.
On the global scale, it could perhaps be argued that the Ukraine conflict simply does not make the cut. Isis is cutting a swath through northern Syria and Iraq which could change the map of the region for ever. The Palestinian death toll from the month-long flare-up in Gaza would appear to be close to that for all the fighting in Ukraine since February (although some dispute the figures).
Looked at from Britain, or from anywhere else in Europe, however, the diplomatic neglect of Ukraine in recent weeks and months – broken only by the furore over the still unexplained downing of the Malaysian airliner – seems completely unjustifiable. This is a conflict – or to be more accurate, a civil war – being fought in Europe itself, and ultimately for Europe.
Compounding the difficulties is the fact, rarely mentioned, that much of the information reaching us comes through the filter of Kiev, which is a party to the conflict. When the rebels proposed a ceasefire, their offer was immediately rejected by Kiev as a ploy (when it may rather have been the first hint of a white flag).
The risk now is that the fighting in Ukraine and the trade war with Russia both escalate, not because either side intends this, but largely as a result of outside neglect. There was a British ministerial resignation and a public outcry over Gaza. There are US aerial bombardments of northern Iraq, French weapons shipments to the Iraqi Kurds, the dispatch of British planes, and talk – once again – of recalling Parliament. And there is silence about Ukraine.
The outline of an eventual Ukrainian settlement has been obvious for months – the east remains within Ukraine, but with more autonomy; Russia accepts Ukraine's sovereignty; Nato membership for Ukraine, but not closer relations with the EU, is kicked into the long grass. There is tacit agreement to disagree about Crimea, and sanctions are lifted on both sides.
If London, Brussels and Washington applied the same energy to Ukraine as they are applying to the greater Middle East, the worst – a new war, cold or hot, with Russia – might still be avoided. Amid so much misunderstanding on both sides, however, it is hard to be optimistic.
Join our new commenting forum
Join thought-provoking conversations, follow other Independent readers and see their replies