Ukraine crisis: Tens of thousands vote in regional referendum dubbed 'a criminal farce organised by Russia'
As separatists anticipate victory in the referendum to form independent entities in eastern Ukraine, their leaders promise to throw out their military occupiers. Kim Sengupta reports from Mariupol on a tense situation growing worse
Kim Sengupta Comments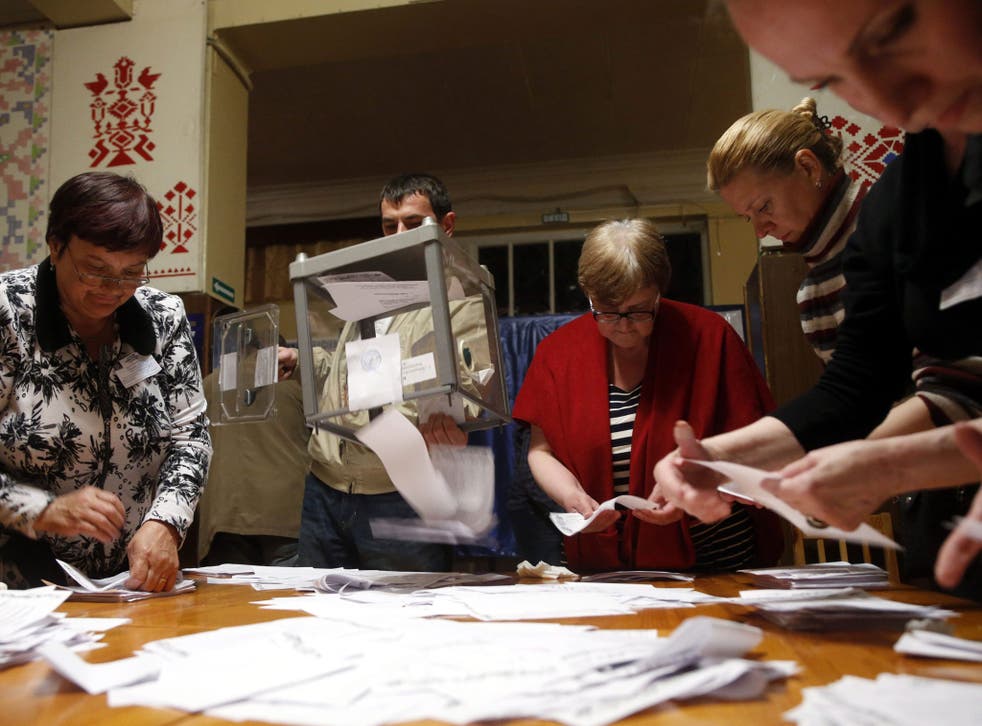 It was a flawed process, often chaotic, without any impartial supervision and condemned internationally as illegal. But tens of thousands turned up today to vote in the middle of a bloody conflict for a referendum, which may spell the end of what is left of united Ukraine.
The result is going to be a victory for separatists by a large percentage, with those opposed to them overwhelmingly staying away from the polls; as had been the case in Crimea.
There were further echoes of what took place there with the leader of the Peoples' Republic of Donetsk, Denis Pushilin, declaring that once the results were announced, "All Ukrainian military troops on our territory will be considered illegal and declared occupiers".
The separatists' "election commission" stated that official results would be announced on Monday afternoon. On Sunday night they claimed 89 per cent had voted in favour of self-rule, but verifying the figure may prove difficult in the absence of any independent observers monitoring the vote. A second vote may take place, on a date to be decided, on whether the people of Donbass want to join the Russian Federation.
Vladimir Putin had maintained that there would not be a reprise of the Crimean annexation in eastern Ukraine. But the caretaker government in Kiev described the polls as a "criminal farce organised by Russia". Washington stressed that "the United States will not recognise the results of these illegal referenda". This was echoed by Britain, France and Germany; all had blamed Moscow for encouraging the separatists in this region.
But this was less about a craving for immediate rule by the Kremlin, and more about the loathing felt towards the politicians in Kiev by vast swathes of the population in these parts. This is particularly the case where the state forces have been carrying out operations, increasingly with the use of armour in urban areas.
In pictures: The Ukraine crisis

Show all 66
Militarily the success had been limited at best, while creating a deep sense of alienation among the public in places like Mariupol. On Sunday night there were reports that Ukrainian national guardsmen had opened fire on crowd outside the eastern town hall in Krasnoarmeisk, resulting in at least one fatality.
Among the residents who had queued up for hours to cast their votes here were many who had decided to vote for independence only after days of raids by Kiev's forces, including a private army with links to an oligarch, culminating in an assault on a police station, setting it on fire. Between seven and 20 people died in the fighting there and elsewhere in the city.
"Just a few days ago I was thinking that Ukraine must stay together, but then they sent soldiers into this city to shoot at our people", said 47 year old Svetlana Kuznetsova Vladimirovich. "Those in power now in Kiev do not listen to us, they call us terrorists instead; it is they who have destroyed Ukraine, not us."
This city on the Azov Sea had not been as stridently separatist as some others: it is a port, and steel works have provided employment and a degree of prosperity even during the current lean economic times. Pro-Moscow protesters had found it difficult to hold on to public buildings they had occupied, unlike in other cities and towns.
Government ministers in Kiev have repeatedly boasted about the supposed success of the 'anti-terrorist operation' in the east, focusing recently on Mariupol, which was deemed to be easier to capture than Slovyansk, a well-fortified rebel city where earlier efforts had been concentrated. After the attack on the police station, Arsen Avakov, the acting minister of interior, spoke on his Facebook page of "terrorists destroyed" and offered "annihilation" to those who continued to bear arms against the Ukrainian state.
Less than a week after the start of the military mission to Mariupol aimed at retaking state apparatus, the city hall has been gutted by fire, with its contents used to build barricades. The main military base, scenes of fierce clashes, lies empty, the security forces having evacuated. The last round of looting was taking place today, with what's left, clothing, furniture, office supplies and parts of generators being removed.
The prize was an armoured personnel carrier which was towed out of the camp, initially, by a Toyota Land Cruiser with one of the front doors missing and bullet holes in the windscreen. The car had belonged to Valeryi Androschuk, the police chief of Mauripol, who had gone missing during the attack on the police station on Friday.
One of the reasons for the shooting breaking out, according to a police officer I spoke to in the morning, was that Commander Androschuk had ordered his officers to retake City Hall, then in the hands of the protesters, following instructions from Kiev. They had refused, a confrontation had ensued, and he had, at one point, opened fire with his pistol at a subordinate. Troops had subsequently arrived in support of the Commander and a group of like-minded senior officers, but he had been captured by separatists. What happened to him? I asked. "We think he had been killed", said the police officer.
Four hours later came reports that Mr Androschuk's body had been found, hanged, near Mauripol airport, an execution carried out following judgment by a 'peoples' court': this could not, however, be confirmed, and the Commander officially continues to be missing.
Most of Mariupol's civic administration had fled and polling was a hurriedly organised affair with four centres for a population of more than half million. The crowd circled the blocks to vote, patient and good-natured despite wait lasting hours.
Olga Petrasian, 18, a volunteer at a voting station, was helping Maria Demitriva to cast her vote. The 80-year-old grandmother had travelled 26 miles from her home to be there: "I know everyone says that we babushkas all want to join Russia, and we have forgotten all the bad things about communism. But all I want to do is make sure my grandchildren have a good future, we are not going to have that with the government which send tanks to our streets". Ms Petrasian added: "I also feel there is no future with Kiev, my parents feel the same way, so you see three generations agree on this, we don't want to stay in a Ukraine run by a junta.
Eliana, a 22-year-old student, is among those who do want to stay in a united Ukraine, but did not vote. Speaking at her home, not far from the burned our shell of the police station, she acknowledged: "The separatists will say we had the chance to take part in the referendum and didn't do so. But what took place was illegal, why should we give it legitimacy? But also, I am afraid, we are all afraid. You saw what happened here, I cannot see any hope for the future."
Register for free to continue reading
Registration is a free and easy way to support our truly independent journalism
By registering, you will also enjoy limited access to Premium articles, exclusive newsletters, commenting, and virtual events with our leading journalists
Already have an account? sign in
Join our new commenting forum
Join thought-provoking conversations, follow other Independent readers and see their replies