Ukraine crisis: This is Europe's biggest crisis in the 21st century, warns William Hague as Russia defiantly threatens a military assault on Crimea
Ukraine's acting president has received strong words of support from the West after the occupation of Crimea
Nigel Morris
,
David Usborne
Tuesday 04 March 2014 02:00 Comments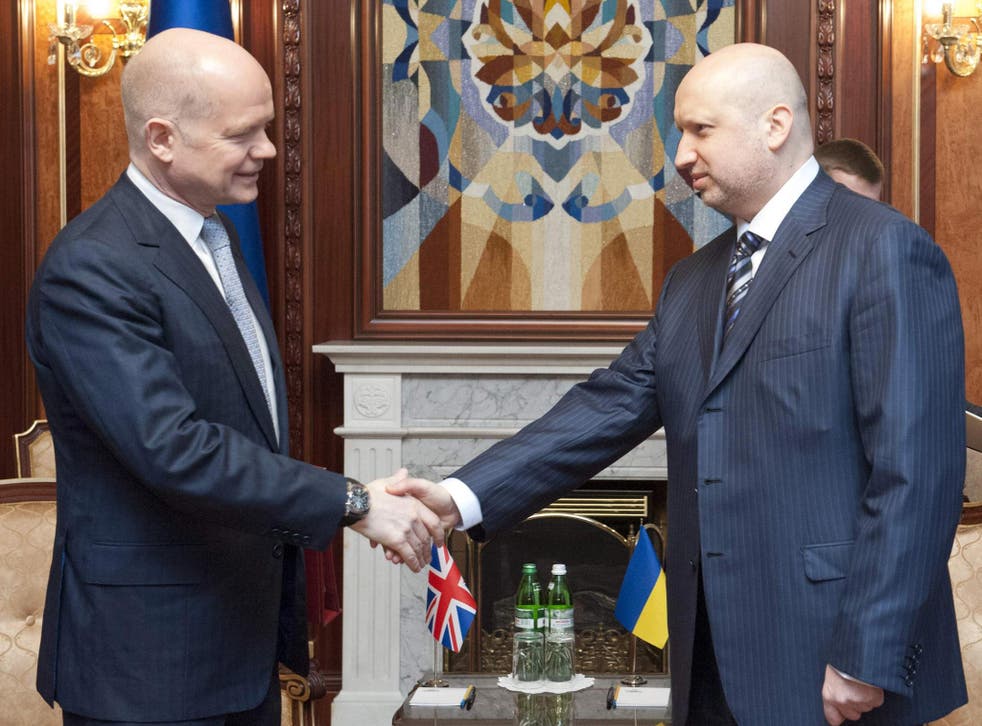 Western countries scrambled to pile the pressure on Russia on Monday in an effort to bring an end to its occupation of Crimea, as Ukraine's acting president warned of a growing military presence on the troubled peninsula.
It came as the commander of Russia's Black Sea Fleet Aleksander Vitko, threatened a full assault if Ukrainian forces in Crimea did not surrender by dawn, defence sources in Kiev said. However, Interfax news agency later quoted a Russian spokesman denying that any such ultimatum had been issued.
Last night President Barack Obama accused Russia of being "on the wrong side of history" and said diplomatic and economic steps to isolate Moscow were being assessed.
"Over time this will be a costly proposition for Russia and now's the time for them to consider whether they can serve their interests in a way that resorts to diplomacy as opposed to force," he said.
Vitaly Churkin said in a speech at the UN that Mr Yanukovych had made the request in writing to Russian President Vladimir Putin.
William Hague, the Foreign Secretary, visited Ukraine's new government in Kiev yesterday, where he described the deteriorating situation as the "biggest crisis in Europe in the 21st century". He warned the "world cannot just allow this to happen" and added: " Russia should be in no doubt about this. This is something that we take very seriously."
Ukraine's acting President, Olexander Turchynov, said Russia's Black Sea Fleet had trapped Ukrainian navy vessels in the bays of Sevastopol, the Crimean port where the Russian fleet has a base.
"The situation in Crimea remains tense and Russia's military presence is growing," Mr Turchynov said. "I appeal to Russia's leadership – stop the provocative actions, aggression and piracy. This is a crime and you will answer for it."
But the Russian Foreign Minister Sergei Lavrov insisted "this is a question of defending our citizens and compatriots, ensuring human rights, especially the right to life".
David Cameron, the Prime Minister, signalled last night that Russia would face economic sanctions from the EU if it fails to withdraw its troops from Ukrainian soil. He raised the prospect of " diplomatic, political, economic and other pressure" being brought to bear against Moscow.
But it emerged later that Britain would be unlikely to take any steps that could hit trade with Russia or block Russian involvement in the City of London. According to a private government briefing note that emerged last night, ministers are considering visa restrictions and travel bans on key Russian figures.
The note, which was photographed as an official carried it into Downing Street, said ministers should "discourage any discussion (eg at Nato) of contingency military preparations" and support " contingency EU work on providing Ukraine with alternative gas" and oil supplies "if Russia cuts them off". It said "The UK should not support for now trade sanctions or close London's financial centre to Russians".
The White House said yesterday it would no longer be sending a presidential delegation to the winter Paralympics in Sochi. It said it and six other nations were suspending preparations for a summit of the Group of 8 that Russia is due to host, also in Sochi, in June.
The US Secretary of State, John Kerry, was flying last night to Kiev while the European Union set up an emergency summit of its leaders in Brussels on Thursday to craft a response to the crisis.
A US official said the country was "moving down the path" of imposing economic sanctions on Russia unless the crisis is defused quickly.
The Washington Post accused President Obama of practising a foreign policy "based on fantasy" rather than realities. "Obama has led a foreign policy based more on how he thinks the world should operate than on reality," it lamented noting his "failure to enforce his 'red line'" in Syria was a liability.
British sources said the UK was keen to keep communications open with the Putin administration in the hope of moving towards a " de-escalation" of the situation. However, London repeatedly warned yesterday that the invasion of Crimea could result in "significant costs" for the Russian government. The warning will be reinforced at a meeting of foreign ministers, including Mr Lavrov, at the UN Security Council tomorrow. Mr Cameron chaired a meeting of the National Security Council in London to discuss the crisis..
Speaking afterwards, he said all nations needed to send a "clear message" to Moscow that its actions could not be tolerated. "What we want to see is a de-escalation rather than a continuation down the path that the Russian government has taken, violating the sovereignty and territorial integrity of another country," he said. "We shall have to bring to bear diplomatic, political, economic and other pressures in order to make this point."
Register for free to continue reading
Registration is a free and easy way to support our truly independent journalism
By registering, you will also enjoy limited access to Premium articles, exclusive newsletters, commenting, and virtual events with our leading journalists
Already have an account? sign in
Join our new commenting forum
Join thought-provoking conversations, follow other Independent readers and see their replies