Ukraine: Darth Vader presidential bid rejected
Vader staged a protest with Wookie and some Imperial Guards against the Electoral Commission's ruling in Kiev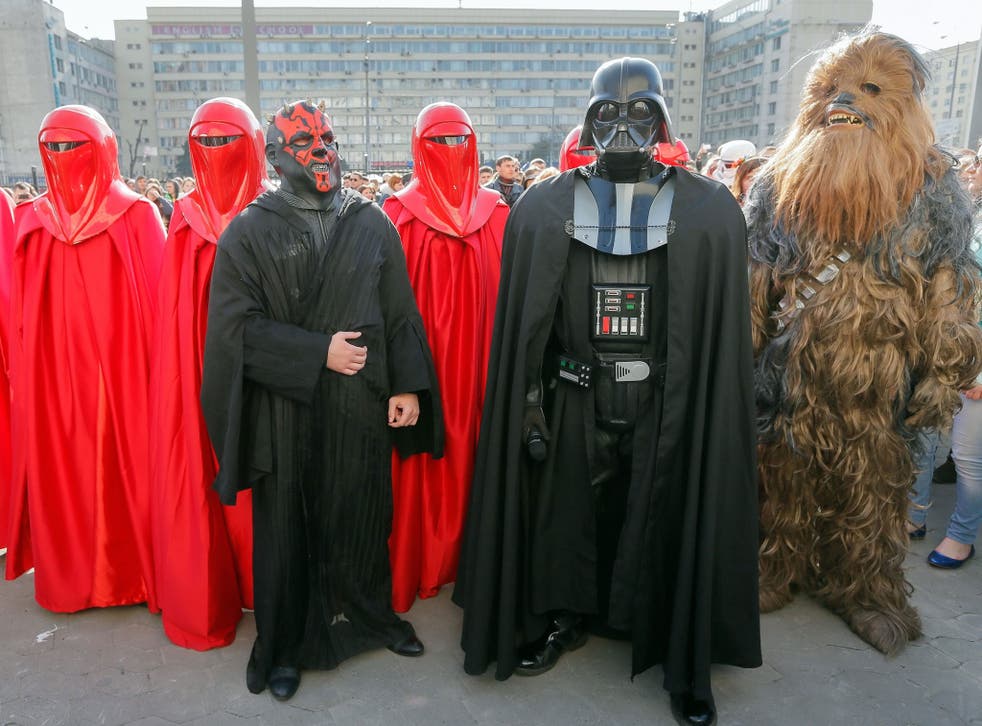 It appears the force was not with a potential Ukrainian presidential candidate posing as Darth Vader, after authorities reportedly rejected his bid.
The man posing as the Star Wars villain was accompanied by a Wookie and a group of Imperial Guards at a protest against the decision outside the Electoral Commission in Kiev, after authorities said Vader's identity could not be verified, the BBC reported on Friday.
It is believed the unsuccessful candidate changed his name to Darth Vader in March, and was nominated by the Ukrainian Internet Party (UIP) to stand in the 25 May election.
Dmitry Golubov, leader of the party registered in 2010, said in a statement on the party's website at the time of the nomination: "After winning intra-party primaries by a landslide, comrade Vader will be our party's candidate."
Vader told the party's congress that he intended to run to become president of the country recently blighted by turbulence, so he could turn it into a "galatic empire".
In pictures: 'Darth Vader' stands as Ukrainian presidential candidate

Show all 15
"I alone can make an empire out of a republic, to restore former glory, to return lost territories and pride for this country," Vader said in a party statement.
But Ukraine's Central Electoral Commission said part of Darth Vader's application was "questionable" and that some of his paperwork was allegedly forged, according to the BBC.
It is thought that before he changed his name, Vader was an electrician called Viktor Shechenko. One commission member suggested that Mr Shechenko is allied to Russia, and is attempting to discredit the upcoming election.
"It may seem like an innocent joke, but someone paid 2.5m hryvnyas ($227,000) for this joke," Ihor Zhydenko told the BBC, referring to the deposit that must be given along with the application. Vader has not responded to the allegation.
Mr Zhydenko added that Darth Vader might run for the presidency in Russia, where he has received extensive media coverage. "They already have little green men," he says, referring to Russian troops in the Crimea region. "Such a commander-in-chief would be appropriate."
Twenty-three candidates have so far been registered to run in the upcoming presidential elections in Ukraine, that were called after President Viktor Yanukovych was ousted following months of protests.
Register for free to continue reading
Registration is a free and easy way to support our truly independent journalism
By registering, you will also enjoy limited access to Premium articles, exclusive newsletters, commenting, and virtual events with our leading journalists
Already have an account? sign in
Register for free to continue reading
Registration is a free and easy way to support our truly independent journalism
By registering, you will also enjoy limited access to Premium articles, exclusive newsletters, commenting, and virtual events with our leading journalists
Already have an account? sign in
Join our new commenting forum
Join thought-provoking conversations, follow other Independent readers and see their replies