Ukraine: President Viktor Yanukovich offers top government posts to opposition leaders including Arseniy Yatsenyuk and Vitali Klitschko
Concessions have failed to placate protesters in a stand-off with police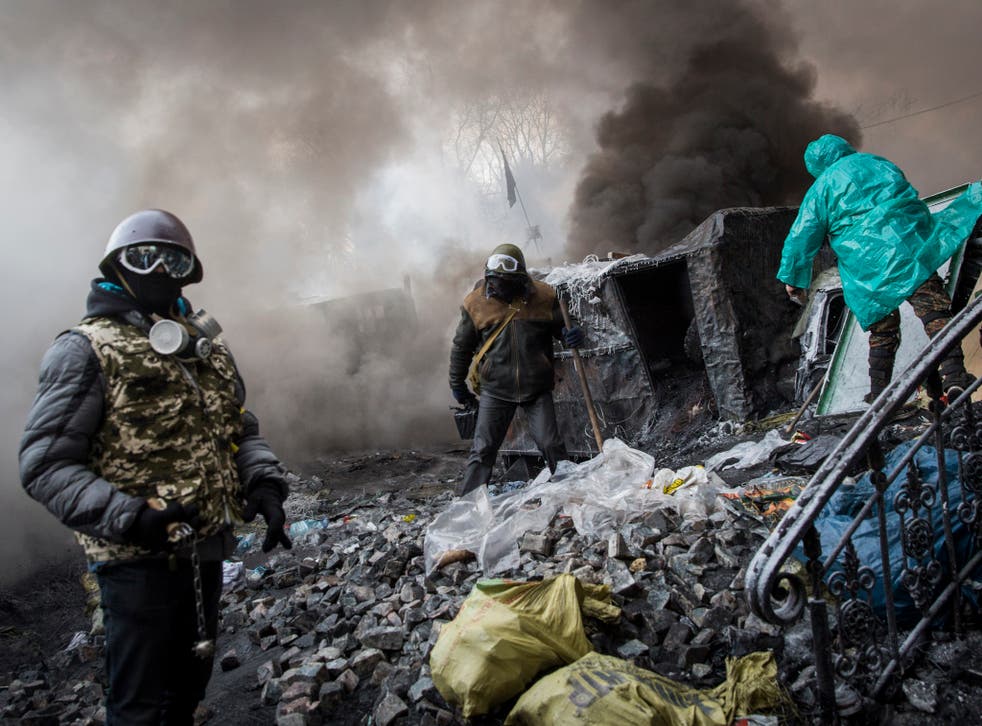 They came armed with metre-long sticks, gas masks and hard hats. But 33-year-old businessman Vasel Gabel and his friends insisted they were not in Kiev's Independence Square in search of confrontation. It was, they said, a "matter of dignity".
Like so many of the thousands who turned out on the streets of the Ukrainian capital again yesterday, the eight-strong group of men said their weapons were purely for protection against a police crackdown they fear could come at any time.
In a day of growing tension between demonstrators and police, a group of protesters briefly seized the energy ministry's headquarters as President Viktor Yanukovych held increasingly desperate talks with opposition leaders. Last night, President Yanukovych offered the job of prime minister to one of the opposition leaders, Arseniy Yatsenyuk. The former world champion boxer Vitali Klitschko was offered the post of deputy prime minister. There was no immediate comment from Mr Yatsenyuk. Earlier, Vitaliy Zakharchenko, the Interior Minister in charge of police who is widely despised by protesters, had said efforts to peacefully resolve the unrest were "futile".
"Of course I am afraid," said Mr Gabel, who came to Kiev from the western city of Lviv to join the demonstrations. "It is dangerous here, violent. The people are so angry, and the police could come to clear us away at any moment. What will happen then? We need protection."
After a week in which at least three protesters were killed and hundreds injured, Mr Gabel's fears seemed justified. Yesterday, the third protester was confirmed to have died of wounds suffered in clashes on Wednesday, when two other protesters died from gunshot wounds. Human Rights Watch has called for an investigation into multiple claims of anti-government protesters being kidnapped and beaten by police, including members of the elite Berkut anti-riot force.
However, authorities have also accused the opposition of orchestrating violence and kidnapping against police officers, which they deny.
Two officers were yesterday released after being kidnapped by opposition protesters, according to Mr Zakharchenko. He said the officers had been tortured during their ordeal and were taken to hospital, thanking peaceful protesters and "foreign countries' ambassadors" for brokering their release.
Meanwhile, fears were last night growing for the leader of protest group AutoMaidan, which organised motorcade protests outside the homes of high-ranking officials.
Dmytro Bulatov was last seen on Wednesday, the same day that another kidnapped opposition activist, Yuriy Verbytsky, was found dead in a Kiev suburb. Mr Bulatov's family have appealed for information on his whereabouts.
With few incidents on either side investigated or independently documented, accusations continue to fly, and verifying the claim and counter claim has become increasingly difficult.
The situation in the city is likely to get worse before it gets better, analysts say, and Kiev is braced for the likelihood of more violence today. Since November, Sundays have become the day for protests against President Viktor Yanukovych and his government.
At the barricades on Hruchevs'koho Street near European Square, acrid smoke from six-metre high mounds of burning tires filled the sky yesterday, obscuring the government buildings that lay not far behind it.
On the other side, more than 100 riot police stood in tight formation.
Every so often, both sides flinched at the sound of an explosion. "They are heroes, our freedom-fighters," said Yaruslav, 29, gesturing to a group of men standing on a burnt-out bus on the front line leading chants of "Out Yanukovych!"
Yaruslav said he comes to the protests as often as he can, bringing cigarettes, money and medicine for those in the line of the rubber bullets police have been using to keep crowds at bay.
The protests – in which tens of thousands of people from across Ukraine gather at Independence Square, also known as the Maidan – began in November after the government spurned a long-awaited trade and political deal with the European Union in favour of closer ties with Russia. For two months, the demonstrations were largely peaceful.
But that changed dramatically a week ago, after parliament rushed through a tough anti-protest law, introducing corrective labour sentences for slandering government officials, banning the tents erected by protesters in the city centre, and paving the way – many believed – for greater use of force to remove demonstrators.
President Yanukovych, who met for a third round of talks with the leaders of Ukraine's three main opposition groups last night, has vowed to make concessions such as reshuffling his cabinet, amending the anti-protest laws, and involving the opposition in an "anti-crisis" committee.
A special session of parliament is to take place on Tuesday.
For many on the streets yesterday, the promises – which fell far short of opposition demands – rang hollow. "We want to live in a free country where we can speak our minds," said Yaruslav. "Yanukovych is not a president, he is a dictator, and the only way forward is for him to leave [power] so we can call new elections."
With protests in at least six other official buildings across the country, the government faces what appears to be a growing backlash in the provinces too.
Extreme groups, such as the far-right Right Sector, have admitted they are taking part in the protests.
Analysts estimate that around 300 members of the loose grouping may be taking part in rioting in Kiev. But they are far outnumbered by the ordinary men, women and children who come to voice their anger.
Crouching low to the ground in a smart beige coat, Yuka, who works in advertising, worked furiously to gather rocks in a sack behind one of the barricades yesterday. "They are for our boys at the front to throw," she explained with a wry smile.
Yuka said she had come "for the sake of my country". She added that she wanted Yanukovych to step down, and would support a run by Klitschko, the leader of Udar (Ukrainian Democratic Alliance for Reform).
"I respect him," she said of Yaruslav. However, she dismissed the idea that Klitschko would be any better. Having threatened on Wednesday to go on the "attack" if elections were not called within 24 hours, he has since tried to maintain calm.
"I don't believe in leaders any more," said Yaruslav. "I only believe in the people now."
Leaning on his stick, Mr Gabel says the "big question" everyone in the Maidan is now asking is how this stalemate will end. What protesters know for sure, he said, is that this is a battle for the future of Ukraine.
"This is more than a fight about the EU now, this is a matter of dignity," he said.
""If I don't fight today, the government could close the door on my rights. My great, great grandparents fought for independence.
"Now I am here. I have two small children and I don't want them to have to stand here again, fighting the same fight in 20 years' time. It cannot go on."
Join our new commenting forum
Join thought-provoking conversations, follow other Independent readers and see their replies