Ukraine protests: Demonstrators stand firm despite resignation of prime minister Mykola Azarov
Mr Azarov, who has called the protesters 'terrorists', said he offered his resignation as to encourage 'social-political compromise'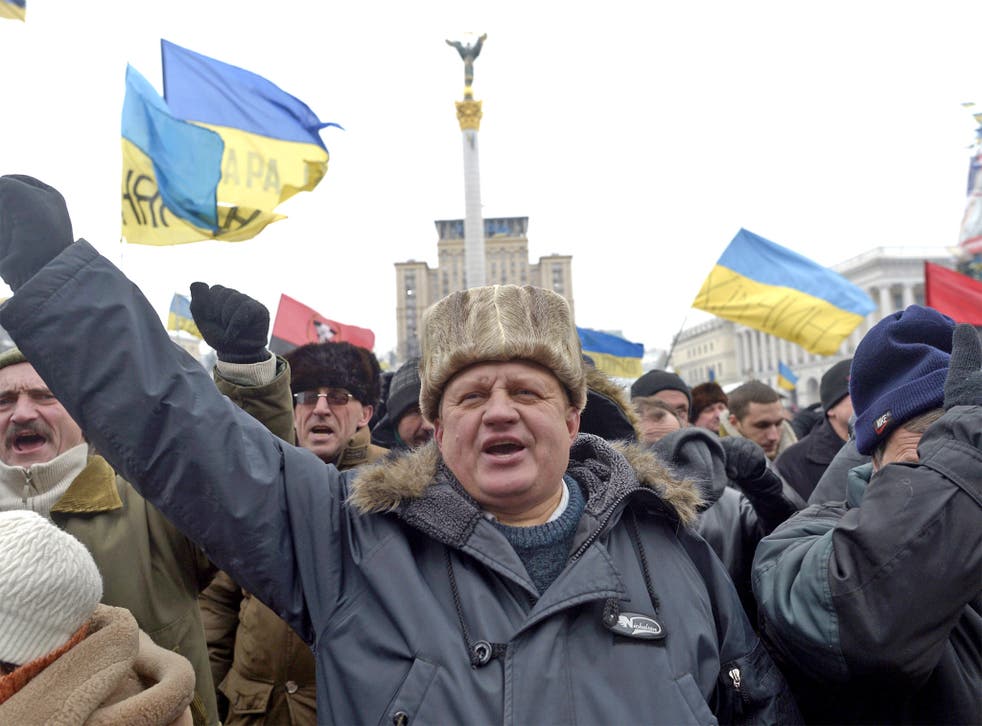 Anti-government protests in Ukraine show no sign of letting up despite the resignation of the country's Prime Minister and his cabinet.
Submitting to opposition demands, Ukrainian President Viktor Yanukovych accepted the resignation of Mykola Azarov in the government's latest bid to defuse the political crisis.
The move came shortly after parliament voted overwhelmingly in favour of repealing tough anti-protest laws passed on 16 January, which had galvanised previously peaceful demonstrations and prompted violent clashes with police, which have spread across the country.
Mr Azarov, who has called the protesters "terrorists", said he offered his resignation as Prime Minister to encourage "social-political compromise". As head of the cabinet, the opposition has held Mr Azarov responsible for the use of police force during the protests, which have left several people dead and hundreds injured.
Though the dual moves were welcomed by the opposition, protesters showed no sign of giving up the municipal buildings they have seized, or dismantling the sprawling protest camp in Kiev's Independence Square - also known as the Maidan - which has paralysed the city centre.
"We have repealed all the laws against which the whole country rose up," Arseniy Yatsenyuk, leader of Ukraine's largest opposition bloc, said. Discussion in parliament of a third possible concession, an amnesty law for detained protesters, has been postponed until Wednesday.
Mr Yanukovych offered the post of prime minister to Mr Yatsenyuk on Saturday as part of several surprise proposals for concessions, but he has so far dismissed the offer, saying in a tweet later that day: "No deal... we're finishing what we started. The people decide our leaders, not you."
The opposition, which also counts world champion boxer-turned-politician Vitaly Klitschko as one of its leaders, said on Saturday that it would continue to push for its key demand - snap elections. With the government now increasingly on the backfoot, and protesters determined to remain on the streets, it now stands more chance of achieving its aim.
In pictures: Protests in Kiev continue

Show all 10
"The authorities are afraid and making concessions," Oleg Rudakov, a 23-year-old demonstrator, told the Associated Press. "We should use this moment and continue our fight to achieve a change of power in Ukraine."
Mass protests began in November after the government spurned a long-awaited trade and political deal with the EU in favour of a £9bn economic bailout from Russia, desperately needed to balance its dire finances. The demonstrations turned violent last week, after parliament rushed through the anti-protest laws, which restricted basic freedoms of speech, movement and assembly in a bit to finally curb dissent. At least three demonstrators have been killed in clashes with police.
Government insiders in Kiev and Moscow have said Mr Yanukovych is under considerable pressure from the Kremlin to crush the demonstrations it sees as a threat to its hold over former Soviet states. They say Russia is threatening to withhold the crucial funds if Mr Yanukovych does not comply.
"For the Kremlin, Ukraine is Russia," James Sherr, associate fellow at Chatham House and author of Hard Diplomacy and Soft Coercion: Russia's Influence Abroad, told The Independent earlier this week. "If Ukraine were to go its own way, Russia would be amputated."
However, Russia's President Vladimir Putin said that the offer remains on the table, and that would be true even if a new opposition government came to power.
"We will talk to any government in Ukraine," Mr Putin said. "Whatever political forces are in power, what is important to us is what economic policy they are going to pursue."
He was speaking in Brussels after a summit overshadowed by deep disagreement between Russia and the EU over Ukraine's political future. European politicians have blamed a cocktail of blackmail and bribery from Moscow for President Yanukovych's decision to pull out of the pact in November.
As the street movement has mushroomed into a sporadically violent drive to remove Mr Yanukovych from power, Russian officials have criticised European politicians and EU officials for turning up in Kiev's Independence Square and spending time among the protesters. Mr Putin again chided EU officials for their involvement in the protest movement.
"I'm sure the Ukrainian people are going to sort this out for themselves and Russia is not going to interfere," said the Russian President. "I can imagine what the reaction would be from our European partners in the midst of a crisis in Greece or in any other country if our foreign minister would come to an anti-European rally and urge people to do something, this would not be very good."
The EU's top diplomat, Catherine Ashton, travelled to Kiev after the Russia-EU summit for talks, while Štefan Füle, the bloc's enlargement commissioner, has made two trips to Ukraine in the past week. Mr Putin, however, did not appear convinced that such hands-on involvement by third parties was helping diffuse the crisis: "The more intermediaries there are the more problems there are."
The twice-yearly EU-Russia summits traditionally include a dinner and take place over two days, but the EU scaled it back to just two hours of talks to show their displeasure at what they say is Russian meddling in the affairs of their former Soviet states. It was the intention of Georgia, Moldova, Armenia and Ukraine to sign Association Agreements promising closer ties with the EU in November that sparked a concerted Russian effort to retain influence in its backyard.
Ukraine and Armenia eventually backed out, and EU officials have struggled to convince Russia that their so-called 'Eastern Partnership' was not against the interests of the Kremlin, which is keen to build its own trading bloc known as the Customs Union. The two sides have announced a new round of talks so they can examine the details of the Association Agreements and "their possible economic consequences for both sides", said Jose Manuel Barroso, the President of the European Commission.
"We need to change the perception that one region's gain is another region's pain," he added.
Kiev protests timeline
21 November 2013
President Viktor Yanukovych's cabinet announces it is abandoning a deal that would strengthen ties with the EU, and will seek co-operation with Moscow. Pro-Western protests begin in Kiev.
30 November
Police launch a brutal attack on protesters, detaining 35. Images of protesters bloodied by police quickly spread.
1 December
A demonstration attracts about 300,000 people, the largest in Kiev since the Orange Revolution in 2004.
17 December
Russian President Vladimir Putin announces that Moscow will buy $15bn worth of Ukrainian government bonds and allow for a sharp cut in the price Ukrainians will have to pay for Russian natural gas.
16 January 2014
Mr Yanukovych announces that he has signed a controversial package of laws designed to curb dissent and crack down on protests.
22 January
Two protesters die after being hit with live ammunition and another dies after a fall during a confrontation with police at a barricade, the first protest deaths.
27 January
Mr Yanukovych agrees to scrap harsh anti-protest laws that set off new clashes between protesters and police.
Join our new commenting forum
Join thought-provoking conversations, follow other Independent readers and see their replies