Ukraine protests: Amnesty given as President Viktor Yanukovych faces pressure from Moscow
President has become increasingly isolated as the country's political crisis shows no sign of abating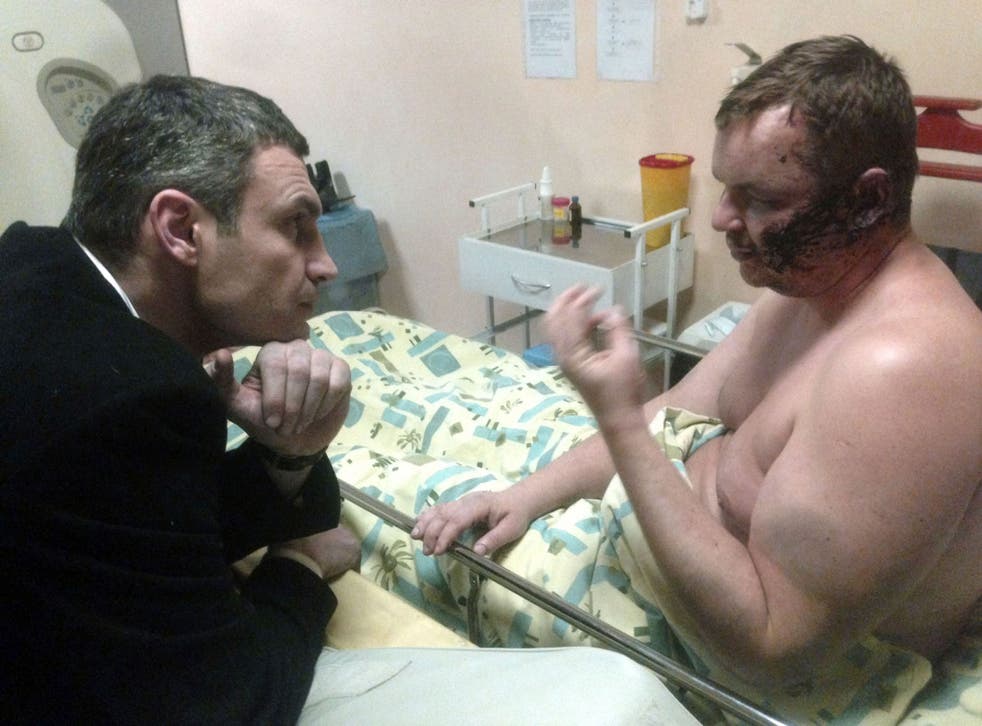 Ukrainian President Viktor Yanukovych has signed an amnesty law for protesters detained during weeks of anti-government unrest, amid calls for him to take a tougher stance against the opposition movement or risk losing power.
Mr Yanukovych's latest concession was quickly rejected by protesters, due to its conditions, which said they must leave municipal buildings occupied across the country, and clear the Maidan, the sprawling protest camp which has paralysed Kiev city centre.
The President, who officially went on sick leave on Thursday with an acute respiratory condition, has become increasingly isolated as the country's political crisis shows no sign of abating. More than six people are now reported to have died and hundreds injured in clashes between protesters and police.
The protests began peacefully in November when Kiev shunned closer ties with the EU in favour of a £9 billion bailout deal with Russia to balance its dire finances. Demonstrations took a more radical turn this month, when authorities passed a harsh anti-protest law clamping down on basic rights of assembly and movement aimed at curbing dissent.
The laws have since been repealed as part of a concessions package offered by Mr Yanukovych, which has also seen the Prime Minister and his cabinet resign. However, opposition leaders have called for further negotiations, as they continue to push for early elections.
In pictures: Clashes between police and demonstrators in Kiev, Ukraine

Show all 51
In comments published on Thursday, an advisor to Russian President Vladimir Putin said Mr Yanukovych has been left with "no choice" but to suppress what he called an "insurgency".
"Either he protects Ukrainian statehood and suppresses the insurgency… or he risks losing power, and then Ukraine faces growing chaos and internal conflict from which no exit is visible," said Sergei Glaziev in an interview with a magazine for the Russian state gas company, Gazprom.
In a sign of Russia's economic leverage over Ukraine, Moscow has said it will hold off on buying £1.2 billion of government bonds until a new government is formed.
Mr Glaziev's comments came as Ukraine's army also called on the president to take "urgent steps" to ease the crisis.
However, authorities came under further intense scrutiny for use of force, after a prominent opposition activist who disappeared for eight days reappeared claiming he had been kidnapped, tortured and left to die in the suburbs of the capital Kiev.
There have been dozens of cases of police brutality during the unrest, Human Rights Watch said on Thursday.
Dmytro Bulatov, leader of the AutoMaidan protest movement which organised motorcades outside the houses of politicians and oligarchs, was found locked in a house in the suburb of Boryspil on Thursday, according to local TV station Channel 5.
Wearing blood-stained clothes and exhibiting cuts and bruises, the 35-year-old activist gave a brief interview to media before being admitted to a Kiev clinic for medical treatment.
"My whole body is a mess. You can see everything. I am alive. Thank God for this," he told reporters.
Mr Bulatov disappeared on 22 January when the AutoMaidan motorcade he was travelling with was ambushed. Activists at the anti-government protest said they were beaten by police and hired thugs. Mr Bulatov said those who held him had Russian accents, but does not know who they were.
The European Union's top diplomat, Catherine Ashton, said she was "appalled by the obvious signs of prolonged torture and cruel treatment" of Mr Bulatov, and said it was up to the authorities to ensure that security services acted with restraint.
"All such acts are unacceptable and must immediately be stopped," said Ms Ashton, who was in Kiev earlier this week as part of EU efforts to diffuse the crisis.
Police in Ukraine said they had opened an investigation and posted guards at the hospital where he is being treated.
US Secretary of State John Kerry was due to meet opposition leaders - including world champion boxer-turned-politican Vitaly Klitschko - on the sidelines of security conference in Munich yesterday. "Our message to Ukraine's opposition will be the full support of President Obama and of the American people," Mr Kerry said before the meetings.
"But we will also say to them that if you get that reform agenda... we would urge them to engage in that because further standoff, or further violence that becomes uncontrollable, is not in anybody's interests."
Join our new commenting forum
Join thought-provoking conversations, follow other Independent readers and see their replies