Russian military troops 'have been brought into Ukraine', warns Poroshenko
'Thousands' of Russians are reportedly fighting alongside separatists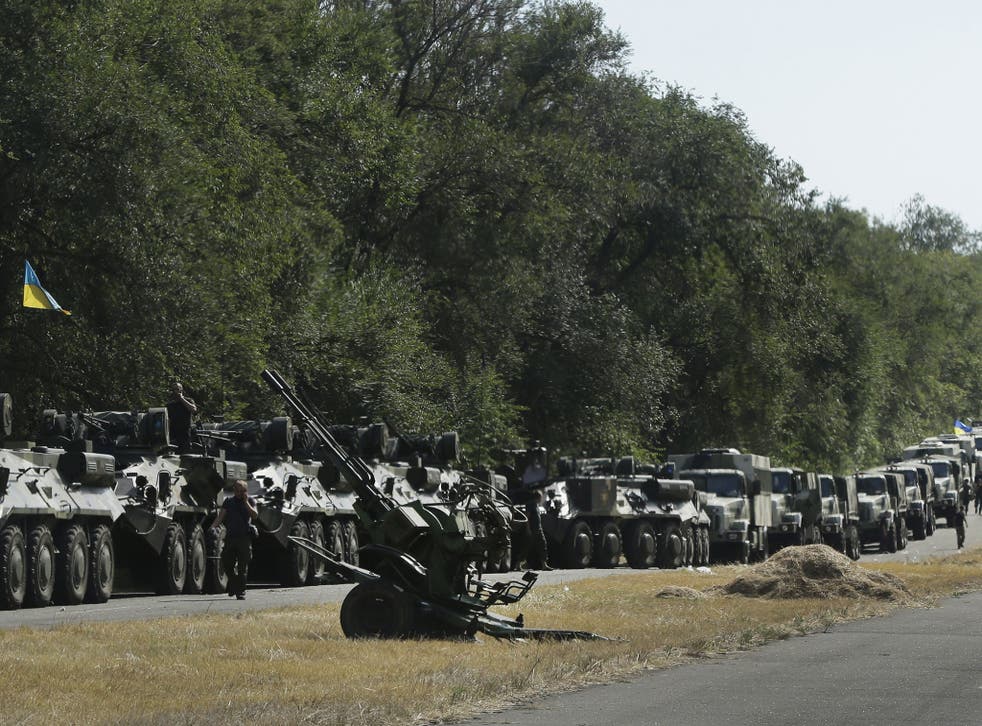 Russia will face "further consequences" if it does not stop its tanks crossing the border with Ukraine, David Cameron has warned.
"It is simply not enough to engage in talks in Minsk, while Russian tanks continue to roll over the border into Ukraine. Such activity must cease immediately," Mr Cameron said in a statement.
"We urge Russia to pursue a different path and to find a political solution to this crisis. If Russia does not, then she should be in no doubt that there will be further consequences."
His remarks come after a Ukrainian official claimed two columns of Russian tanks and military vehicles fired missiles from Russia at a border post in Ukraine on Thursday and then rolled into the country as its border guards fled.
Earlier, the Ukrainian President cancelled a working trip to Turkey, saying Russian military troops had "actually been brought into the country".
Petro Poroshenko called an urgent meeting of the Ukrainian security and defence council to decide the country's next steps, which is due to begin at 4pm.
"I made the decision to cancel a working visit to the Republic of Turkey in connection with the rapidly deteriorating situation in Donetsk region, in particular in Amvrosiyivka and Starobesheve, as Russian troops were actually brought into Ukraine" he said.
Mr Poroshenko's statement came as the pro-Russian separatist leader Alexander Zakharchenko claimed former and serving Russian soldiers on leave from their posts are fighting Ukrainian troops alongside the rebels.
The rebel leader told Russian state television station: "Among us are fighting serving soldiers, who would rather take their vacation not on a beach but with us, among brothers, who are fighting for their freedom."
In pictures: The Ukraine crisis

Show all 66
He estimated between 3,000 and 4,000 Russians have joined fighting, but insisted they did so voluntarily and not on Moscow's orders.
A senior Nato officer in Brussels said an estimated 1,000 Russian troops are operating inside Ukraine and another 20,000 Russian troops are stationed close by.
Zakharchenko spoke as pro-Russian separatists seized the south-eastern resort town of Novoazovsk on the Azov Sea, threatening the key port of Mariupol.
Video: Russian troops might be in Ukraine
Novoazovsk lies along the road linking Russia to Mariupol and on to Crimea, the Black Sea peninsula annexed by Russia in March. The town escaped most of fighting since the conflict began but has been under heavy shelling for three days.
The country's security and defence council said "a counter-offensive by Russian troops and separatist units is continuing in south-east Ukraine."
Ukraine has accused Russian forces of crossing the border into Ukraine and supporting rebels, an accusation Moscow has consistently denied.
On Wednesday, Ukraine's Foreign Ministry began tweeting the hashtags #UkraineUnderAttack and #RussiaInvadedUkraine, while urging others to re-tweet them.
The US government has also accused Russia of orchestrating a new military campaign in Ukraine that is helping rebel forces expand their fight and sending in tanks, rocket launchers and armoured vehicles.
Earlier, the the German Chancellor Angela Merkel phoned the Russian President Vladimir Putin to demand an explanation on claims Russian troops have launched an incursion into Ukrainian territory.
French President Francois Hollande warned it would be "intolerable and unacceptable" if Russian troops are shown to have entered Ukrainian territory.
"Europe will maintain (sanctions), even increase them if the escalation increases. I don't want it because it is neither in Russia's nor our interest," Mr Hollande told an annual conference of French diplomats in Paris on Thursday.
Additional reporting by agencies
Join our new commenting forum
Join thought-provoking conversations, follow other Independent readers and see their replies