Ukraine latest: Armed men raise Russian flag at seized Slaviansk police HQ
The takeover comes a day after the Ukrainian Prime Minister tried to appease tensions in by pledging to give more power to Russian speakers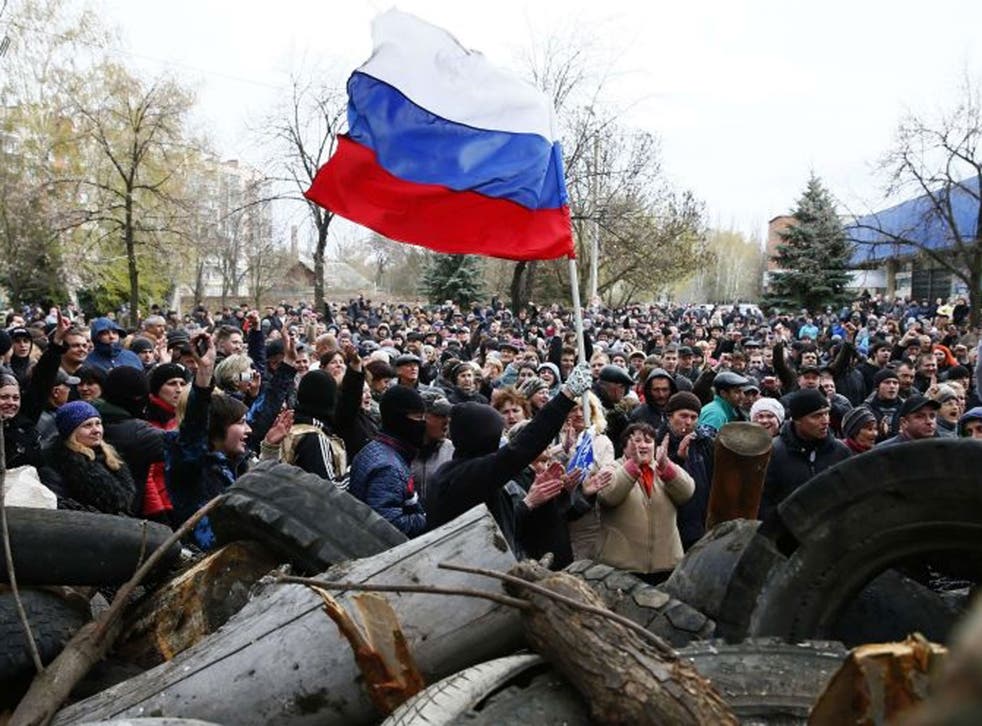 Armed men have raised a Russian flag at a police and security headquarters that they seized on Saturday morning, in the latest takeover of a public buildings by Pro-Russian protesters in eastern Ukraine.
Around twenty men carrying pistols and rifles took over the buildings in Slaviansk. Officials said the men took hundreds of pistols from arsenals in the head quarters, before replacing the Ukrainian flag on one of the buildings with the red, white and blue Russian flag.
Local residents reportedly helped the militants build barricades out of tyres in anticipation that police would try to make them leave, a Reuters photographer at the scene said, although police action did not appear to be imminent.
"Armed men in camouflage uniforms seized the police department in Slaviansk. The response will be very tough because there is a difference between protesters and terrorists," Interior Minister Avakov wrote on his Facebook on Saturday.
The men had not made any demands, and did not give their identity, according to a local police spokesman from the city about 150 km from the border with Russia.
Government buildings in the eastern cities of Donetsk and Luhansk have also been occupied by pro-Russian protesters who want their regions to split from Kiev.
On Friday, a deadline set by the Kiev authorities for the protesters to end their occupation expired, but there was no sign of action from the Ukrainian police to force them out.
But Avakov maintained the threat in his Facebook post, warning:"I will say it again: those who want dialogue...will have dialogue and the search for solutions. Those who are up in arms, set fire to buildings, shoot at people, police, terrorize with bats and masks, these people will face an appropriate response."
It is suspected that Kiev is apprehensive that if protesters are killed or injured by Ukrainian forces, Russia will take the opportunity to move forces further into Ukrainian territory to protect the Russian-speaking population.
Russia denies any plan to send in forces or split Ukraine, but the Western-leaning authorities in Kiev believe Russia is trying to create a pretext to interfere again. NATO says Russia's armed forces are massing on Ukraine's eastern border, while Moscow says they are on normal manoeuvres.
The seizure in Slaviansk comes a day after Ukraine's Prime Minister visited the country's south eastern region, and pledged to give areas more power to defend the rights of Russian speakers.
Clashes in eastern Ukraine

Show all 126
Arseniy Yatsenyuk met with regional officials who once opposed his new government in Kiev, but not with protesters occupying government buildings in the cities of Donetsk or Luhansk.
Ukraine's eastern industrial heartland was the support base for Kremlin-friendly president Viktor Yanukovych, who was ousted in February after months of protests.
Last month, the Crimea region voted to secede and was annexed by Russia — but only after Russia took over the peninsula by force.
Additional reporting by Reuters and AP
Join our new commenting forum
Join thought-provoking conversations, follow other Independent readers and see their replies