Ukraine uprising: Russia's Vladimir Putin promises to work with Merkel and keep crisis-hit country 'intact'
Germany's chancellor says Russian president agreed on importance of Ukraine's 'territorial integrity', as William Hague warns him not to intervene
Adam Withnall
Sunday 23 February 2014 17:10 Comments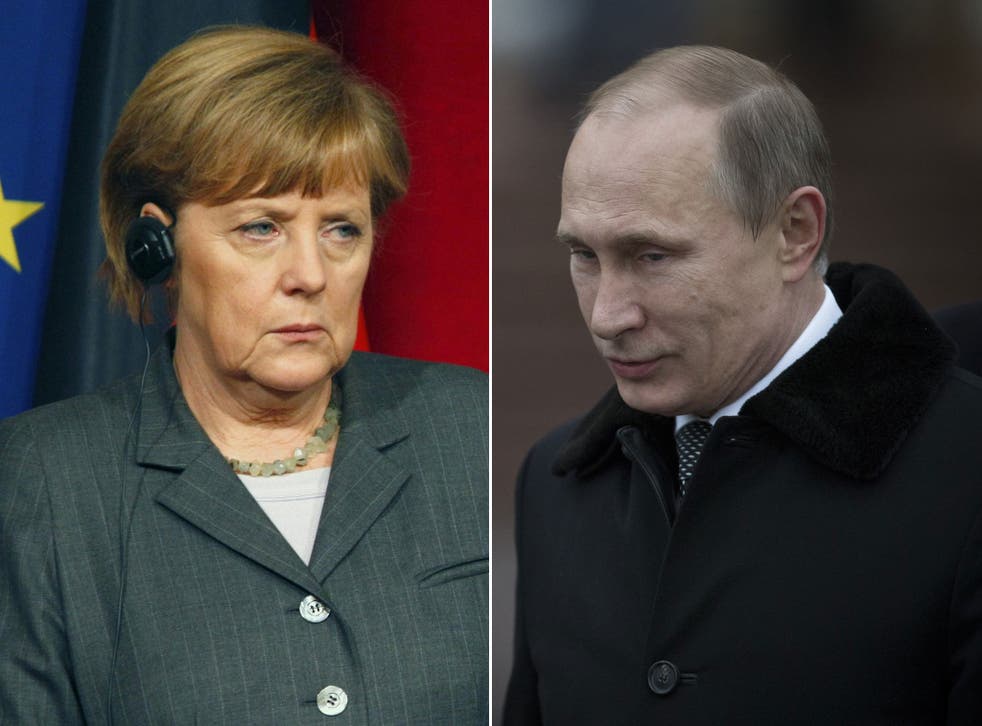 President Vladimir Putin has agreed that the "territorial integrity" of Ukraine must be maintained, amid concerns that Russia could send in the military to defend its interests in the east of the crisis-hit country.
Mr Putin has previously been one of the missing Ukrainian president Viktor Yanukovych's staunchest allies, but he pledged in a phone call with Germany's chancellor Angela Merkel that the country must be allowed to appoint a new, functional government.
"They underscored their joint interest in a stable Ukraine - both in economic and political terms," said a spokesperson for Ms Merkel, who added that the two leaders had agreed to keep in close contact in the coming days.
A spokesperson for the Kremlin confirmed that the pair had spoken, and their conversation came as Britain's William Hague warned Russia against any kind of "intervention" that might further destabilise the country.
When asked if he was worried that Russia might "send in the tanks" to support Russian-speakers in eastern Ukraine, the Foreign Secretary said he advised against what he called any kind of "external duress".
"It would really not be in the interests of Russia to do any such thing. We have to keep up the communication with Russia as we are doing ... so that the people of Ukraine can choose their own way forward. There are many dangers and uncertainties."
In pictures: Protesters gain control of Kiev government district

Show all 10
His comments were echoed by US president Barack Obama's national security advisor, Susan Rice, who said it would be a "grave mistake" for Russia to send in military forces.
She told NBC: "It's not in the interests of Ukraine or of Russia or of Europe or the US to see a country split. It's in nobody's interest to see violence return and the situation escalate."
"There is not an inherent contradiction ... between a Ukraine that has longstanding historic and cultural ties to Russia and a modern Ukraine that wants to integrate more closely with Europe. This need not be mutually exclusive," Ms Rice said.
Earlier, Ukraine's health ministry said the official death toll from clashes since 18 February came to 88, in a conflict that stems from President Yanukovych's decision to spurn a trade deal with the EU in favour of closer ties with Russia.
Yesterday the country's parliament voted to remove Mr Yanukovych from power by a legally-binding constitutional majority, and today they appointed the speaker, Oleksander Turchinov, interim president.
He has told MPs they have until Tuesday to form a national unity government, appointing new cabinet members and a prime minister.
Despite the developments of the past few days, Mr Yanukovych refuses to resign and still claims he is in power. His whereabouts remain unknown, with border control officials saying they stopped a flight he was on from leaving the country at Donetsk airport.
Presidential elections have been scheduled for 25 May, and speaking to the BBC earlier the opposition politician and former heavyweight boxing champion Vitali Klitschko suggested he could be in the running.
"I want to make Ukraine a modern European country," he said. "If I can do that through the president's position, I will do my best."
Register for free to continue reading
Registration is a free and easy way to support our truly independent journalism
By registering, you will also enjoy limited access to Premium articles, exclusive newsletters, commenting, and virtual events with our leading journalists
Already have an account? sign in
Join our new commenting forum
Join thought-provoking conversations, follow other Independent readers and see their replies