Ukrainian crisis: Ceasefire agreed as Russia launches military exercises – across 12 regions
Germany's Chancellor Angela Merkel and France's president Francois Hollande were also in attendance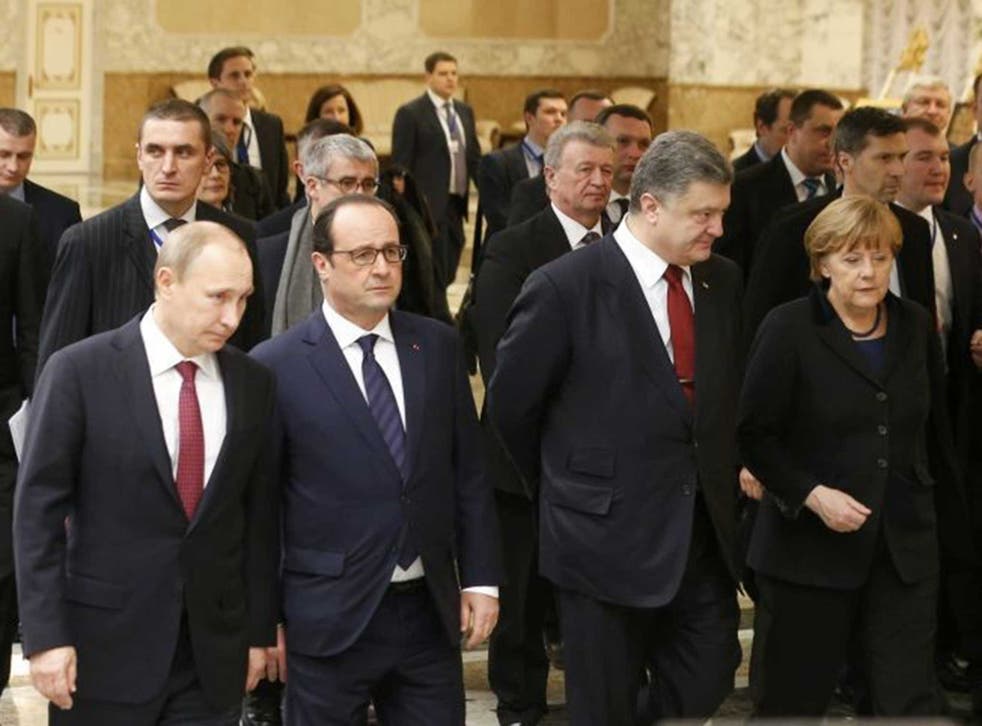 A battle of nerves ended this morning as the Russian and Ukrainian leaders agreed to a ceasefire in Belarus over contested territory in the embattled eastern European state.
Russian president Vladimir Putin announced the ceasefire would be effective from midnight 15th February, bringing hope to a conflict that has claimed the lives of more than 5,400 people.
It brings an end to tense 16-hour talks with the French and German leaders.
Meanwhile, reports have emerged this morning that Russia has launched military exercises in 12 regions, involving more than 30 missile regiments, according to a Russian defence ministry official.
More than 5,400 people have died in the civil conflict between pro-Russian separatists – armed by the Kremlin – and Ukrainian nationalists. Russia has always denied claims it provides arms or troops to the separatists.
Russian president Vladimir Putin greeted Ukrainian president Petro Poroshenko coldly yesterday, foreshadowing the icy nature of the talks.
Tensions escalated after president Poroshenko allegedly stormed out of the meeting hall briefly after an "emotional conversation" with Mr Putin, Russian media reported.
Eyebrows were also raised after pictures emerged that appeared to show Mr Putin snapping a pencil during talks.
Germany's Chancellor Angela Merkel, one of the few Western leaders respected by Mr Putin, and France's president Francois Hollande also attended the talks.
Ukraine crisis: A timeline of the conflict

Show all 23
Crowds of reporters waited outside the negotiation hall, with tensions from inside the hall radiating out to waiting journalists.
Local news channels reported various fracases between partisan journalists from both sides, with one Russian reporter - known for his close ties to the Kremlin - snapping at a female Ukrainian journalist who asked about his accreditation.
Hope remains limited. Many observers acknowledge the best case scenario would be for an agreed ceasefire, which will depend heavily on how far president Poroshenko's is willing to accept a compromise – and what Russia will offer.
Prior to the start of talks yesterday, the Ukrainian leader appeared unoptimistic.
"The entire world is waiting to see whether the situation moves toward de-escalation, weapons pullback, cease-fire, or ... spins out of control," he told reporters.
Even as the leaders fight, real battle still rages across corners of the fractured country.
The United Nations reported that between 31 January and 4 February an estimated 263 civilians were killed.
What are the key sticking points of the deal?
- New lines in the mud: There will be intense discussion around the changing of border lines. Russia wants to honour the rebels advances, while Ukraine is keen to stick to those drawn up in September – crucially before pro-Russian advances.

- Withdrawal of Kremlin-backed soldiers and weaponry: Russia has consistently denied that it possesses any troops in the area. A stance that Ukrainian leaders – and western observers, such as NATO – say is discredited.

- Secure borders: Kiev needs to maintain control of Russian borders to halt the flow of troops and missiles into the country. Russian leaders claim control of the borders rests with those who hold them – in this case rebel forces.
- Separatist autonomy: Russia is demanding guarantees of the broader rights of pro-Russian or separatist Ukrainians living under the Kiev government. Ukrainian officials claim their rights are protected under already existing law.
- Finally, Russia needs Ukraine to end its financial blockade of the east.
Additional reporting by Associated Press
Register for free to continue reading
Registration is a free and easy way to support our truly independent journalism
By registering, you will also enjoy limited access to Premium articles, exclusive newsletters, commenting, and virtual events with our leading journalists
Already have an account? sign in
Register for free to continue reading
Registration is a free and easy way to support our truly independent journalism
By registering, you will also enjoy limited access to Premium articles, exclusive newsletters, commenting, and virtual events with our leading journalists
Already have an account? sign in
Join our new commenting forum
Join thought-provoking conversations, follow other Independent readers and see their replies