Ukrainian pilot sentenced to 22 years in prison by Russian court
Nadiya Savchenko has been found guilty of complicity in the murder of two Russian journalists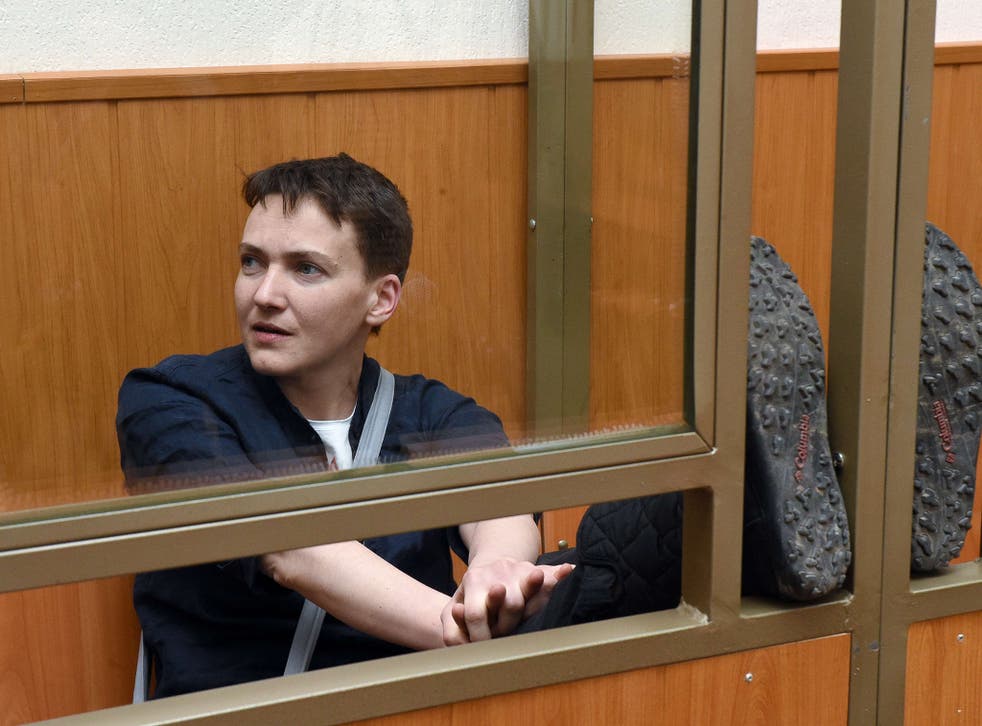 Ukrainian pilot Nadiya Savchenko has been found guilty of complicity in the murder of two Russian journalists and sentenced to 22 years in prison by a Russian court, a verdict sure to aggravate already tense relations between both countries.
Russian judge Leonid Stepanenko spent two consecutive days and over 15 hours summing up the proceedings of what is broadly considered to be one of the most egregious political show trials in Russia's recent history. As the judge delivered the sentence in a courtroom in southern Russia's Rostov region, Ms Savchenko broke into a Ukrainian folk song, forcing the judge to briefly clear the room before continuing the sentencing.
A 34-year old veteran of the Ukrainian army, Ms Savchenko is charged with directing mortar fire to two Russian journalists in war-torn east Ukraine in 2014 which resulted in their deaths. Prosecutors claim that she then illegally crossed the Ukrainian-Russian border with the aim of seeking asylum.
Ms Savchenko denies all wrongdoing and has called the trial a "farce". She claims that she was captured by pro-Russia separatists in Luhansk who took her across the border into Russia where they handed her over to Russian authorities. Her lawyers say that the prosecutors have fabricated the case and claim that evidence, including phone records, show Ms Savchenko had been kidnapped by separatists over one hour before the mortar fire that killed the two journalists.
Ms Savchenko had earlier said she would not appeal the verdict as she thinks "it has nothing to do with justice". However one of her lawyers, Mark Feygin, has said that her defence team has launched "international procedures" for her release via UN apparatus.
The question now is whether a prisoner exchange will be agreed upon between Moscow and Kyiv. Ukrainian Petro Poroshenko, dismissing the sentencing as a "kangaroo court" and vowing to bring Ms Savchenko home, has offered to exchange her with two Russian special forces soldiers who were captured in eastern Ukraine in May last year.
Since her imprisonment in 2014, Ms Savchenko has been celebrated as a national hero in Ukraine.
Join our new commenting forum
Join thought-provoking conversations, follow other Independent readers and see their replies