Ukrainian politician and former Yanukovych ally Nestor Shufrych beaten up by activists
The parliamentarian was campaigning in Odessa ahead of the 26 October elections, but was set upon by people who do not want to see him in a position of power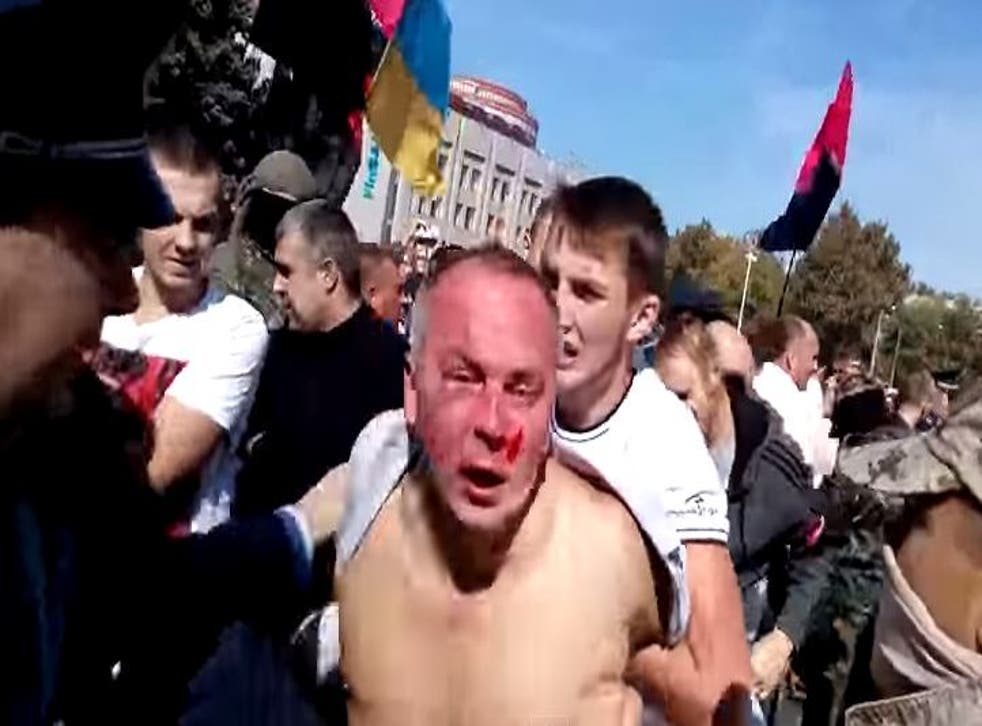 An opposition parliamentarian in Ukraine with ties to ousted President Viktor Yanukovych was beaten up by a group of activists as he tried to rally support for an election campaign.
Nestor Shufrych, a former ally of the overthrown President and a lawmaker with the Party of Regions, was in the port city of Odessa, Ukraine, on Tuesday ahead of the 26 October elections.
He was set upon as he attempted to give a press conference in the building of the Odesa regional state administration, by members of the nationalist Right Sector group who blame him for some of the misconduct during Mr Yanukovych's tenure, the Kyev Post reports.
Mr Shufrych, alongside another politician, Nikolai Skoryk, had initially planned to give a press conference in another location, but had to cancel it after learning that roughly 100 protesters had gathered outside the venue ready to throw him in the bin like they had done last month with another MP, Vitaliy Zhuravskiy.
Mr Shufrych was taken to hospital after being roughed up and was diagnosed with concussion.
In the two-and-a-half-minute footage he can be seen being repeatedly punched with police officers unable to protect him.
"They wanted to put me in a waste container, but the only way they could do it would be over my dead body," he said, according to Russia Today.
"Believe me, soon we will put an end to this lawlessness. And we will do all we can to clear the city from these evil spirit." He also said he was "mildly surprised" by the events.
The militant group opposed to Mr Shufrych told the Kyiv Post that the extreme action was their way of trying to prevent the Party of Regions and Communist Party from ever taking office again.
"Right Sector said in the very beginning that we are going to fight these bastards," Spokesman Artem Skoropadsky, said.
"These are just the warning actions. We are just warning them – Pylypyshyn, Shufrych and other bastards that they should not be candidates. If they don't listen to us we will do it another way."
According to Ukraine's Interfax news agency, Ukraine's President Petro Poroshenko had ordered the authorities to investigate the incident.
A spokesperson said that the President has "instructed law enforcement agencies, particularly the Interior Ministry, the Security Service of Ukraine and the Prosecutor General's Office of Ukraine to thoroughly study the situation, who provoked the conflict in Odesa on September 30, in which a people's deputy of Ukraine was hurt."
Join our new commenting forum
Join thought-provoking conversations, follow other Independent readers and see their replies