Ukrainian politician is forced into a bin outside parliamentary building
Vitaliy Zhuravskiy was filmed being forced into the bin by activists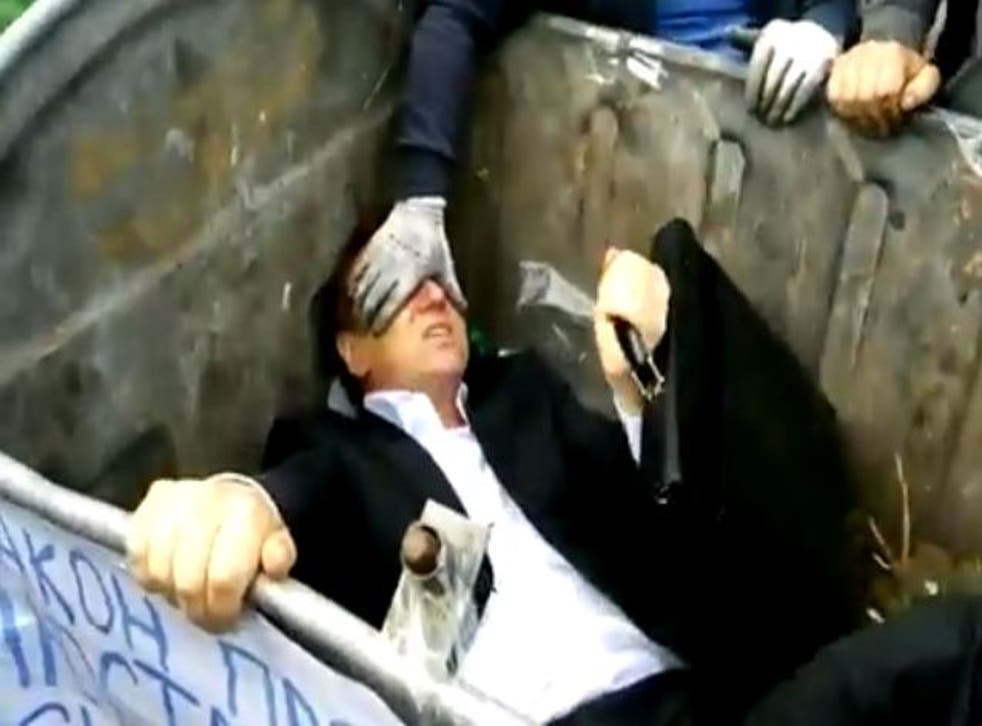 Extraordinary footage has emerged of a Ukrainian MP being chucked in to a bin by protesters.
Vitaliy Zhuravskiy can be seen wearing a suit and holding his briefcase as he's ushered to the large refuse bins by a handful of men before being thrown in head first.
The incident happened outside the building of the Ukrainian parliament – Verkhovna Rada – with Mr Zhuravskiy stuck in the wheelie bin, while was also being angrily pushed in it by activists.
A second video, also uploaded today, shows the latter half of the incident where camouflaged police appear to come to his rescue as dozens of people jostle to film and photograph the melee.
Mr Zhuravskiy is understood not to have made a formal police complaint, reports local Ukrainian news outlets.
The bill, which was ratified yesterday, forces any MPs who worked under former President Viktor Yanukovich to quit parliament and prevents them from occupying seats in the future.
The official had had liquid and tyres thrown on him while in the bin, in an episode which has since attracted apologies from Maidan activists.
Mr Zhuravskiy is reported as saying: "I am still shocked by what has happened.
"I take this incident as a hit by my competitors, running for the vote in the Zhitomir region. I don't think that's the way Maidan people could have treated me, it can't be true, I simply don't believe it."
Join our new commenting forum
Join thought-provoking conversations, follow other Independent readers and see their replies