US to send 250 tanks to countries along Russian border to 'respond to Russian aggression'
Ash Carter, the Defence Secretary, said the deployment of armoured vehicles and weapons will 'deter and be prepared to respond to Russian aggression'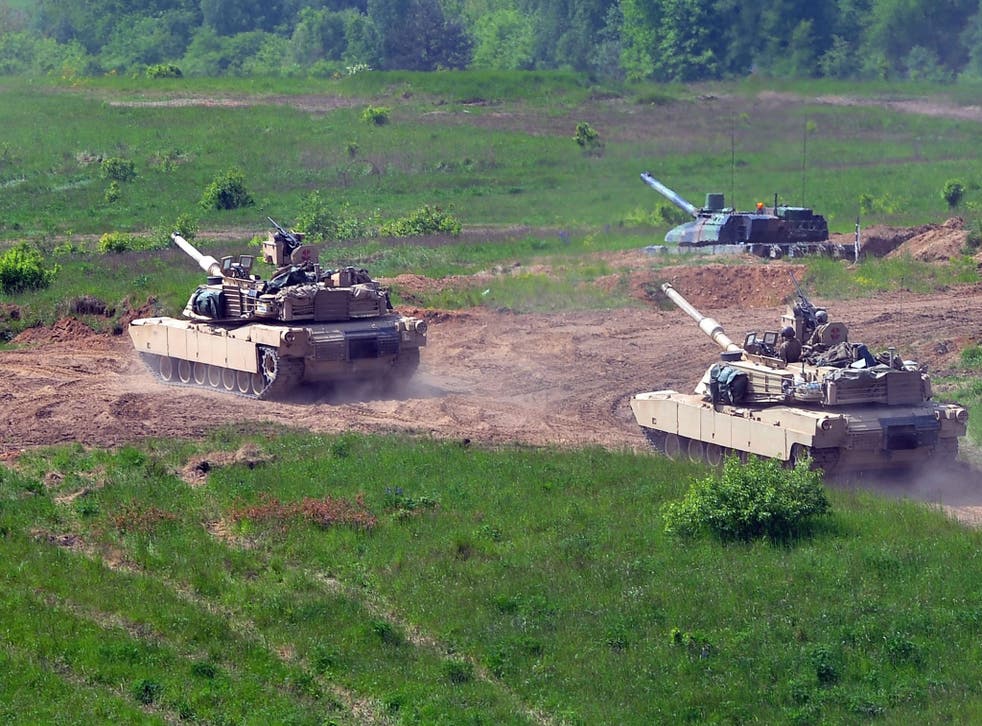 The US is sending 250 tanks to countries along the Russian border in a move it claims will "respond to Russian aggression" in Europe.
Ash Carter, the Defence Secretary, confirmed the deployment today, saying armoured vehicles, weapons and artillery would be spread across six countries.
Mr Carter said the equipment could be moved around the region for training and military exercises, and would include Bradley fighting vehicles and self-propelled howitzer artillery guns.
"We intend to move those equipment sets around as exercises move around," he told a news conference.
"They're not static. Their purpose is to enable richer training and more mobility to forces in Europe."
He said the American presence will be "persistent" but "agile."
Bulgaria, Estonia, Latvia, Lithuania, Poland, and Romania are each being sent enough equipment to supply a battalion of troops.
The Department of Defence said the countries were chosen based on their proximity to training ranges that would reduce the time and cost of transporting it for joint US exercises.
Mr Carter made the announcement alongside defence ministers from Estonia, Latvia and Lithuania, a day after he announced the US would be contributing weapons, aircraft and troops, including commandos, to Nato's new rapid reaction force.
The coalition was founded in the wake of the Ukraine crisis to respond to new conflicts as well as the threat of terrorism from Isis and other extremists.
Specialists from the US are also going to work with Nato's cyber defence centre in Estonia to help allies develop protections against online attacks.
Washington has been outspoken in its criticism of Vladimir Putin and his government over the last year, accusing it of backing separatist rebels in Ukraine and condemning the annexation of Crimea.
Mr Carter repeated the claims ahead of his European visit yesterday, saying in a statement that Russia had "fomented" the destabilisation of eastern Ukraine.
The Russian President has repeatedly denied claims his country has sent troops to the country, supported or armed the rebels.
Mr Carter said the US's commitment in Europe would stop short of ground troops but could include intelligence, surveillance, special operations forces, logistics, aircraft and weapons.
Additional reporting by AP
Join our new commenting forum
Join thought-provoking conversations, follow other Independent readers and see their replies