Video shows aide to Greek Prime Minister Antonis Samaras admitting Golden Dawn arrests were 'sought by government'
Takis Baltakos claims ministers resorted to applying political pressure to secure an investigation into the far-right party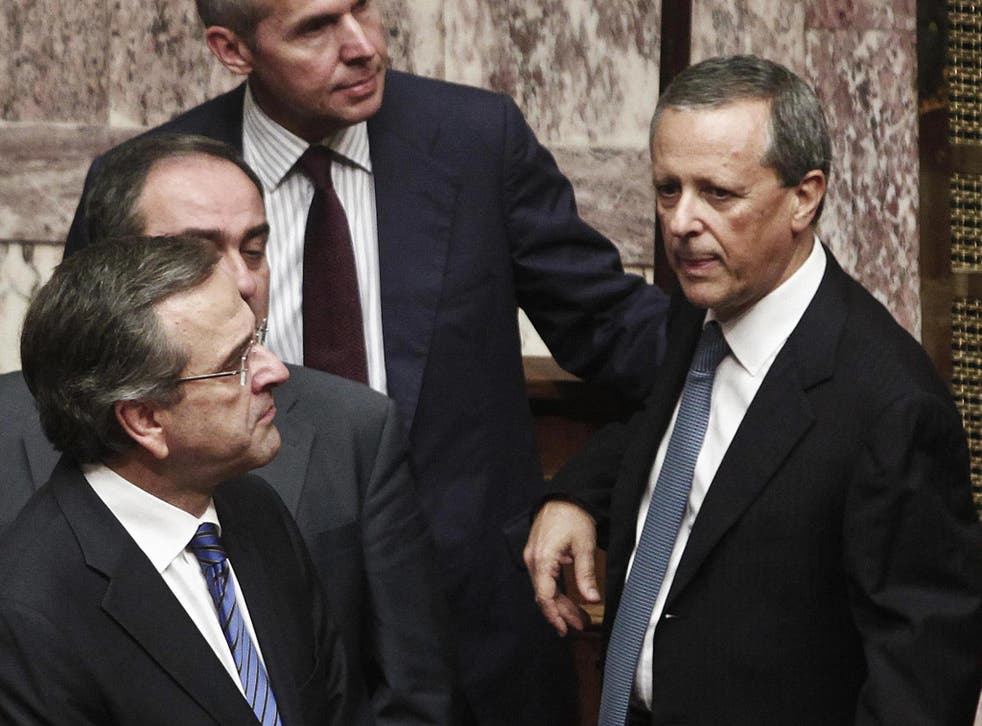 Greece's Prime Minister is at the centre of a political storm, which raises questions over government meddling in the judiciary and its uncomfortable links with the country's extreme-right.
Ilias Kasidiaris, a far-right party MP yesterday revealed a video recording exposing a friendly discussion he had with an aide of the Prime Minister, Antonis Samaras. In the video, Takis Baltakos admits to government intervention in the country's judicial process to elicit prosecutions of Golden Dawn lawmakers.
The revelations risk dampening recent positive developments for the government in austerity battered Greece ahead of municipal and European parliamentary elections that could prove a litmus test for the administration. The Greek economy is expected to grow by 0.6 per cent in 2014 after a six year recession while European finance ministers earlier this week approved an €8.3bn tranche as part of an aid package for the country. Meanwhile, Mr Samaras told Reuters that after four years, the country would shortly return to the markets by selling bonds.
In the video, the aide says there was little evidence to substantiate the arrests of far-right Golden Dawn members prompting government ministers to resort to applying political pressure to secure an investigation. Both the Justice and Public Order ministers deny any wrongdoing.
Mr Baltakos, who was also the government's secretary general, is seen doing a hand gesture of a telephone call, suggesting that ministers called the supreme court's prosecutor to charge Golden Dawn lawmakers in an effort to recover disenchanted right wing voters.
"The investigator has no evidence. Not one [bit]," Mr Baltakos is heard saying in the video. "[The Prime Minister] feared for himself because [Golden Dawn] is undercutting his lead over [opposition party] Syriza."
Following the video release, Mr Baltakos resigned, apologising for the "trouble he [had] caused". He said that Mr Samaras had no knowledge of his limited interaction with Golden Dawn which was aimed at winning back voters. Mr Baltakos who is not an elected politician, is seen as belonging to New Democracy's most right-wing core.
The video has also caused tension within the socialist party, which supports the governing coalition. Greece's former socialist PM and current lawmaker, George Papandreou, called for Pasok to withdraw its support from the government.
Meanwhile, opposition party Syriza lambasted the government's intervention in the judiciary, calling for general elections.
"The only solution for the country is general elections, the people must speak and give the answer," said Syriza MP, Panagiotis Lafazanis
A third of Golden Dawn's lawmakers have been put in pre-trial detention for running and belonging to a criminal organisation linked to a series of crimes, including violent assaults. The prosecutions appeared to curtail the party's soaring popularity although it still ranks high in the polls - the latest of which suggest it's now fourth strongest party in the country.
Join our new commenting forum
Join thought-provoking conversations, follow other Independent readers and see their replies