Video shows father reassuring son in wake of Paris attacks: 'They might have guns, but we have flowers'
'They have guns, they can shoot us because they're really really mean'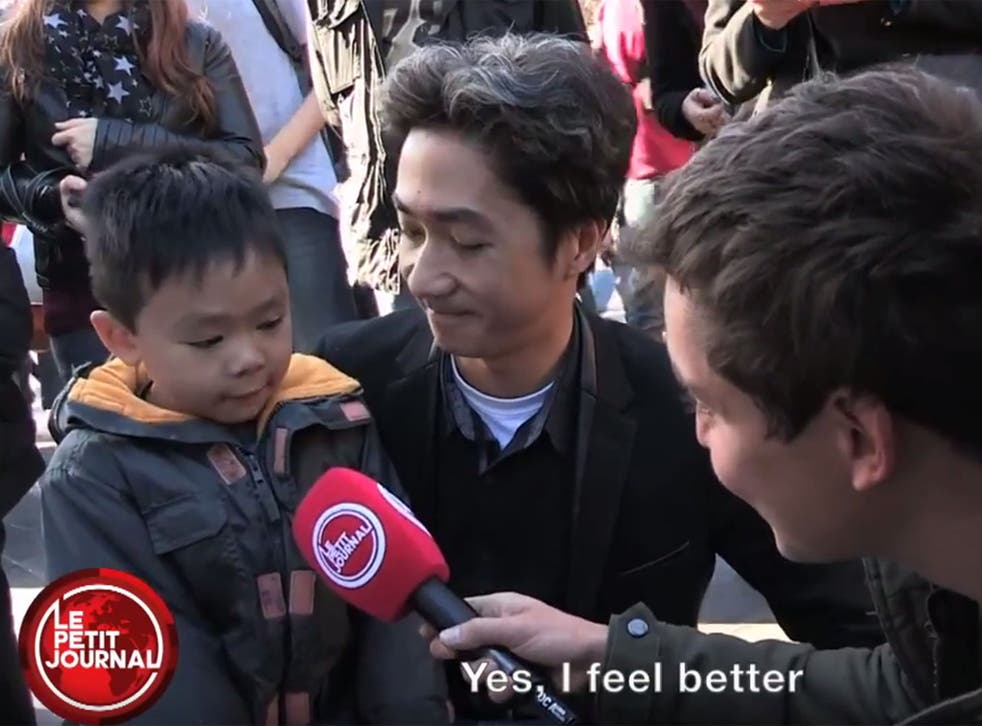 In the wake of the deaths of 129 people out enjoying a Friday night in Paris, understanding what happened has been a struggle for most adults.
Explaining the atrocities to small children, then, can prove incredibly difficult – and as this video shows, has to be couched in terms they will understand.
On Saturday, France's Le Petit Journal sent its reporters to speak to parents with children at the memorials that have appeared across the French capital in the wake of the attacks.
One little boy standing outside the Bataclan theatre, the scene of Friday's deadliest attack, is asked if he understands why suspected Isis militants opened fire on crowded concert.
Here is the conversation that follows:
Boy: "Yes, because they're really really mean. Bad guys are not very nice. And we have to be really careful because we will have to change houses.
Father: "Oh don't worry… We don't need to change houses. France is our home."
Boy: "But there's bad guys daddy…"
Father: "Yes, but there are bad guys everywhere. "
Boy: "They have guns, they can shoot us because they're really really mean daddy."
Father: "It's OK, they might have guns but we have flowers."
Boy: "But flowers don't do anything, they're for, they're for…"
Father: "Of course they do, look, everyone is putting flowers down. It's to fight against the guns."
The world mourns Paris attacks - in pictures

Show all 25
Boy: "It's to protect? And the candles too?"
Father: "It's to remember the people who have gone."
Boy: "The flowers and the candles are here to protect us."
Father: "Yes."
Reporter: "Do you feel better now?"
Boy: "Yes, I feel better."
Join our new commenting forum
Join thought-provoking conversations, follow other Independent readers and see their replies