Vladimir Putin says he will seek re-election as Russian president in 2018
If he completes the next term in full, Putin will have been Russia's de facto ruler for 24 years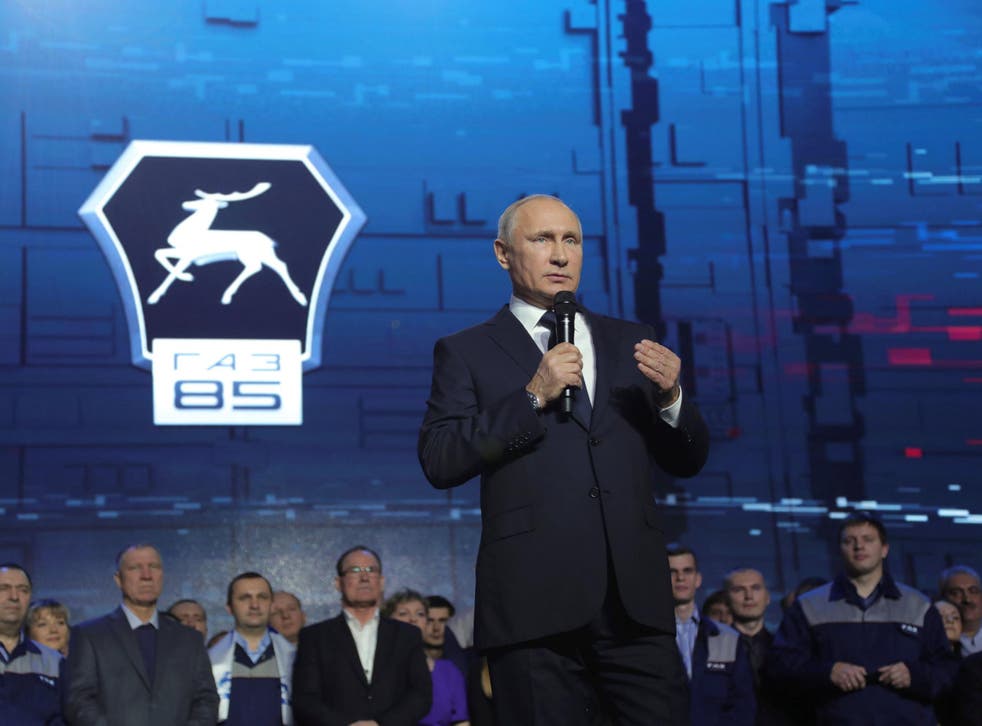 The suspense is finally over: Vladimir Putin has declared his intention to seek re-election as Russian president in 2018.
It was hardly a secret that he would run, but the announcement came a week earlier than many had expected.
Speculation had been mounting about the timing and ways he would make his announcement more than the question of whether he would or not. Most had posited a date in the middle of December – that would limit the election campaign to three months while giving enough time for the President to register as an independent candidate. The assumption was that it would happen some time after his marathon annual press conference, which takes place next Thursday, and before the conference of the ruling United Russia party on 22-23 December.
In the end, the President decided a visit to a car factory in Nizhny Novgorod on Wednesday offered the best background shot. Naturally enough, it was left to the most ordinary of factory workers to elicit an answer to a question thousands had already asked.
Everyone on the factory floor supported the President, said the man; would he be so kind as to give them all a present?
"There is… umm… probably no better place, and no better reason to declare," Mr Putin replied, to cheers. "I will put my candidacy forward for presidential elections."
Earlier in the day, Mr Putin had teased a young audience at the Volunteer Russia forum. Surrounded by smiling youngsters and a palette of purple and crimson, the President hinted he would be making a decision in "the near future".
The motivation for such a decision would only by a "desire to improve the lives of people living in Russia," he assured his audience. Would the youngsters support his candidacy, he asked?
"Ye-ee-ss," came the resounding reply.
More cheers.
World news in pictures

Show all 50
Mr Putin, 65, who this year passed Leonid Brezhnev's record of 6,602 days in office, has placed the future at the centre of his now official campaign pitch. If he completes the next term in full, he will de facto have ruled Russia for 24 years. Both figures include an interregnum between 2008 and 2012, when Dmitry Medvedev was notionally in charge as President and Mr Putin served as his Prime Minister.
With little in the way of political competition, Mr Putin is expected to win the election comfortably. According to a poll published earlier this week by RBC, no other candidate is expected to break through the 10 per cent barrier.
It is understood that Mr Putin's team is angling for a result of at least 70 per cent support with a turnout of 70 per cent. With growing ambivalence to the political process amid squeezed living conditions, the second target may prove ambitious.
Register for free to continue reading
Registration is a free and easy way to support our truly independent journalism
By registering, you will also enjoy limited access to Premium articles, exclusive newsletters, commenting, and virtual events with our leading journalists
Already have an account? sign in
Register for free to continue reading
Registration is a free and easy way to support our truly independent journalism
By registering, you will also enjoy limited access to Premium articles, exclusive newsletters, commenting, and virtual events with our leading journalists
Already have an account? sign in
Join our new commenting forum
Join thought-provoking conversations, follow other Independent readers and see their replies