'We are normal Russians': Pole vaulter, Yelena Isinbayeva, defends anti-gay laws
Athlete criticises shows of support of gay rights at World Championships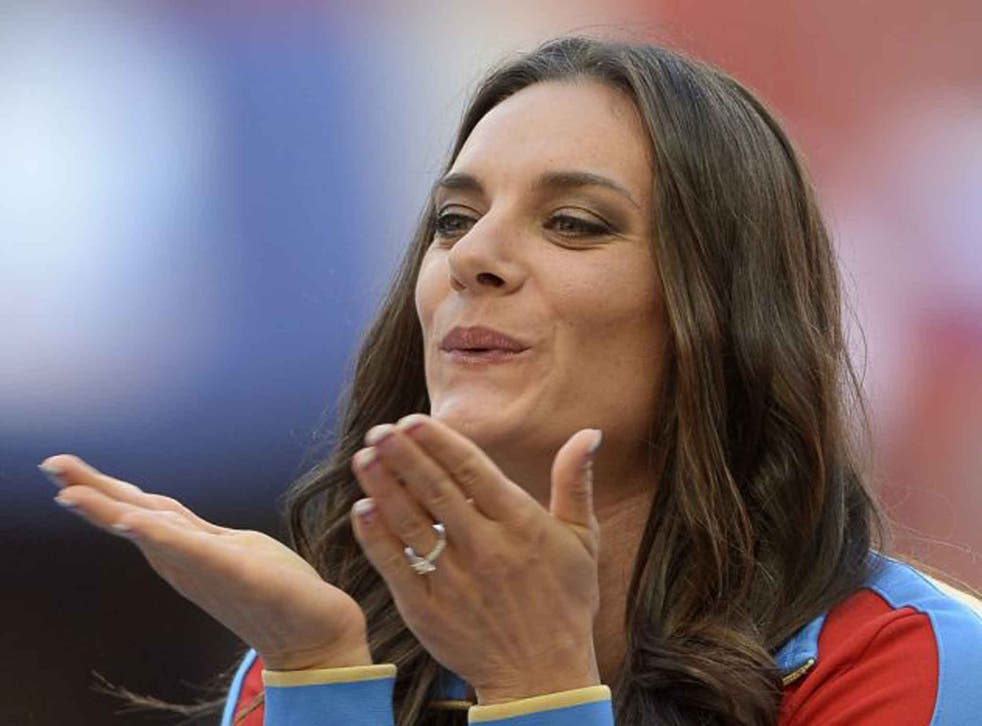 Russian pole vaulter Yelena Isinbayeva has defended her country's anti-gay law and criticised athletes for showing solidarity for gays and lesbians.
Russia's anti-gay law has been a contentious global issue since parliament passed the ruling in June, which leads to heavy fines for anyone deemed to promote homosexuality to people under the age of 18. Earlier this month, Russia's Sports Minister warned that gay competitors in next year's Winter Olympics risk arrest if they engage in homosexual "propaganda".
Now, Isinbayeva, the face of this year's World Athletics Championships who on Tuesday won the third world title of her career and is idolised by the Russian public, has further stoked the row by insisting she supports the law.
"If we allow to promote and do all this stuff on the street, we are afraid about our nation because we consider ourselves like normal, standard people," she said. "We just live with boys with woman, woman with boys. Everything must be fine. It comes from history. We never had any problems, these problems in Russia, and we don't want to have any in the future."
American 800m runner Nick Symmonds, who won silver in his event on the same night as Isinbayeva leapt to her gold, had already weighed into the row by saying he would dedicate his medal "to my gay and lesbian friends back home".
Responding to Isinbayeva's comments, Symmonds said: "It blows my mind that a young, well-travelled, well-educated woman would be so behind the times. She said 'normal, standard people' in Russia? Guess what – a lot of these people with Russian citizenship are normal, standard homosexuals. They deserve rights too."
Today, two Swedish athletes, Emma Green Tregaro, a high jumper and former World Championship bronze medallist, and 200m and 400m runner Moa Hjelmer, both painted their nails in rainbow colours in a nod to the rainbow flag often used as a symbol of gay rights and gay pride. Green Tregaro said in a video on the website of Swedish newspaper Expressen: "The first thing that happened when I came to Moscow and pulled my curtains aside was that I saw the rainbow and that felt a little ironic. Then I had a suggestion from a friend on Instagram that maybe I could paint my nails in the colours of the rainbow and that felt like a simple, small thing that maybe could trigger some thoughts."
Hjelmer followed suit, while team spokesman Fredrik Trahn said other teammates had also done so. Mr Trahn said: "The federation has not discussed it. It is all up to the athletes."
The Swedish athletes' stance led to a sharp rebuke from Isinbayeva. "It's unrespectful [sic] to our country," said the Russian, who is also a two-time Olympic champion and the world record holder in the pole vault. "It's unrespectful to our citizens because we are Russians. Maybe we are different from European people and other people from different lands. We have our home and everyone has to respect [it]. When we arrive to different countries, we try to follow their rules."
The row looks unlikely to go away with the sporting spotlight on Russia as it prepares to host next year's Winter Olympics in Sochi from 7-23 February, where Isinbayeva is set to be mayor of the Olympic village.
The international athletics federation, the IAAF, which runs the World Championships, has refused to join the row, insisting both parties have the right to air their views.
Join our new commenting forum
Join thought-provoking conversations, follow other Independent readers and see their replies