What Eurosceptic MPs and Out campaigners had to say about 'patronising' John Kerry's EU referendum intervention
'The intervention of patronising foreign potentates such as [Mr] Kerry and the Communist Chinese President can only help the Leave campaign'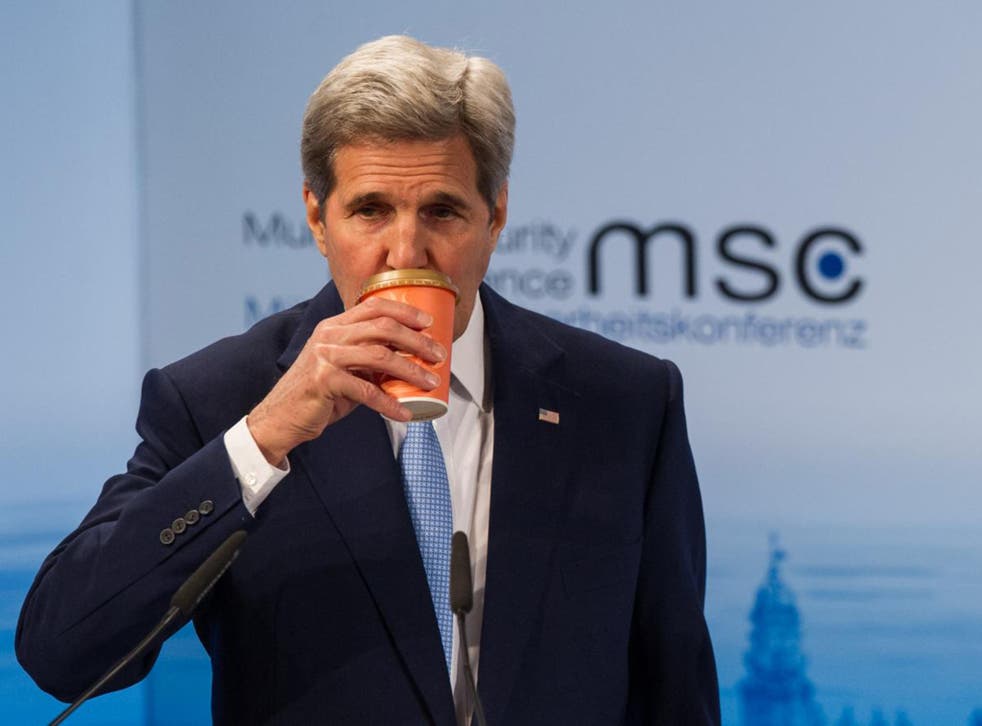 Eurosceptic MPs have rounded in on John Kerry for intervening in the debate over Britain's membership of the European Union – with one even advising the Secretary of State to look at the US Declaration of Independence.
Speaking days before EU leaders gather at a crucial summit in Brussels to decide on the fate of David Cameron's renegotiation demands, Mr Kerry said the US had a "profound interest" in a "strong UK staying in a strong EU".
There are also reports that Barack Obama, who has previously voiced support from the Britain's membership in the EU, is preparing to make a "big, public reach-out" to voters once the referendum campaign begins.
The Independent spoke to several Eurosceptics for their response to Mr Kerry's comments. Here's what they had to say:
Steve Baker - Conservative MP
Responding to Mr Kerry's remarks at the Munich annual security conference the Conservative MP Steve Baker said to the Independent: "I refer Mr Kerry to the US Declaration of Independence. We will do peacefully at the ballot box that for which his nation fought a bloody war of insurrection.
"If the USA must express a view on the UK's right to the separate and equal status among the nations of the world to which many of us feel entitled, perhaps they might consider whether they wish to discuss their back taxes."
Jacob Rees-Mogg - Conservative MP
"The intervention of patronising foreign potentates such as Kerry and the Communist Chinese President can only help the Leave campaign," added Tory MP Jacob Rees-Mogg.
"They speak to their national interest not ours so will antagonise the freedom loving British voter."
John Redwood - Conservative MP
A third Conservative MP John Redwood said that Mr Kerry is an "unpopular representative of an unpopular president".
He added: "Most British people will feel this is a debate for us and it's unusual for a foreign country to wish to intervene… I don't know what he means by it. I don't suppose he's thought it through at all.
"If the United States was about to enter a union with Mexico, Cuba and Canada on a similar basis to the European Union then maybe they would have some moral authority to tell us to do the same with Eastern Europe and Italy."
Douglas Carswell - Ukip MP
Ukip's sole MP Douglas Carswell said Mr Kerry's intervention, however, should not come as a surprise. "International grandees love the EU," he added.
"It has been built by, and for the convenience of these sorts of people. John Kerry does not seem to mind that Britain has to send £350 million to Brussels each week. British voters do. They, not Mr Kerry, will be deciding this referendum."
Kate Hoey - Labour MP
Labour MP Kate Hoey told the Independent that British-American relations will be "as strong as ever" after Brexit. She added: "This is a referendum for the British public…John Kerry should concentrate on his country's own Presidential elections and not try to influence our vote."
Jack Montgomery - Leave.EU
Expressing frustration with the US Secretary of State, Jack Montgomery, the Leave.EU spokesman, said: "It might be convenient for John Kerry, who has repeatedly declined to support the UK in the Falklands, for us to be in the EU, but that doesn't mean it's good for us.
"Imagine if Kerry proposed a pan-American union in which an unelected commission would control United States immigration policy, trade policy and regulations, among a host of other important matters. He would be run out of Washington DC on a rail."
Join our new commenting forum
Join thought-provoking conversations, follow other Independent readers and see their replies