Who will be the next leader of Europe?
With the frontrunner under a cloud, two women are being touted as possible choices for the next president of the Commission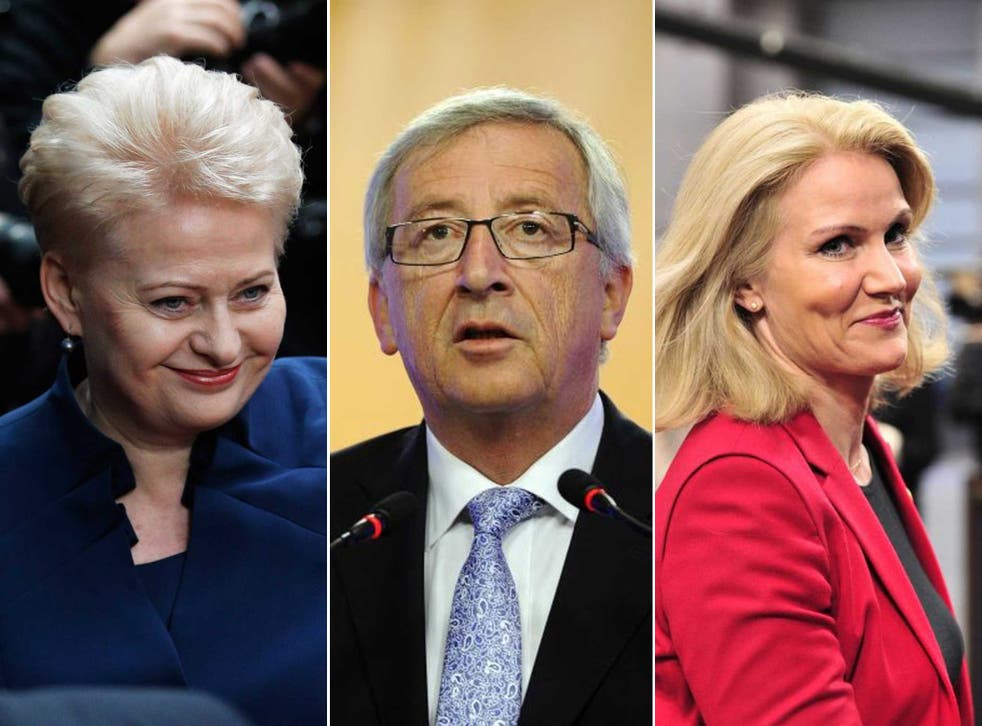 Two female European leaders are emerging as possible candidates for the next head of the European Commission after the frontrunner, Jean-Claude Juncker, was reported to be considering withdrawing his name.
Helle Thorning-Schmidt, the Prime Minister of Denmark, and Dalia Grybauskaite, the President of Lithuania, who both have experience of Brussels, were being discussed by European officials as consensus candidates for the job of commission president after David Cameron emphasised Britain's fierce opposition to Mr Juncker.
Mr Juncker's camp vigorously denied he was pulling out of the race after the German newspaper Der Spiegel quoted aides to Herman Van Rompuy, the European Council president, as saying he was expected to withdraw. But his campaign suffered a further setback when The Times reported allegations by former intelligence officials that he had indulged in a drunken, loud-mouthed rant in an official meeting in 2007.
Mr Cameron will travel to Sweden tomorrow to push for an alternative candidate to the former Luxembourg premier, in talks with German Chancellor Angela Merkel. The PM has two allies: the Prime Minister of Sweden, Fredrik Reinfeldt, and the Dutch Prime Minister, Mark Rutte.
While the largest grouping in the Brussels parliament, the European People's Party, has the right to name its preferred candidate – Mr Juncker – the alternative campaign, backed by Britain, Italy, Sweden and the Netherlands, will easily block him in a vote. Ms Merkel is in a difficult position, say Brussels officials, because while Mr Juncker is from the same European parliamentary grouping, she is known to be open to a fresher face.
Downing Street declined to say whether Britain had a preferred candidate, stressing that it was "not about individuals but about the characteristics of the person in the job". A source said: "It is important to have a range of candidates … We are very much trying to avoid personalising this." But Mr Cameron is strenuously opposed to the arch-federalist Mr Juncker.
Meanwhile shadow Europe minister Gareth Thomas has written to Conservative chairman Grant Shapps asking for the Tories to be more open about their new parliamentary bedfellows. The Conservatives' group in the European Parliament is admitting the right-wing Danish People's Party and True Finns, formerly allied to the UK Independence Party.
THE CANDIDATES
Helle Thorning-Schmidt
Born and raised Born in 1966 in Rodovre, Denmark, to academic parents and grew up in Copenhagen. After graduating from the University of Copenhagen, she won a scholarship to the College of Europe in Bruges, Belgium, where she met her future husband, Stephen Kinnock, son of the UK's former Labour leader Neil Kinnock. A Social Democrat MEP and later party leader in Denmark.
Current job Prime Minister of Denmark – the first woman to hold the post and the embodiment of Borgen's heroine, Birgitte Nyborg.
Awards Last year she accepted the prestigious Gift to the Earth award from the global environment group WWF for her government's target for 100 per cent of Denmark's energy to come from renewable sources by 2050.
Personal drama Parents divorced when she was 10. Once let rip at a fellow Social Democrat who called her 'Gucci Helle' because of her love of designer handbags; has since said the nickname doesn't bother her.
International status Denmark is not in the top flight of G8 nations but is a key member of the EU. Although on the centre-left, she has maintained strong links with David Cameron.
Scandal Admitted to a 'big, sloppy error' when, as leader of the opposition, the Danish tax authorities investigated the discrepancy in her and her husband's tax affairs. The investigation was subsequently dropped.
Friends and enemies Her husband says: 'I think she's the only PM who does all her own washing. I don't know how she does it.' But the New York Times called her a 'Danish tart' after the selfie with Cameron and Barack Obama at Nelson Mandela's memorial service.
Social media status Not on Twitter, but the selfie-taking was retweeted thousands of times. It has never been made public.
Chances Her background makes her a natural choice and she has one year left of term as PM. Increasingly talked about as a potential candidate for Commission presidency.
Dalia Grybauskaite
Born and raised Born in March 1956 in Vilnius, Lithuania. Student then lecturer in political sciences; after the country's independence from the Soviet Union in 1990 worked as an official in the foreign affairs department; later finance minister and EU budget commissioner.
Current job President of Lithuania since 2009, re-elected last month.
Awards Doctorate of letters from Georgetown University, US; named Woman of the Year by Glamour (US) in 2010.
Personal drama A black belt in karate and known as Lithuania's Iron Lady, she vowed to 'take a gun myself to defend the country' against Russian aggression in the wake of the break-up of Ukraine.
International status A staunch supporter of Ukraine's new president, Grybauskaite is respected in Europe and knows Brussels inside out.
Scandal Known for her ability to steer clear of major scandal.
Friends and enemies Close to German Chancellor Angela Merkel, who also grew up under communism.
Social media status Has 13,000 followers on Twitter – not much for a president but an enthusiastic tweeter. Posted a picture of herself meeting Steve Tyler of the band Aerosmith.
Chances Fair. Despite just being re-elected president, she could emerge as the consensus candidate between Merkel and Cameron.
Jean-Claude Juncker
Born and raised Born in 1954 to a steelworker and trade unionist in Luxembourg. Became a member of the Luxembourg Chamber of Deputies for the Christian Social People's Party at 29.
Current job Was prime minister for 18 years, by the end of which he was the world's longest serving democratically elected head of government. Resigned last July after exposure of abuses by the secret service.
Awards Ten medals and awards including Greece's highest honour, the Grand Cross of the Order of the Redeemer.
Personal drama Spent two weeks in a coma in 1989 after a car crash.
International status Owed his position as PM to British stroppiness. In 1994, John Major objected when the Belgian PM, Jean-Luc Deheane, was nominated for the post of EC president, so the previous Luxembourg PM, Jacques Santer, got the job. He was a disaster.
Scandal He is, allegedly, a boozer. Der Spiegel said in February that it was not uncommon to see him knock back 'two gin and tonics and a beer' over lunch. He says he finds it 'offensive' having to deal with such rumours.
Friends and enemies According to one of his aides: 'It is an accepted truth that you could walk across Europe and not find a single ordinary citizen with a bad word to say about him.' But according to former Luxembourg intelligence agent André Kemmer: 'Juncker was dead drunk, ordered himself two espressos and … said "I fuck around where, whom, and when I want, do you understand me?"'
Social media status He has almost 40,000 Twitter followers. On Wednesday, he told them: 'I am more confident than ever that I will be the next European Commission president.'
Chances Until the last few days, they were high. But fresh reports of his behaviour, together with fierce opposition from Cameron and wavering from Merkel, mean they are dwindling by the hour.
Join our new commenting forum
Join thought-provoking conversations, follow other Independent readers and see their replies