Winter Olympics 2014: Welcome to Sochi – a city where 'there are no gay people'
Russian guarantees of the welcome on offer at the Winter Olympics don't amount to much, finds John Sweeney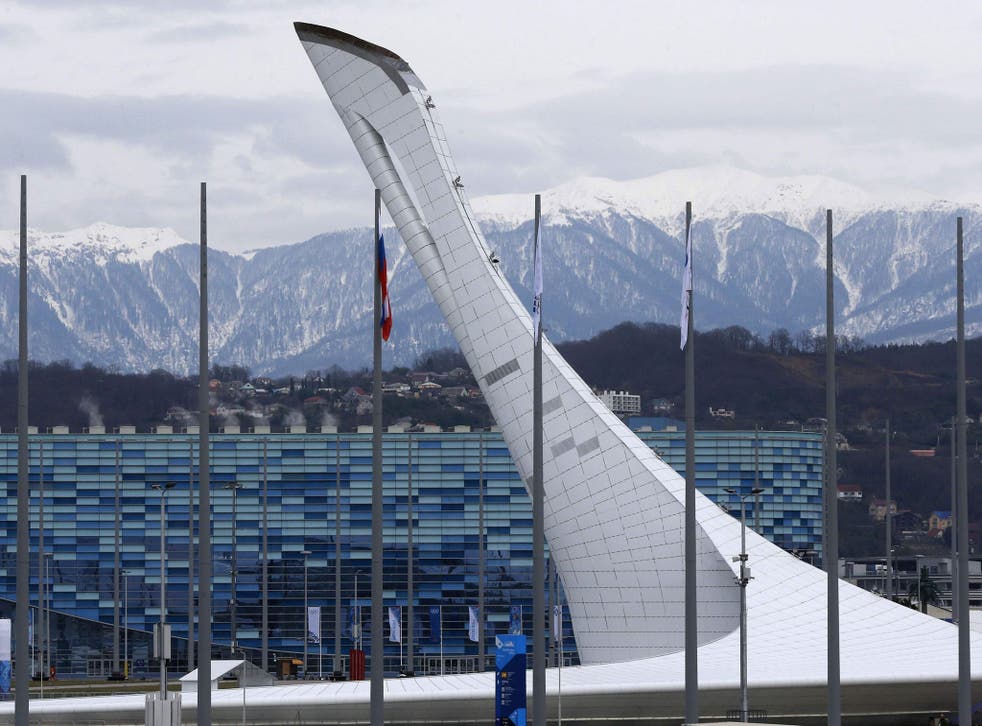 President Putin has claimed that gay people will be welcome at the 2014 Winter Olympics but no one seems to have passed the message to the mayor of the host city Sochi, where the action begins a week on Friday. I have been in Sochi for a Panorama programme to be broadcast on Monday night, and Anatoly Pakhomov told us that there are no gay people in his town.
And despite Mr Putin's guarantee to the International Olympic Committee (IOC) that journalists would also be welcome in Sochi, soldiers from the FSB – the state security organisation, detained the Panorama team, including me, and took our passports.
Mr Pakhomov's claim – an echo of the Radio Stars' 1977 hit "No Russians in Russia" – is preposterously untrue to anyone who knows anything about the beach resort in Russia's deep south. Boris Nemtsov, the opposition politician and unsuccessful candidate for the Sochi mayoralty, collapsed into giggles when I told him about the mayor's statement, saying: "No gays in Sochi? Unbelievable, unbelievable."
Drag queen Miss Zhu-Zha, a performer at the city's best-known gay bar, said: "In some places there's serious prejudice against gay people. In other places, it's not so bad." It's a cautious comment, but none the less evidence of existence.
Mr Pakhomov told Panorama: "Our hospitality will be extended to everyone who respects the laws of the Russian Federation and doesn't impose their habits on others." But when I asked whether gay people have to hide their sexuality in Sochi, the mayor said: "No, we just say that it is your business, it's your life. But it's not accepted here. We do not have them in our city."
When I challenged him the mayor backtracked, conceding: "I am not sure, but I don't bloody know them."
It's when you try to hear stories at first hand that the gloss comes off the Olympic varnish. We rolled up to a checkpoint in the middle of the village of Akhshtyr, which is east of Sochi. It's a nowhere kind of place, not special, but it didn't used to be quite as ugly as it is now. High up is a massive quarry, where rock for the Olympics has been hewed, and now the big hole in the ground is to be a landfill dump. Lorries thundered through the checkpoint all day, engines roaring as they inched past our car, but we couldn't move.
The soldiers were FSB and the lead grunt barked at me in Russian that we could not pass. But to do our job, we had to. An Olympic road and rail link joining the opening venue on the coast with the brand new mountain resort cost £5bn, causing critics to say it would have been cheaper to have paved it with Louis Vuitton handbags. The villagers say the link has cut off the village from Sochi. A promised access road has not been built, so that everyone, including schoolchildren, has to drive an extra hour down a muddy track.
In pictures: Sochi's once vibrant gay scene shrinks after new law

Show all 10
I looked the FSB grunt in the eye and said: "President Putin promised the IOC that journalists would be welcome in Sochi." My colleague Nick Sturdee translated and a look of unease clouded the FSB grunt's face: he was young, blond and had a big gun. But nor did he want to fall out with some stranger who quoted the President.
He took our passports and questioned our status: "How we do know you are journalists?" We didn't have Russian press passes because, although we had sent in applications three weeks before, the Foreign Ministry in Moscow was unable to print our photographs, or communicate that difficulty to us.
I phoned the IOC to complain that the FSB had taken our passports. An official phoned back to scold us for going to Akhshtyr without Russian press passes.
The FSB kept our passports but allowed us to walk on foot through their checkpoint to film the villagers. They complained about the quarry, owned by Russian Railways, the boss of which, Vladimir Yakunin, is reportedly a friend of Mr Putin. Later, the mayor said that the village's problems would be addressed after the Olympics.
On our return to the FSB checkpoint, we were told that in order to get our passports back we had to sign a document admitting that we had illegally entered "the border zone". No deal. Eventually, one of the FSB agents suggested we could write "I refuse to sign" – and then sign that qualification. With that absurdity done, we were free-ish.
Nothing is quite what it seems about the Sochi Olympics. For example, a 2,000-prisoner amnesty just before the Games that included former billionaire oil tycoon Mikhail Khodorkovsky and punk band Pussy Riot might give you the impression that President Putin is easing up a little on his government's repressive tendencies.
Don't mention Moonglade, however. That's the name of a secret base high up in the mountains, accessible only by helicopter, which sounds like a Bond villain's lair. Built in a former national park, Moonglade is officially a meteorological research station, but appears to be a hush-hush skiing lodge for the President.
Green activist Yevgeny Vitishko has been to Moonglade. He said: "Vladimir Putin liked it and decided to build himself a country house there." Vitishko has campaigned against more lodges being built nearby. "This holiday home fever is something that must really be fought – which is what we're doing, and why the court found us guilty."
Vitishko was referring to his trial for hooliganism for allegedly painting a graffito on a fence, a charge he denies. Vitishko, who spoke to me before he was sentenced to three years in prison, suspected that his troubles may have something to do with his activities in holding Mr Putin to account for his promise that the Sochi Olympics would be environment-friendly.
Putin also boasted to the IOC that journalists would find the welcome to Sochi Winter Olympics "memorable". He was spot-on. You don't forget power cuts, tales of torture, claims of mind-bending corruption and having your passports taken by armed secret police in a hurry.
The Sochi region has been transformed by the Games building programme, the £30bn cost of which is 25 times that of Vancouver in 2010. Nemtsov says the Games are "the most corrupt in history" – a charge both Mr Putin and Mr Pakhomov deny.
The city suffered 1,000 power cuts in 2012, because, critics say, of the power drain caused by the Olympic resort in the mountains. The lights went out in our hotel during our stay, leading to people wandering around carrying candles – not quite the image of a modern great power Putin is seeking to project.
Workers say that have been cheated of their wages, and electrician Mardiros Demerchan told us that when he complained, the police arrested him on a trumped-up charge.
"They started to beat me, one from one side and one from the other. I fell to the floor and I started losing consciousness, and they hauled me back up and sat me on the chair. One of them said, 'Have you had enough or do we have to beat you some more?'"
Then, he says, he was tortured and sexually assaulted with an iron bar. He is trying to bring charges against the police. They are suing him for libel.
Our experience of detention at the hands of the FSB summed up Putin's Games for me: the authorities pretending to be all smiley, but every now and then the guard drops, and you glimpse what feels like a police state.
John Sweeney reports on Putin's Games for Panorama, on BBC One Monday night at 8.30pm
Join our new commenting forum
Join thought-provoking conversations, follow other Independent readers and see their replies