Witnesses claim French 'terror' suspect was victim of police brutality
Friends and family of Bertrand Nzohabonayo insist that an alleged attack on officers was out of character for a 'gentle' young man who had no history of violence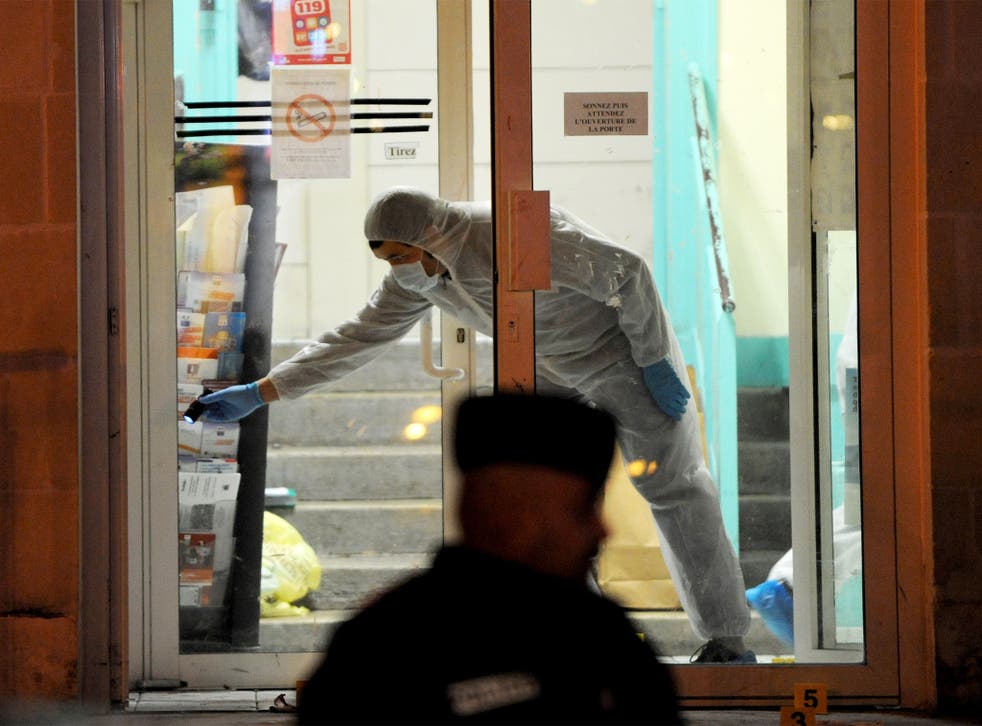 French authorities have rejected allegations that an apparent "terrorist" attack on a police station last month was a disguised case of police brutality.
According to the official version of events, a young black man, Bertrand Nzohabonayo, was shot dead after he slashed three police officers with a kitchen knife in the entrance hall to a suburban police station near Tours, in central France. The attack – the subject of an investigation by anti-terrorism police – was the first of three random incidents of violence across France in three days.
There have since been persistent rumours that the attack on the small police station at Joué-lès-Tours was not a random and unprovoked event, as claimed by the authorities. Friends of the dead man have told newspapers and TV stations that Mr Nzohabonayo did not go to the police station alone. They say that he was taken there by officers who believed – wrongly – that he was involved in an attack on one of their colleagues the previous day. Witnesses, interviewed by TV reporters, have also claimed that the violent struggle between Mr Nzohabonayo and four officers took place just outside the police station, not in the entrance hall as authorities claim.
This version of events was dismissed today by the local state prosecutor, Jean-Luc Beck. At a press conference called to address the rumours, he said: "As things stand, both police and civilian witnesses are saying the same thing. There was a direct attack (on the station by Mr Nzohabonayo). All the events took place inside the entrance hall."
Mr Beck complained that none of the witnesses who disputed the official version had come forward to speak to investigators. He urged them to do so rather than make statements in the media.
"I am ready to examine any new element which is brought to my attention," he said. "It is extremely unpleasant to have unsubstantiated claims circulating about an incident as serious as this one."
Friends and family of Mr Nzohabonayo insist that such an attack was out of character for a "gentle" and sporty young man who had no history of violence. They also dispute suggestions that he had come under the influence of the Isis terrorist group – the self-proclaimed Islamic State.
Although Mr Nzohabonayo, born in Burundi, had converted to Islam, his family insists that he was not a radical. Investigators say that he had posted the Isis flag on his Facebook page a few days before the alleged attack. His family disputes this and points out that he had recently "liked" another Facebook page which said: "Islamic State, not in my name."
France street attacks

Show all 11
The day after the incident in Joué-lès-Tours, a man of Arab origin crying "Allah Akhbar" drove his van into pedestrians in Dijon, 400 miles to the west, injuring 11 people. The next day, a van driven by a white man who had been drinking heavily ploughed into a Christmas market in Nantes, killing one person and injuring 12 others.
The three incidents caused a brief wave of panic in France, encouraged by the far right Front National. The newspaper Le Parisien carried a banner front page headline "Peur sur Noel" ("Fear at Christmas"). The newspaper said the attacks were terrifying because they were unpredictable and impossible for the authorities to forestall. The centre-right newspaper Le Figaro bundled the Tours and Dijon attackers together as the work of "fous de Dieu" ("religious crazies")
But from the beginning, investigators said that both the drivers in Nantes and Dijon were psychologically disturbed rather than politically motivated.
Join our new commenting forum
Join thought-provoking conversations, follow other Independent readers and see their replies