Woman jumps into Spanish bull fighting ring to comfort dying bull
'I wanted to give him love before he left this earth'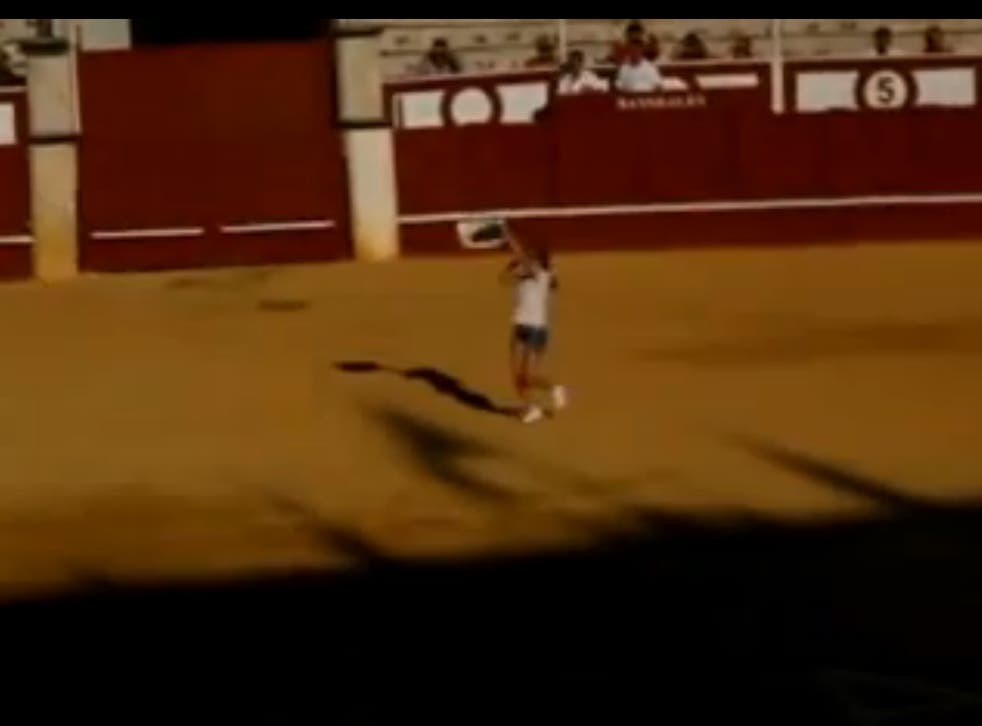 A woman has been filmed jumped into a ring to comfort a bull just before it is slaughtered
The dramatic intervention took place at the Malaga fighting pit in Spain, in front of thousands of onlookers.
Virginia Ruiz, an animal rights activist, leapt into the ring and ran across the pitch, carrying a protest poster above her head. She crouched over the animal as it lay dying and tried to stroke and comfort it as it lay in distress.
She was eventually carried away and the bull was stabbed in the neck by bull ring staff, as is customary after a fight in which an animal is wounded.
Ruiz told The Examiner: "Because I was walking, not running, they [the crowd] didn't realise I was an activist until I got very close to the bull.
"He was still alive before they could do the final stabbing with the small knife in the back of the neck. He was crying, he tried looking at the people.
"I could hear him crying in pain and jumped down, walked across the ring to where he lay dying. He looked at me and I believe he felt my energy. I wanted to give him love before he left this earth."
She explained that members of the crowd spat at her, called her a 'whore' and told her to 'get back in the kitchen'.
Ruiz now faces a €7,000 fine for her actions.
Bull fighting continues to be a contentious spectacle in Spain. Whilst animal rights activists have denounced the events as cruel, some Spaniards argue that the events are part of their cultural heritage and do not cause the animals unnecessary suffering.
Following May's elections, a number of city councils have acquired left wing local governments, including Madrid, Valencia and Alicante. Many of the new administrations have spoken of moving to ban the events, or withdraw council funding from bull fighting related activities.
Last month, Villafranca de los Caballeros' left wing mayor decided to withdraw funding from the town's annual bull fighting festival, in order to spend the money on school books instead.
Join our new commenting forum
Join thought-provoking conversations, follow other Independent readers and see their replies