Zapad 2017: Russia kicks off huge military exercises on Europe's borders
The Pentagon has issued a statement about concerns over the numbers of personnel involved in the exercise.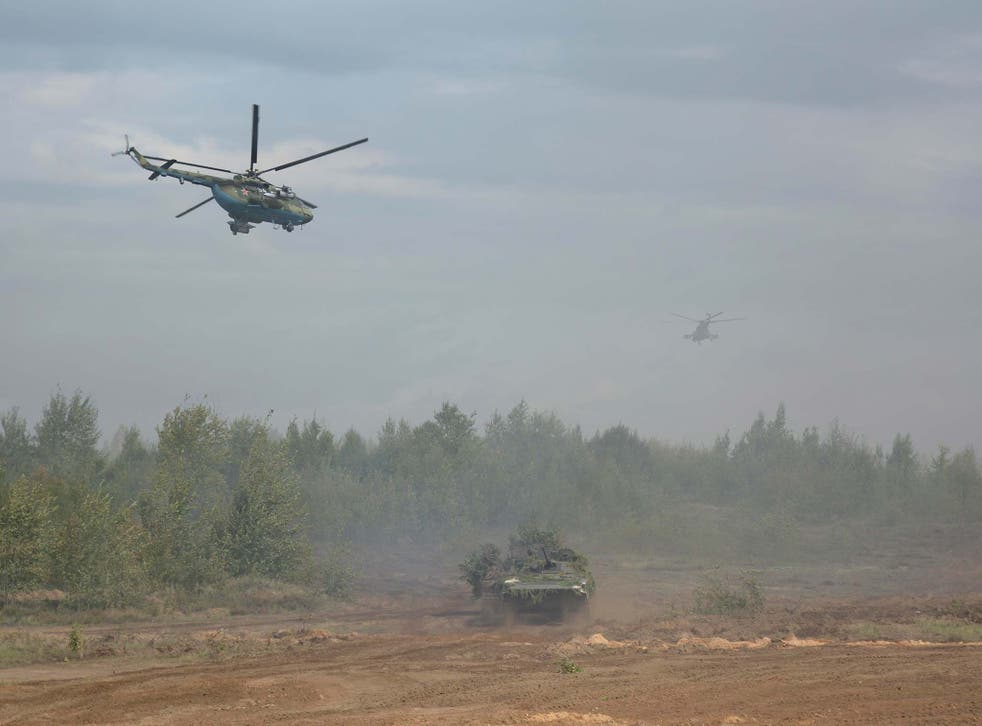 Russian authorities have moved to reassure the West as the country embarks upon large scale military exercises which began yesterday on the borders of Europe.
The planned military manoeuvres, codenamed "Zapad", which means "West", are undertaken by Russia every four years, and this time are being conducted in partnership with Belarus.
It is set to be the country's largest military exercise since 2013, which laid the foundations for Russia's 2014 annexation of Crimea, though some Western powers have said it could be the largest deployment since the Cold War.
Land, sea and air units are all to be involved in the war games, which will take place across a vast expanse of land in Russia's west, as well as Belarus, the Baltic Sea and the Russian enclave of Kaliningrad.
Some observers have expressed concern over the scale of the plans, and the numbers of troops involved.
Official figures from the Russian defence ministry say around 12,700 troops will be deployed in total, including 5,500 Russian personnel and 7,200 Belarussian soldiers.
But Nato has said as many as 100,000 troops could be involved.
The Pentagon has also issued a formal statement on its concerns over the numbers of personnel involved in the exercise.
"We urge Russia to share information regarding its exercises and operations in NATO's vicinity to clearly convey its intentions and minimize any misunderstandings," Lieutenant Colonel Michelle Baldanza, a Pentagon spokeswoman, said in a statement.
But the Russian government says it has provided clear information and that the exercises are in line with international law.
"We reject complaints of these exercises not being transparent," Kremlin spokesman Dmitry Peskov told a conference call with reporters. "We believe that whipping up hysteria around these exercises is a provocation."
"It is a normal practice for any country to hold such exercises. Everything is being held in line with international law," Mr Peskov said.
Oleg Voinov, an adviser to the Belarusian Defense Minister, added: "We are not threatening anyone."
The manoeuvres follow similar large scale Nato exercises over the summer, and coincide with the largest Swedish exercise for 20 years, which is codenamed Aurora and will involve 19,000 Swedish troops, as well as 1,435 soldiers from the US.
Nato said its biggest exercise this year, codenamed Trident Javelin 17, planned to run from 8-17 November, would involve only 3,000 troops.
Russian military trains using reindeer and huskies in -30C cold
Trident Javelin 17 is part of preparations for larger war games next year, Trident Juncture 2018, which will involve an estimated 35,000 troops.
Zapad 2017 has been described as a possible "Trojan Horse" in which the Russians could launch significant military action. However, analysts believe it is unlikely Mr Putin will use Zapad as an opportunity to make a land grab, as some in the US fear.
Mathieu Boulegue, a research fellow at the Royal Institute of International Affairs told the Independent: "Zapad is a routine exercise, so there is no cause for alarm in the sense that Russia will stick to the scenario."
Russian military activity in Crimea

Show all 11
"Everything they want to rehearse is ready and it's been planned for the past few years."
Join our new commenting forum
Join thought-provoking conversations, follow other Independent readers and see their replies