Walk for Giants: Independent campaign boosted by fashion industry
We are working with conservation charity Space for Giants to protect wildlife at risk from poachers due to the conservation funding crisis caused by Covid-19. Help is desperately needed to support wildlife rangers, local communities and law enforcement personnel to prevent wildlife crime. Donate to help Stop the Illegal Wildlife Trade here.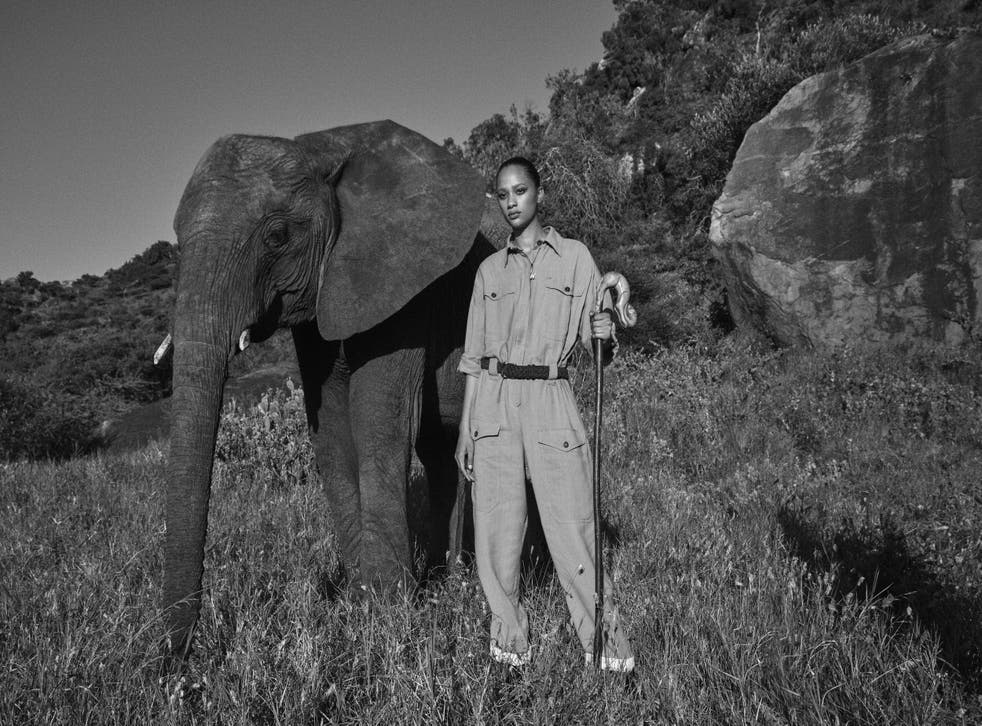 The Independent's Stop The Illegal Wildlife Trade campaign was boosted today as a luxury jewellery brand and fashion giant Net-a-Porter joined with our campaign partner to help protect wildlife.
Jewellery brand Gemfields and the online fashion brand Net-a-Porter have created special ranges for Space for Giants, the international conservation charity working with The Independent to stop the trade in illegal wildlife and wildlife parts.
The designs have been showcased in a new editorial shot by Francesco Carrozzini, the collections modelled by Selena Forrest and conservation activist Arizona Muse.
The photos were captured in the Enasoit Game Sanctuary in Kenya's Laikipia, a natural wildlife corridor at the foot of Mount Kenya.
All the proceeds from the joint initiative, called Walk for Giants, will go directly to the charity to help protect Africa's elephants and their natural habitat.
"This initiative is so close to my heart because, ultimately, it is only when a unit of consumption can become a unit of conservation that our natural ecosystems and their last populations of large wild animals will be truly secure from the depredations of humanity," said Dr Max Graham, founder and CEO of Space for Giants.
"That is precisely what the luminary of the gemstone industry, Gemfields and the titan of the luxury fashion industry Net-A-Porter have enabled us to do here, and with the current conservation crisis it couldn't have come a moment sooner."
The Gemfields element features Zambian emeralds and Mozambican rubies, set in 44 pieces by its partners including the renowned Russian house Fabergé and sustainable jewellery designer, Sandy Leong.
Jewellery with London-based Chantecaille and Ole Lynggaard Copenhagen's collection in collaboration with Gemfields also features.
The Net-a-Porter element sees creations from a combination of heritage brands like Burberry and modern designers such as 3.1 Phillip Lim.
Libby Page, senior market editor at NAP, said this was a "fantastic philanthropic opportunity" for the company.
"As a business, we always strive to ensure that we are buying product in a thoughtful and considered way," she said.
"Knowing it will resonate with our customer, that in itself is a more sustainable attitude and ethos while encouraging the participating brands to do the same with the creation of the collections."
Gemfields welcomed the campaign. "Today, more emerald and ruby-derived value than ever accrues to our host countries in Mozambique and Zambia," said CEO Sean Gilbertson.
"Africa's natural resources, whether in the form of her minerals or her biodiversity, must play a greater role in supporting local communities and championing vast conservation spaces."
The Walk for Giants campaign will culminate with supporters walking along an ancient elephant migration corridor in Kenya.
It aims to raise awareness and funding for the protection of Africa's iconic wildlife, and the critical natural ecosystems that they depend on.
The Gemfields x Walk for Giants capsule collection is available now on gemfields.com. To shop the Net-a-Porter x Walk for Giants capsule collection, please visit net-a-porter.com now.
Join our new commenting forum
Join thought-provoking conversations, follow other Independent readers and see their replies