February smashes monthly world temperature records by 'shocking' amount as 'climate emergency' declared
'In short, we are now hurtling at a frightening pace toward the globally agreed maximum of 2.0°C warming over pre-industrial levels'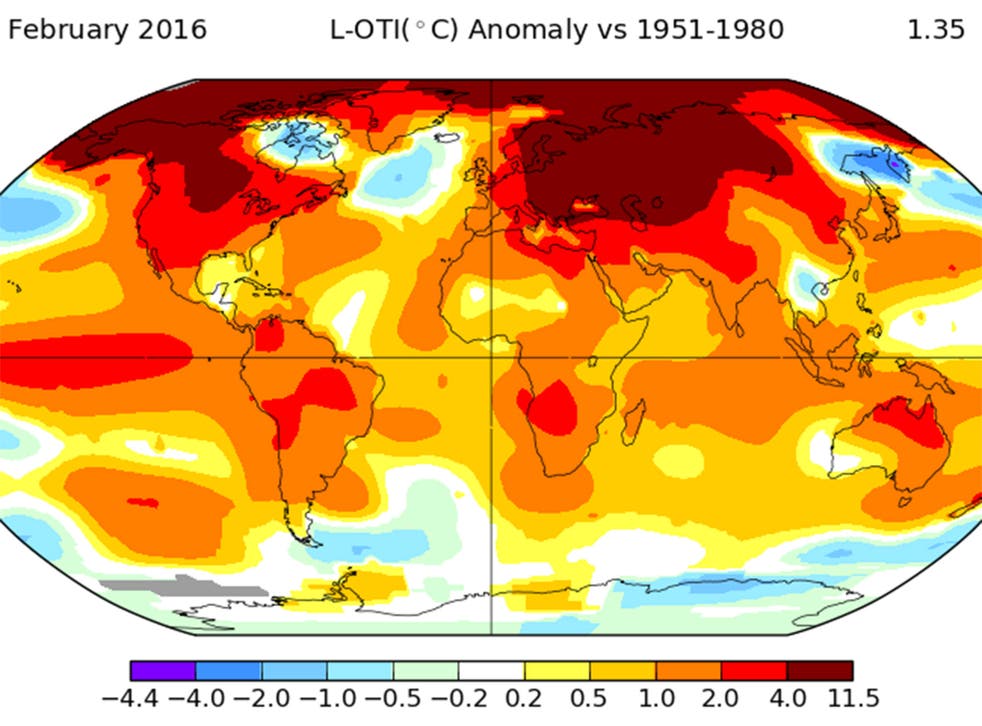 The global temperature in February smashed monthly records to become the warmest month in more than a century of recordkeeping.
According to Nasa data, global surface temperatures across land and ocean in February were 1.35°C warmer than the average temperature for that month, measured from the 1951-1980 baseline.
The previous record was set in January, which was 1.14°C warmer than the baseline average for that month.
The result was "a true shocker, and yet another reminder of the incessant long-term rise in global temperature resulting from human-produced greenhouse gases," Jeff Masters and Bob Henson wrote, in a blog analysing the data on Weather Underound.
However, February did not break the record for hottest month, which is likely to only happen during summer in the northern hemisphere.
El Nino is considered to have contributed to the current record run of global temperatures. The weather event increases the area of warm surface water across the Pacific, allowing global oceans to transfer heart more readily into the atmosphere.
UN climate change announcement
However, compared with the El Nino record of 1997-98, global temperatures are around 0.5 degrees hotter.
Climate change around the world - in pictures

Show all 17
"We are in a kind of climate emergency now," Stefan Rahmstorf, from Germany's Potsdam Institute of Climate Impact Research, told the Sydney Morning Herald.
"In short," Jeff Masters and Bob Henson wrote, "we are now hurtling at a frightening pace toward the globally agreed maximum of 2.0°C warming over pre-industrial levels."
Join our new commenting forum
Join thought-provoking conversations, follow other Independent readers and see their replies