From Candy Crush to browsing porn: The politicians caught playing with technology
Spanish deputy speaker Celia Villalobos was filmed playing on her tablet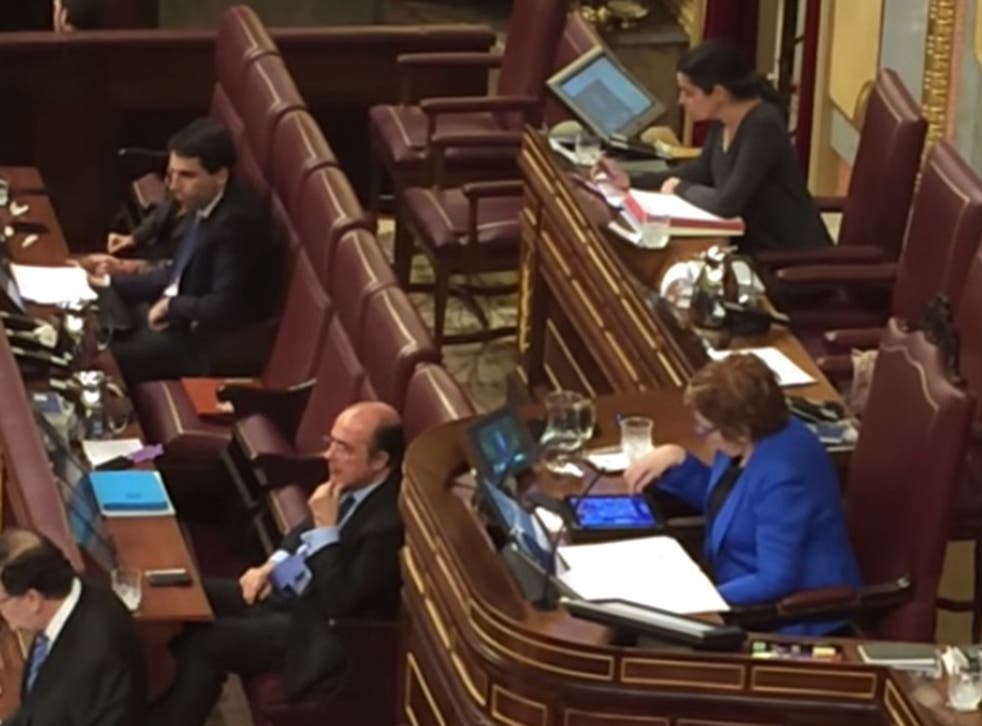 Whether it's browsing porn, ordering fine wine or, in the case of Spanish deputy speaker, Celia Villalobos, playing Candy Crush, government officials around the globe have been caught playing with technology on tax-payer's time.
It is probably a good idea to pay attention during a state of the nation debate – especially when cameras are about – but Ms Villalobos was seen playing Candy Crush on her tablet instead. On Tuesday, a video emerged of Ms Villalobos – vice president of the Congress of Deputies – playing the addictive game in the speaker's chair while Spanish Prime Minister Mario Rajoy delivered a speech. The opposition Socialist Party said Ms Villalobos had set "a very bad example" to the Spanish people.
The Spanish daily, 20 minutos, reported that Ms Villalobos was actually reading a newspaper and not playing the puzzle video game. Regardless, the game has snared other politicians, including in Britain, the Conservative MP Nigel Mills, who admitted playing the online game last December during a Commons pensions debate. Candy Crush is one of many temptations plaguing elected representatives.
The US Senator John McCain, known for losing the 2008 presidential election and now chair of the Senate Armed Services Committee, also lost his attention during a key hearing about the possible use of military force in Syria. A Washington Post photographer snapped Mr McCain playing poker on his iPhone in 2013. The Republican senator laughed it off on twitter: "Scandal! Caught playing iPhone game at 3+ hour Senate hearing – worst of all I lost!"
Across the pond in Paris, French MPs are infamous for reading cartoons, playing online chess and placing orders for fine wine. The French assembly's press balcony has the pictures to prove it, and speaker of the lower house, Jean-Louis Debré, retaliated by installing a scrambling device to disable Wi-Fi while debates are in progress.
But playing apps and making online purchases is only the tip of the embarrassing iceberg. A slew of politicians, from India to Italy, have been caught red-handed for browsing adult entertainment during parliament. Three Indian politicians resigned in 2012 after footage surfaced of them using a mobile phone to watch porn.
And in 2011, a thrice-married Italian MP, Simeone di Cagno Abbrescia, was spotted ogling through an escort website on his government-issued iPad during a no confidence vote. He insisted the window popped up and his fingers slipped while looking for news pages. By comparison, playing Candy Crush appears a minor indiscretion.
Join our new commenting forum
Join thought-provoking conversations, follow other Independent readers and see their replies