Iran bans newspaper for reporting George Clooney's support of Charlie Hebdo
Judges in Iran have ordered the closure of a daily newspaper for its reporting of the actor's support for the French magazine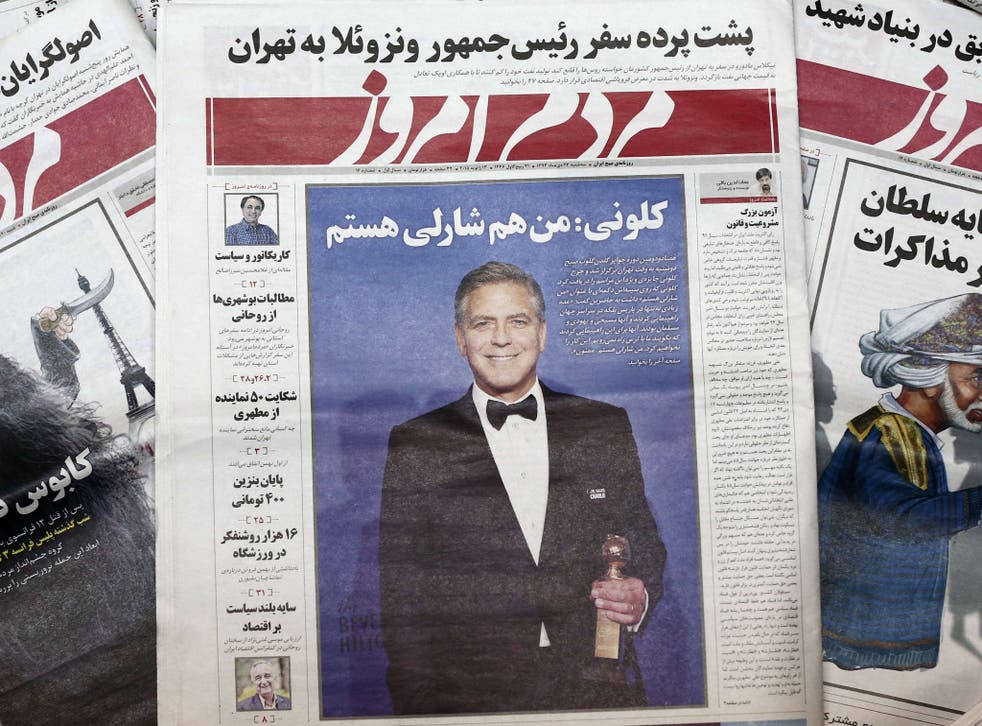 Iran has ordered the closure of a daily newspaper which published a front-page story with a picture of George Clooney wearing a badge in support of Charlie Hebdo.
The Mardom e-Emruz, or Today's People, ran the picture of the actor at the Golden Globes with the headline "I'm Charlie too".
Mohammad Ghoochani, chief editor of the paper, told the Tasnim news agency that his paper had been forced to close.
While the newspaper did not express support for Charlie Hebdo or the star's sentiments, judges branded the headline "obscene".
Iran's government condemned the attack on the Charlie Hebdo's offices and also the magazine itself, saying that publishing caricatures of Muhammed was "provocative" and an insult to Islam.
According to mainstream Islamic tradition, any depiction of the Prophet Muhammed is considered blasphemous.
There have been further protests in the Muslim world against the magazine's latest front cover, which has now been printed 7,000,000 times.
Protesters demonstrated outside the French embassy in the Yemeni capital, Sana'a and the Pakistani city of Karachi.
In Gaza City, vandals daubed the French Cultural Centre in graffiti, praising Muhammed and declaring that he should not be satirised or ridiculed. One statement read: "To hell, to a miserable destiny, French journalists."
In pictures: Reaction to Charlie Hebdo attack

Show all 39
In a statement, Ashraf Ghani, the Afghan president, called the pictures of the prophet blasphemous and irresponsible.
"Freedom of expression should be used in a way to boost understanding between the religions," he said.
"Afghanistan has suffered many years of war and violence, more than any other country, and it is necessary to understand and promote peaceful coexistence among all the people of the world."
The Iraqi prime minister, Haider al-Abadi, also condemned the cartoons and warned that "offensive words may lead to further bloodshed".
Additional reporting AP
Join our new commenting forum
Join thought-provoking conversations, follow other Independent readers and see their replies