Israel border police shoot dead Palestinian attacker who stabbed officer in Jerusalem
A total of 94 Palestinians and 19 Israelis have died because of religious conflict since October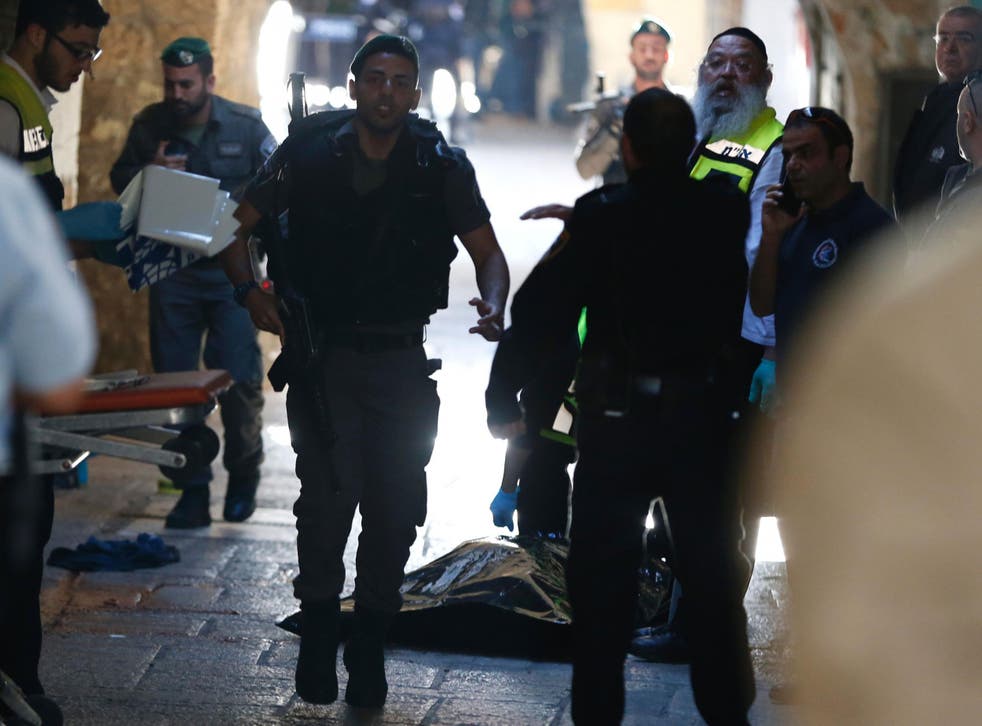 Israeli border police have shot dead a Palestinian man who stabbed an officer in Jerusalem, the latest attack in a two-month wave of violence.
The killing happened near a main gate of Jerusalem's walled Old City, where the Palestinian pulled out a knife and stabbed a border policeman in the neck before being shot. The officer was not fatally wounded.
Since October 1, altercations between Palestinians and Israelis have taken place almost daily. Stabbings, car rammings and shootings have killed 19 Israelis and one US citizen.
Israeli forces have killed 94 Palestinians, many of them teenagers. Groups such as Human Rights Watch, have raised concerns that Israeli forces are using excessive force against Palestinians.
The Israeli–Palestinian conflict intensifies

Show all 10
The recent violence was triggered in part by Palestinian allegations that Israel is attempting to change the religious status quo at a holy site in Jerusalem. The site is known to Muslims as the Noble Sanctuary, where al-Aqsa mosque stands, and to Jews as the Temple Mount.
Non-Muslim prayer is banned around the mosque, and Israel promised not to change the ban. However, visits by Jewish religious activists and ultra-nationalist Israeli politicians to the site, as well as Israeli restrictions on Palestinian access to the mosque, have fuelled the conflict.
Israeli forces also shut down and confiscated equipment from a Palestinian radio station in the occupied West Bank city of Hebron.
Palestinians stab an Israeli
Dream radio, owned by Talab al-Jabar, is the third station shut down in recent weeks said to be repeatedly broadcasting material which "promotes and encourages terror and acts of violence against Israeli civilians and security forces", according to Israeli military.
Mr al-Jabar insisted the station had only been reporting on events and had not intended to incite violence. He said: "I can tell you that Dream radio will be back on air very soon and it will be stronger."
Join our new commenting forum
Join thought-provoking conversations, follow other Independent readers and see their replies